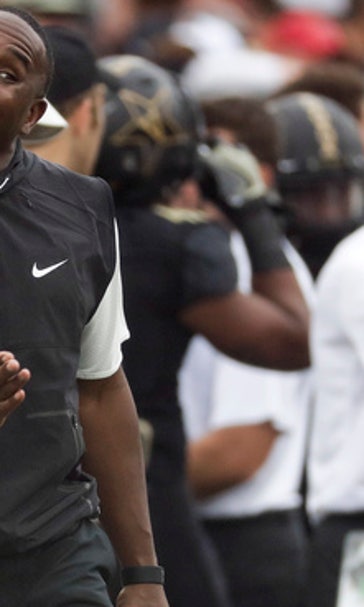 Vandy coach used open date to remind Commodores of basics
October 24, 2017

NASHVILLE, Tenn. (AP) Vanderbilt coach Derek Mason believes his Commodores took advantage of an open date to ''detox'' after the most grueling four-game stretch in the program's history.
To make sure they finish like Vanderbilt started this season, Mason returned to basics of tackling, running and catching.
''We just had to get back to being us,'' Mason said Tuesday. ''Peeling back the layers in terms of defensively understanding that we only needed a couple calls to go out and play defense ... and stripped it all the way back to just fundamental football. And it was fun. Guys got back to having fun. Running to the ball, hitting, tackling.''
The Commodores (3-4, 0-4 Southeastern Conference) opened the season winning their first three games with a defense that was among the nation's stingiest capped by an upset of then-No. 18 Kansas State. Then they ran into a buzz saw of four straight losses.
The skid started with a 59-0 loss to top-ranked Alabama , 38-24 at then-No. 21 Florida and a 45-14 loss to then-No. 5 Georgia capped the first time Vanderbilt had played ranked teams in four consecutive weeks. Then they finished with a 57-35 loss at Mississippi for a fourth straight loss.
That's prompted Mason to get back to the basic steps like making a form tackle and looking a ball all the way in for a catch. He wanted his Commodores to remember how they felt when they liked how they were playing in September.
''For a minute, we sort of looked glossy-eyed a little bit just trying to figure it out,'' Mason said. ''Slowly but surely, you're starting to see the gleam. You're starting to see that confidence, that swagger, that walk, that talk, that joking. It's something that doesn't come overnight.''
After the loss to Ole Miss, Mason said he was throwing all but two positions open for competition. Quarterback Kyle Shurmur is safe, having thrown 14 touchdowns with only two interceptions. So too is senior running back Ralph Webb, who said he has struggled the past few weeks getting healthy and up to the standard he has set for himself.
Mason insisted Tuesday the competition for playing time continues.
''We're in a good place, and I like where are,'' Mason said. ''It's not coach speak. If I didn't like it, I'd tell you.''
The Commodores shook off a rough stretch last season to win two of their final three games to reach the Birmingham Bowl. Now they have five games remaining this season starting Saturday with a trip to South Carolina (5-2, 3-2) where they'll try to snap an eight-game skid to the Gamecocks.
South Carolina coach Will Muschamp is expecting Vanderbilt's defense to be ready with Mason in charge. Vanderbilt ranks fifth in the SEC and 11th nationally allowing only 170.4 yards passing, and they rank 48th nationally averaging 2.3 sacks per game.
''He understands protections, whether it's slot protections or three-three protection, whatever the case may be,'' Muschamp said of Mason. ''I think schematically he does a very good job of creating some one-on-ones, especially 77 and 34 inside are two really good inside players and 11 (linebacker Charles) Wright on the edge is a guy you have to deal with.''
Senior safety Ryan White said being reminded of some technique issues definitely helped the Commodores who know what they should be doing.
''It's just really a matter of getting back to what you know how to do and flying around, having fun,'' White said. ''As you see, the past few games we haven't been doing that on the defensive side of the ball.''
---
AP Sports Writer Pete Iacobelli contributed to this report.
---
More AP college football: http://collegefootball.ap.org and https://twitter.com/AP-Top25
---
Follow Teresa M. Walker at https://twitter.com/teresamwalker
---
---