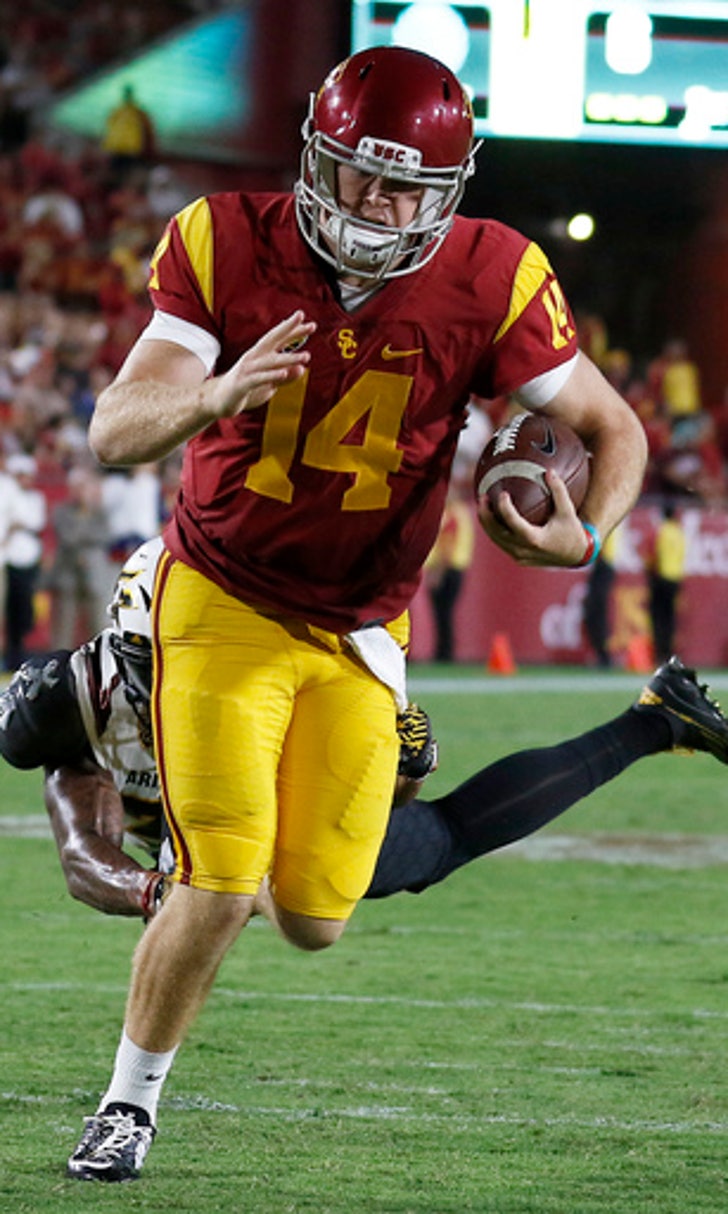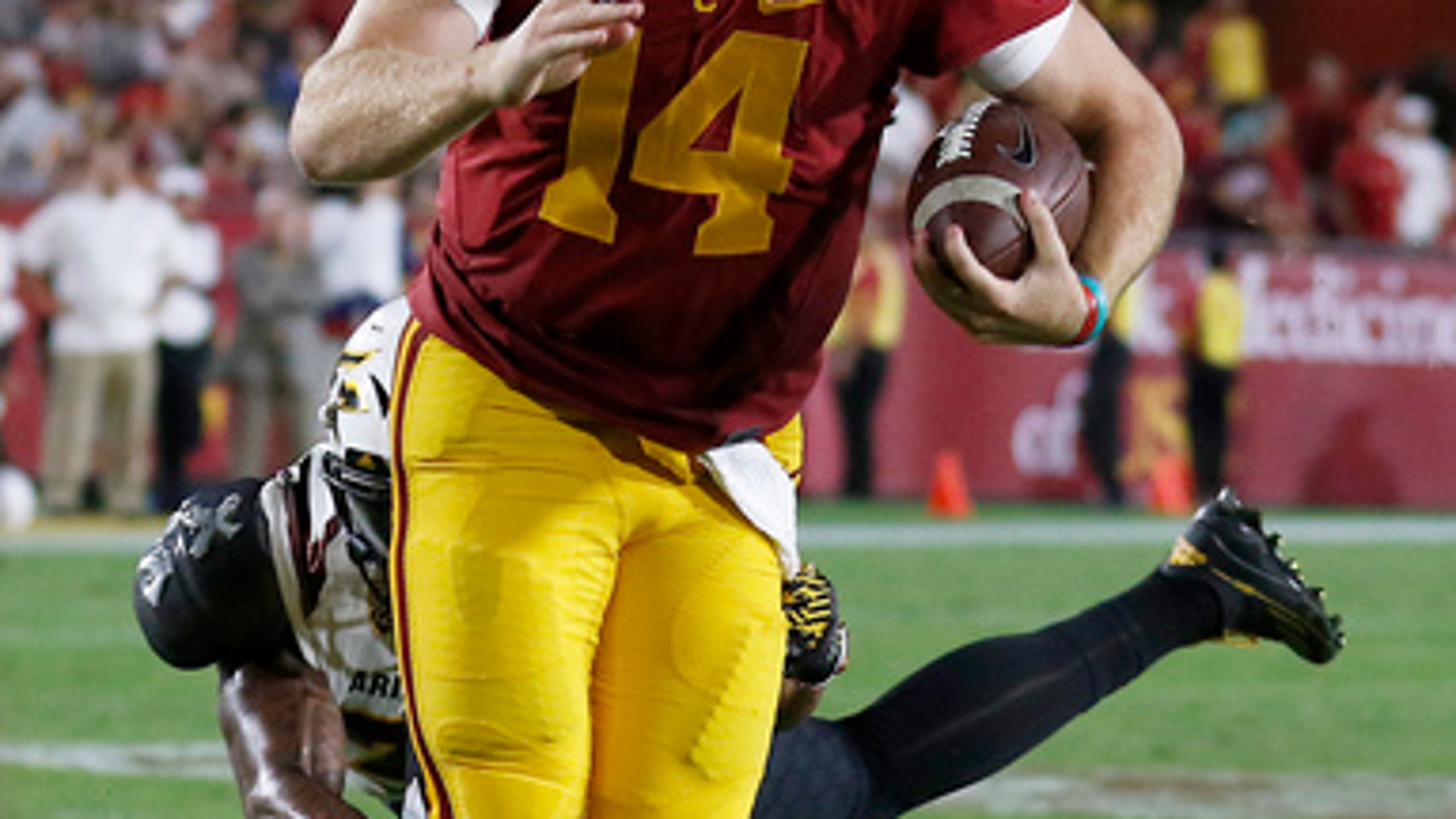 USC's Darnold forcing opponents to account for his mobility
BY foxsports • October 5, 2016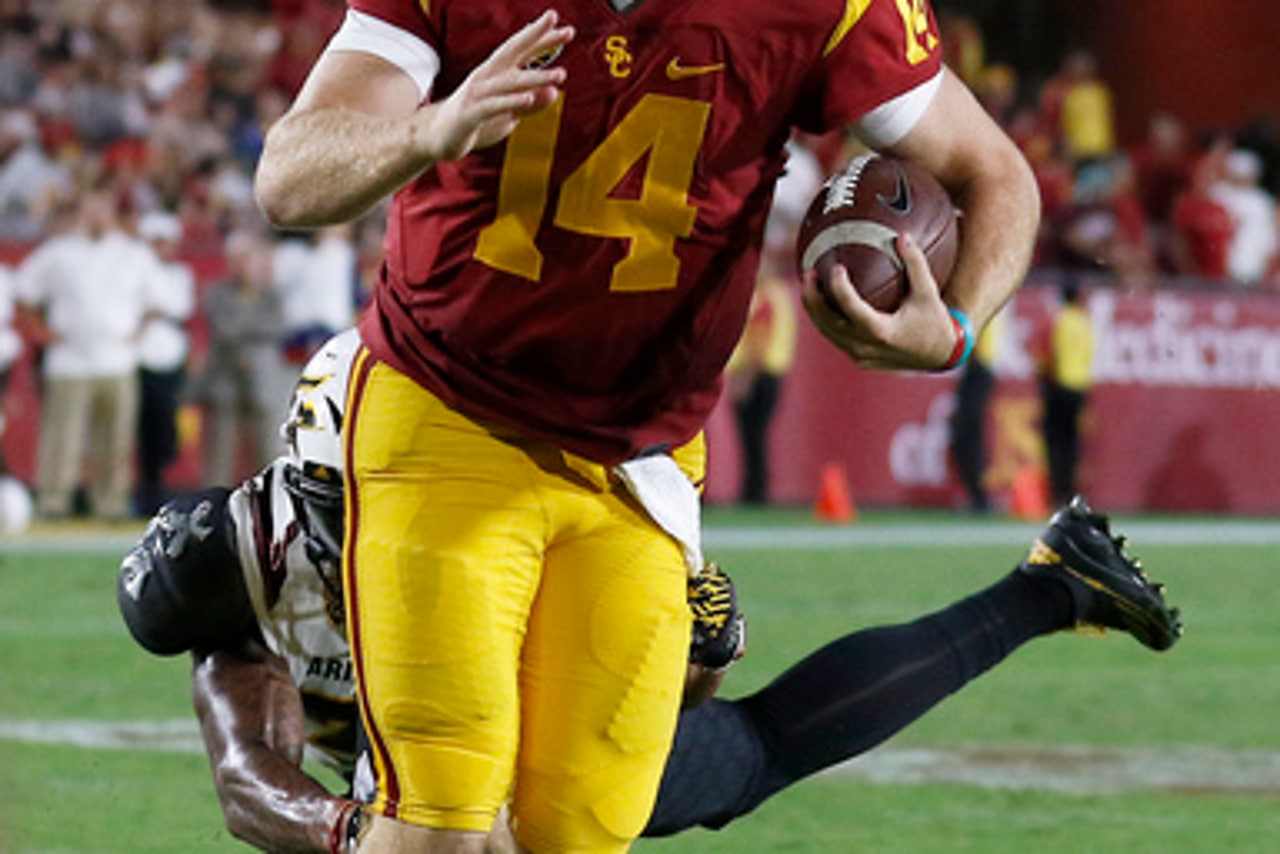 LOS ANGELES (AP) Coach Clay Helton doesn't think Southern California has a whole new offense under quarterback Sam Darnold. Just one with another threat.
The mobile freshman has unlocked the run-pass option for USC, adding another wrinkle to the Trojans offense. That's created space for wide receivers and running backs, something Helton hopes will continue against No. 21 Colorado on Saturday.
''You have two runners in the backfield, one at the quarterback position,'' Helton said Tuesday. ''They are having to load the box and now you are having some man-to-man coverage outside.''
Darnold has taken advantage of those looks, throwing for 352 yards and three touchdowns without an interception against Arizona State in a 41-20 win Saturday. He also rushed for a touchdown in that game, and Darnold's presence helped senior Justin Davis run for 123 yards and a touchdown.
Davis likes that defenses have to account for Darnold as a runner, and likes it even more when a defender drops him in the backfield for what would have been a 2-yard loss only for Darnold to keep the ball on a read-option.
''I look up and Sam has the ball,'' Davis said. ''You don't know how happy that makes me, just to see that they have to worry about him carrying the ball. Just to have someone like that, I'm loving it right now.''
After rushing for a total of 135 yards in USC's first three games, Davis has 249 yards in the last two with Darnold at quarterback. Davis had a 50-yard run against Utah and ripped off gains of 49 and 37 yards against Arizona State.
Darnold had 41 yards rushing in his first career start against the Utes, giving Arizona State something to account for. But offensive coordinator Tee Martin said many of Darnold's gains on the ground are improvisation, including his touchdown run against the Sun Devils.
And when USC does call a designed run for Darnold, his ability to adjust can result in big gains through the air. Darnold pulled up on a busted quarterback draw and found sophomore Deontay Burnett for a gain against Arizona State. Helton credited Darnold's experience as a point guard in high school for his quick decision making.
''We had a physical beat inside, he bounces off and somehow catches a little peripheral vision of Deontay out there,'' Helton said. ''Guess he had to do it a lot, and it's showing.''
There is still work to do refining the run-pass option part of the offense. Darnold said USC left ''a lot of yards on the table'' against Arizona State because of available screen passes he did not throw.
Helton is pleased with the steady progress Darnold is making as both a runner and a passer, and that extends to the entire offense when it has the balance between the run and the pass USC displayed against Arizona State.
''The marriage between the two is the reason we are successful,'' Helton said.
And as long as the Trojans are running for nearly 200 yards per game, Helton is fine with any description of his offense. His quarterback, however, agreed with Colorado coach Mike MacIntyre, who said the Trojans have ''changed their entire offense in the past two weeks.''
''I guess we're a spread if you want to put it in literal terms,'' Darnold said.
---