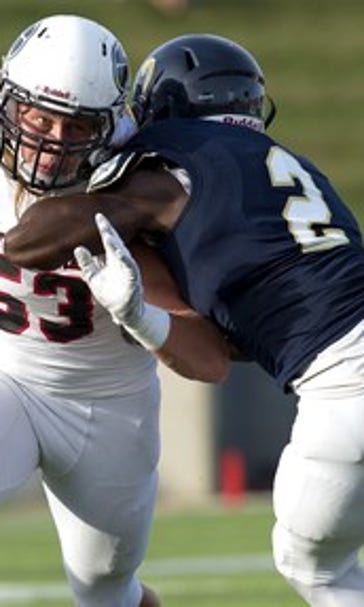 Undrafted FCS players get shot at NFL
May 3, 2016

(STATS) - If the start of the NFL draft is like Christmas morning to many NFL teams, then the post-holiday bargain shopping starts instantly after its conclusion.
Undrafted players from the FCS were among those in demand as soon as the three-day draft ended Saturday evening.
It's been a frenzy ever since.
The signings of top-rated undrafted FCS players included Southern Utah defensive end James Cowser with the Oakland Raiders, Illinois State running back Marshaun Coprich with the New York Giants, Harvard tight end Ben Braunecker with the Chicago Bears, Liberty quarterback Josh Woodrum with the New York Giants and Stony Brook outside linebacker Victor Ochi with the Baltimore Ravens.
Going undrafted can be an advantage for a player who has multiple free agents offers and can pick a team that offers a favorable situation for him.
Following are many of the FCS players who have signed, agreed to terms or accepted a tryout with an NFL team. The list will continue to grow as teams head toward rookie minicamps this month.
Arizona Cardinals: Luke Albers, TE, North Dakota State; Clay DeBord, OT, Eastern Washington; Danny Dillon, LS, Campbell; Chris King, WR, Duquesne; Steven Rivers, QB, Northwestern State; Hakeem Vales, TE, Monmouth
Atlanta Falcons: Reggie Begelton, WR, Lamar (also tryout with Oakland Raiders); Cody Elenz, OL, Lamar; Devonte Johnson, CB, Weber State; Jeremy Kelly, OG, North Dakota State; Brett McMakin, LB, Northern Iowa; Will Ratelle, LB/FB, North Dakota; Alex Ross, QB, Coastal Carolina; Brandon Williams, OLB, Southern Illinois; Terrell Williams, DE/OLB, Youngstown State
Baltimore Ravens: Daniel Adams, WR, Saint Francis; Anthony Fabiano, C, Harvard; O.J. Mau, DT, Gardner-Webb; Kyle Nolan, QB, Georgetown; Victor Ochi, OLB, Stony Brook; Patrick Onwuasor, SS, Portland State; Michael Pierce, DT, Samford; John Robertson, QB, Villanova
Carolina Panthers: Andrew Bonnet, FB/TE, North Dakota State; Michael Eubank, QB, Samford
Chicago Bears: Ben Braunecker, TE, Harvard; Dan Buchholz, OL, Duquesne; Don Cherry, LB, Villanova; Tyler Claytor, DT, William & Mary; Ben LeCompte, P, North Dakota State (also tryout with Minnesota Vikings); Darrin Peterson, WR, Liberty; Robert Porter, CB, Jackson State; R.J. Rickert, TE, Northern Arizona; Mark Sewall, S, Indiana State; Dalyn Williams, QB, Dartmouth (also tryouts with Cincinnati Bengals and Pittsburgh Steelers)
Cincinnati Bengals: Dy'Shawn Mobley, RB, Eastern Kentucky; Kendall Walker, LB, Indiana State; John Weidenaar, OT, Montana State; Dalyn Williams, QB, Dartmouth (also tryouts with Pittsburgh Steelers and Chicago Bears)
Dallas Cowboys: Chris Brown, QB/WR, Cal Poly; Ed Eagan, WR/RS, Northwestern State; Andy Jones, WR, Jacksonville; Deon King, LB, Norfolk State
Denver Broncos: Troy Donahue, S, Dartmouth; Lars Hanson, OT, Sacramento State; Aaron Neary, OG, Eastern Washington; Anthony Norris, TE, Southern Utah; Kalif Raymond, WR, Holy Cross; Sadat Sulleyman, LB, Portland State
Detroit Lions: Adam Fuehne, TE, Southern Illinois; Scott Hosch, QB, Harvard; Cole Wick, TE, Incarnate Word
Green Bay Packers: Makinton Dorleant, CB, Northern Iowa; Jacob Flores, C, Dartmouth; Warren Gatewood, CB, Alcorn State; Savon Huggins, RB, Northern Iowa; Tyler Kuder, DT, Idaho State; Julius Moore, S, Elon; Josh Wineberg, OL, Western Carolina
Houston Texas: Tyrell Blanks, WR, Coastal Carolina; Cory Carter, P, Texas Southern
Indianapolis Colts: Brock Miller, P, Southern Utah; Ammon Olsen, QB, Southern Utah; Adam Redmond, OT, Harvard; Chester Rogers, WR, Grambling State
Kansas City Chiefs: Trent Coles, CB, Duquesne; Brandon Eakins, WR, The Citadel; Herbert Gamboa, LB, Montana; Vernon Harris, FS, Dartmouth; Keyen Lage, LB, South Dakota; Garrick Mayweather Jr., OL, Fordham; Troymaine Pope, RB, Jacksonville State; Christian Reeves, WR, Williams & Mary; Trey Wesley, S, Samford
Los Angeles Rams: Paul McRoberts, WR, Southeast Missouri State; Pace Murphy, OL, Northwestern State
Miami Dolphins: Akil Blount, LB, Florida A&M
Minnesota Vikings: Ben LeCompte, P, North Dakota State (also tryout with Chicago Bears); Edwin Young, CB, Northern Iowa
New England Patriots: Ryan McManus, WR, Dartmouth;
New Orleans Saints: Anthony Pistelli, PK, Samford
New York Giants: Marshaun Coprich, RB, Illinois State; Greg Milhouse Jr., DT, Campbell; Matt Smalley, S, Lafayette; Josh Woodrum, QB, Liberty
New York Jets: Terron Beckham, RB, Lafayette; Jon Desir, DL, Towson (also tryout with Seattle Seahawks); Damian Love, OL, Alabama State; Helva Matungulu, DT, Western Carolina
Oakland Raiders: Reggie Begelton, WR, Lamar (also tryout with Atlanta Falcons); James Cowser DE/OLB, Southern Utah; Marquis Drayton, FS, Bethune-Cookman; Kenneth Durden, CB, Youngstown State; Antonio Hamilton, S, South Carolina State; Drew Iddings, DE, South Dakota; Ben Madon, TE, Eastern Kentucky; Tony McRae, CB, North Carolina A&T; Ryan O'Malley, TE, Penn; Terran Vaughn, OL, Stephen F. Austin; Byron Williams, OL, Stephen F. Austin
Philadelphia Eagles: Bruce Johnson, C, Maine; C.J. Smith, CB, North Dakota State; Myke Tavarres, LB, Incarnate Word
Pittsburgh Steelers: Jacob Huesman, QB, Chattanooga; Cory Magwood, LB, Furman; Devaunte Sigler, DT, Jacksonville State; Dalyn Williams, QB, Dartmouth (also tryouts with Chicago Bears and Cincinnati Bengals)
San Diego Chargers: Kameron Canaday, LS, Portland State; Mariel Cooper, CB, The Citadel; Jamaal Jones, WR, Montana; Chris Landrum, DE/OLB, Jacksonville State; Tre Roberson, WR/DB, Illinois State
San Francisco 49ers: John Lunsford, PK, Liberty
Seattle Seahawks: Jon Desir, DL, Towson (also tryout with New York Jets); Devin Fosselman; WR, Jackson State; Cody Fulleton, DE, Dartmouth; David Perkins, DE/OLB, Illinois State; Denzel Thompson, FS, Southeastern Louisiana
Tampa Bay Buccaneers: Mike Kozlakowski, DE/OLB, Maine; Luke Rhodes, LB, William & Mary
Tennessee Titans: Tim Kilfoy, S, Northern Iowa; Nick Richter, OT, Richmond; Ben Roberts, WR, Montana; Golden Ukonu, OL, Mississippi Valley State
Washington Redskins: Tevin Carter, S, Southern Utah; Teddy Corwin, DE/OLB, Illinois State; Reggie Diggs, WR, Richmond; Johnta' Hebert, RB, Prairie View A&M; David Jones, RB, Portland State; Anthony Lanier, LB, Alabama A&M
---