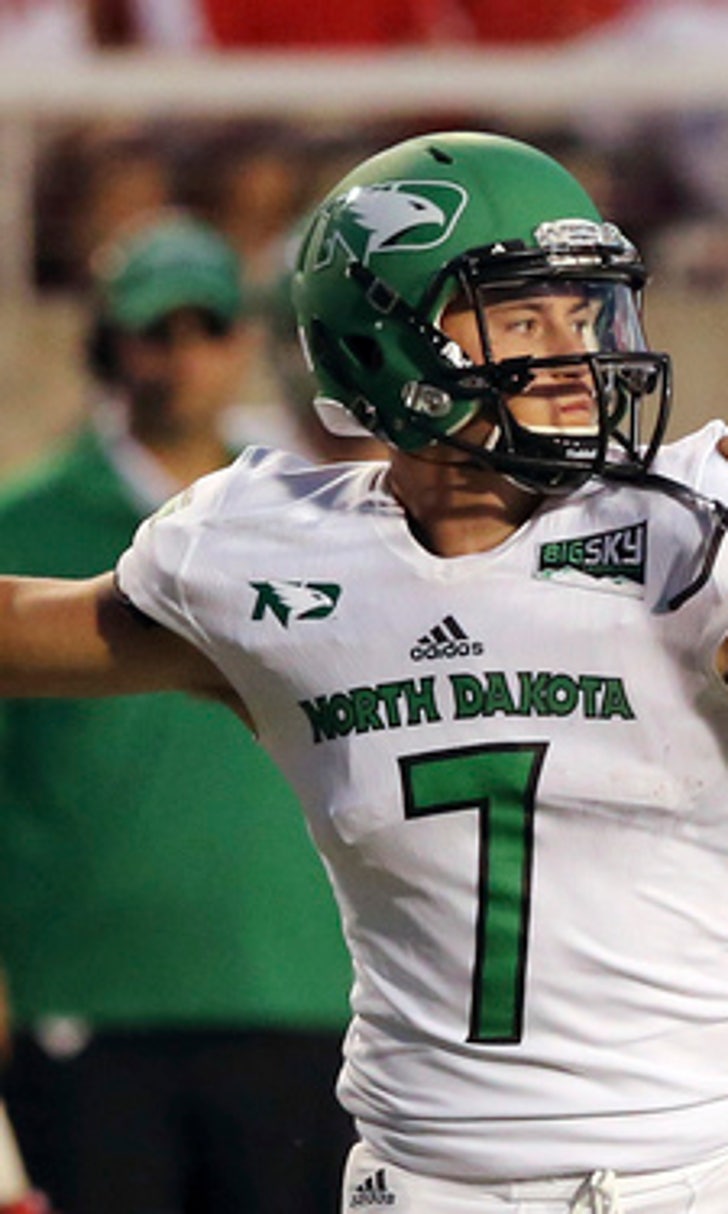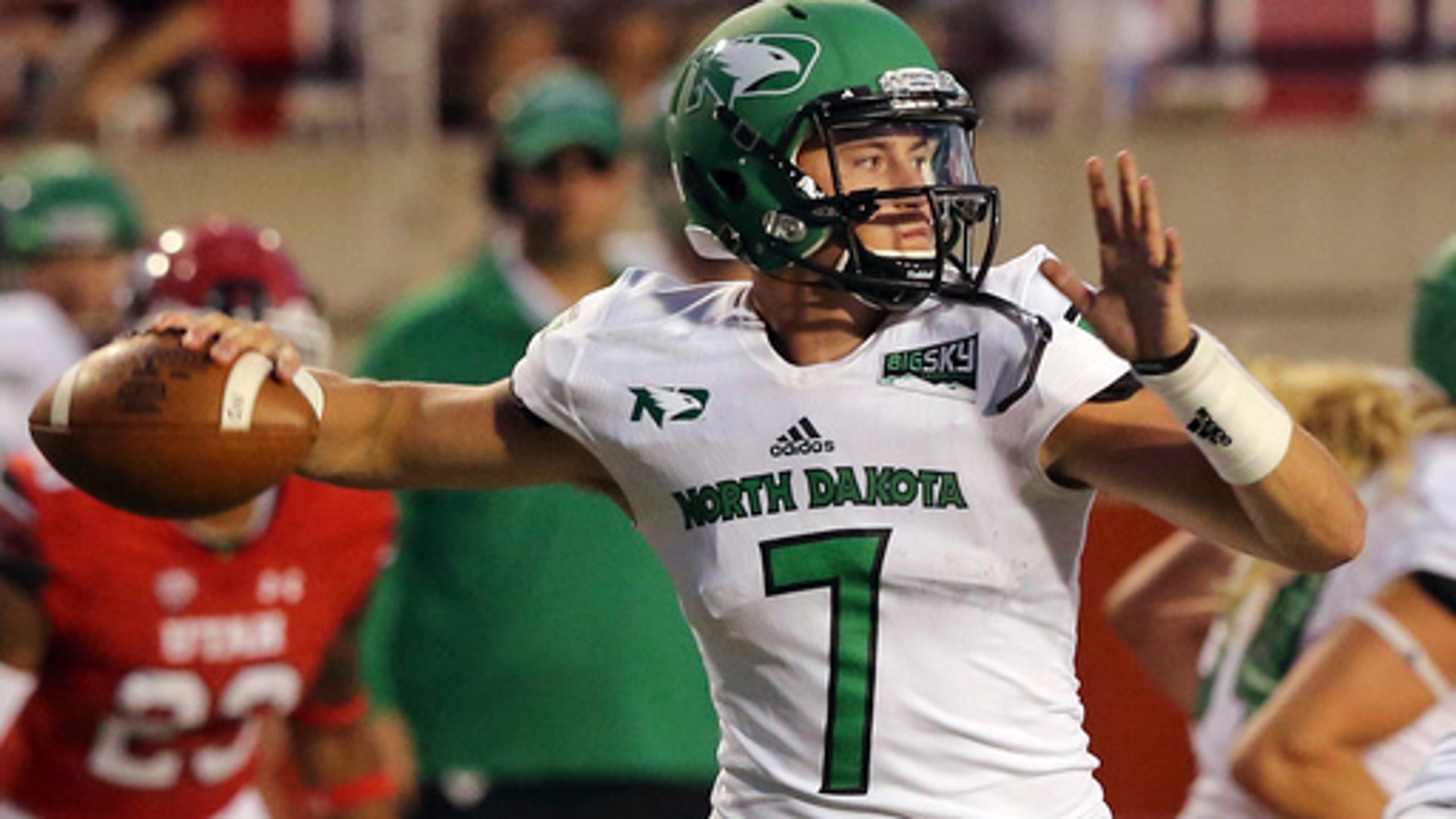 UND faces USD in another MVFC showdown
BY AP • September 15, 2017
(STATS) - The first edition in the challenge series between two of the premier FCS conferences was nearly a complete washout for the division's far-western league.
In last weekend's five matchups between Big Sky and Missouri Valley Football Conference teams, the MVFC came away victorious in four of them. Only a dominant performance from 10th-ranked North Dakota prevented the Big Sky from going o-fer in the showdown.
The Fighting Hawks are facing an MVFC team for the second week in a row Saturday, and they'll look to deliver another win for the Big Sky when they visit No. 23 South Dakota in the FCS' only matchup between ranked teams this weekend.
In the opening weekend of the challenge series, the Big Sky seemed to have an edge by hosting four of the meetings, but that proved to be inconsequential. In the marquee matchup, second-ranked North Dakota State blitzed No. 12 Eastern Washington 40-13, while No. 20 Western Illinois defeated Northern Arizona, No. 4 South Dakota State beat Montana State and 21st-ranked Northern Iowa, the lone MVFC home team last weekend, topped Cal Poly in overtime.
North Dakota (1-1), however, prevented the sweep in convincing fashion with a 34-0 beatdown of Missouri State.
It appeared the Fighting Hawks would have their hands full considering Missouri State racked up 492 yards and 43 points in a season-opening loss to Missouri, but Bubba Schweigert's team had no such trouble. UND limited the Bears to 211 yards in pitching its first shutout since 2012.
"I won't say we expected a shutout, but that's the goal every time we go out there," Schweigert said. "It was a good team win. We still have some things to clean up, but anytime you can run the ball the way we did and stop the run like we did, you're going to give yourself a chance for a positive result."
The offense, which understandably struggled in opening the season with a 37-16 loss to a Utah team sitting just outside the AP Top 25, was humming against Missouri State, piling up 526 yards. Brady Oliveira ran for 164 on just 16 attempts and John Santiago, a 2017 STATS FCS Preseason All-American, had 58 yards of offense with a touchdown and a 38-yard kickoff return.
Santiago had a huge performance against South Dakota last season, as North Dakota rallied from 20 points down in the final 18 minutes for a 47-44 double-overtime win. Santiago ran for 140 yards and scored twice - including a 25-yard run on the first play of the first extra period.
The Fighting Hawks' comeback last September came against a Coyotes team that would finish the season 4-7, but they'll be facing a more formidable foe in the 95th meeting between these border rivals.
As one of seven MVFC teams in the STATS FCS Top 25, South Dakota (2-0) returned to the rankings Monday for the first time in six years following a 70-point annihilation of Drake and 35-27 victory over Bowling Green last Saturday.
"It's a big win," South Dakota second-year coach Bob Nielson said upsetting Bowling Green. "You play a team like Bowling Green, an FBS school with the kind of personnel that we're going to face at the very best level in our league and some positions, maybe even a little bit better. For our guys to go out and not just compete, but to find a way to win is really a great step for our program."
Senior quarterback Chris Streveler has led the charge, totaling 714 yards of offense while throwing for six touchdowns and running in another four scores. He was named the STATS FCS National Offensive Player of the Week on Monday and is one of 10 players to score a touchdown for South Dakota, which is tied with North Dakota State for the FCS lead with 112 points and is third in total offense at 554.5 yards per game.
"This team is explosive," Schweigert said. "We've got to avoid that type of momentum that goes against us. How do you do that? You take care of the ball, you play solid on special teams and you don't give up explosive plays on defense."
North Dakota was on the wrong end of couple of big plays during a 21-point, five-minute stretch in the second quarter in last year's meeting, with Streveler tossing a 30-yard and 63-yard TD pass. The senior transfer from Minnesota finished with 217 passing yards with four touchdowns and ran for another 91, but also had a pair of interceptions.
South Dakota's impressive start to this season has come away from Vermillion, as it's opened a season with back-to-back road wins for the first time since 1957. Seeking their first 3-0 start since winning their first four games in 2006, the Coyotes finally get to play at the DakotaDome, where they've won 14 consecutive home openers.
"We should be comfortable playing indoors because we do it a lot," Schweigert said. "Now the change is going to be their home crowd. They'll have a good crowd and are off to a really good start and moved into the Top 25 and are deserving of that ranking. We'll have to be able to handle the crowd noise while we're on offense."
---
---