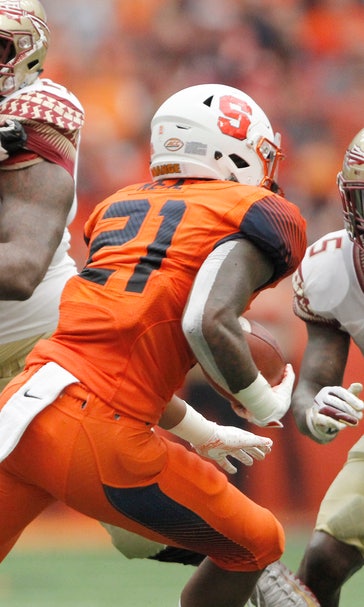 Unbeaten Syracuse meets familiar foe in struggling UConn
September 21, 2018
SYRACUSE, N.Y. (AP) — Unbeaten after three games for only the eighth time in eight decades, Syracuse concludes a three-game homestand on Saturday against a familiar foe that's struggling.
With a game at No. 3 Clemson on the horizon in a week, looking past Connecticut (1-2) isn't an option for the Orange as they come off a convincing 30-7 victory over Florida State in their Atlantic Coast Conference opener.
"We did what we were supposed to do. We're sitting at 3-0, so everybody's pretty excited," tailback Moe Neal said. "We've got to keep it going."
The Huskies' lone victory came last week against Rhode Island of the Championship Subdivision, and it was a struggle. Other than an interception and when URI took a knee in the closing seconds of the opening half, the Rams scored on every series against an inexperienced defense. Kevin Mensah's 22-yard scoring run in the final minute gave UConn the 56-49 victory.
It was a Connecticut program record for most points allowed in a victory, which doesn't bode well against a team averaging 49 points with an opportunistic defense averaging two picks a game.
"I know the numbers aren't good and all that sort of stuff," said Connecticut coach Randy Edsall, whose lineup on both sides of the ball has included 31 underclassmen. "I don't care who you are, if you're playing as many young guys as we are, you're not going to have the stats.
"If we can keep getting them to keep playing hard, keep giving the great effort each and every day in practice and in the meeting room, it's going to pay off," Edsall said. "We have to take some lumps now."
Senior quarterback Eric Dungey is slated to start for Syracuse after sitting out the second half against the Seminoles with blurred vision.
So far, this season seems different for Syracuse than the first two under Dino Babers. The Orange easily handled FCS foes in their openers in 2016 and 2017, then lost the second game at home.
Syracuse crossed that hurdle this year with a win over FCS foe Wagner in Game 2 and now comes Edsall, who's 5-2 against his alma mater as coach of the Huskies. And he has former Orange star Terry Richardson as his top assistant.
"We're just trying to find a way to win a football game so that we can be happy like we were last Saturday and not sad," Babers said. "They have answered the bell every time we've asked them to improve."
Former Syracuse star Joe Morris, the school's all-time leading rusher (4,299 yards), will have his jersey retired at halftime. Edsall was a quarterback at Syracuse from 1976-79 and a teammate of Morris.
Other things to know when UConn visits Syracuse on Saturday:
DUAL-THREAT GUYS
The game will feature two quarterbacks who like to run as much as they like to throw. Dungey leads the Orange in rushing with 277 yards and has passed for 477. David Pindell leads the Huskies with 334 yards rushing and 656 passing.
CENTURY MARK
UConn had two players top the 100-yard mark against Rhode Island, Kevin Mensah with 144 yards and Pindell with 137. That marked the first time the Huskies had accomplished the feat since 2010 against Texas Southern. Syracuse is averaging 257 yards on the ground behind the duo of Neal and Dontae Strickland, but the Orange haven't had a running back reach the 100-yard mark.
"We still want to run the ball a little better," Neal said. "We're going to fight every snap like it's our last. We're going to do our job and see where we stand at the end of the day."
THIRD DOWN CONTRASTS
UConn is last nationally in third-down defense percentage, having allowed 15 of 24 conversions (62.5 percent), while Syracuse ranks second to Miami with eight conversions allowed in 42 chances (19.1 percent).
STARTING FAST
Syracuse hasn't started a season with four straight wins since 1991 and has done so only four times since 1959, the year the Orange went undefeated and won their lone national championship. They finished unbeaten in two of those seasons and ended up in the old Top 20 all four times. Babers has never started a season 4-0 in seven years as a head coach.
YOUTH MOVEMENT
The number of underclassmen the Huskies have played this season amounts to more than half the players that have seen game action. When UConn traveled to play then-No. 20 Boise State two weeks ago, a 62-7 loss, five true freshmen started on defense — three on the line — for the first time since the program moved to the Bowl Subdivision in 2002.
---
---