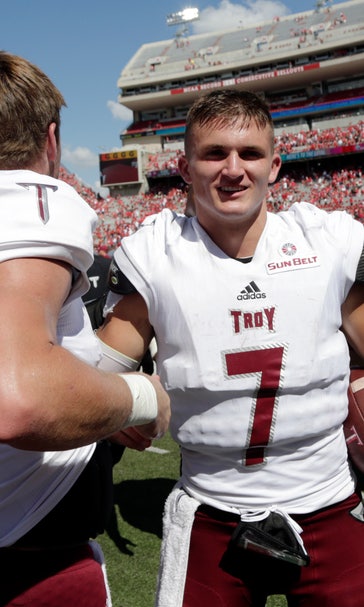 Troy looks to maintain momentum after beating Nebraska
September 20, 2018
MONTGOMERY, Ala. (AP) — Neal Brown and Troy are hoping they've learned their lesson.
The Trojans (2-1) and their 38-year-old coach, fresh from a 24-19 road upset of Nebraska , haven't handled the national spotlight well the past couple of seasons. After big wins, they haven't been able to maintain that momentum.
They came out flat against rival South Alabama following a stunning win over then-No. 25 LSU last season. Two years ago, the Trojans became the first Sun Belt Conference team to enter the Top 25 only to lose 35-3 to Arkansas State four days later.
The win over LSU was regarded as a much bigger upset than the Nebraska game. The follow-up was ugly.
"I just think from a program standpoint, and it's led by me, I don't think we handled it very well," Brown said. "And we laid an egg against South Alabama. Just did not play very well at all.
"I think you're always learning. With this, we're just treating it like status quo. We're on to the next one. We're not treating it any different than we did last Sunday and Monday, when we won our home game."
The Trojans open Sun Belt play Saturday night at Louisiana-Monroe (2-1). Troy opened the season hoping to establish itself as an elite Group of Five program but fell 56-20 to Boise State.
The Trojans banked $1.15 million from the Nebraska game along with national exposure that's often hard to come by for a program tucked away in a southeast Alabama town of about 20,000 residents and overshadowed by No. 1 Alabama and No. 9 Auburn.
The Trojans were modest 11-point underdogs against the Cornhuskers, who were starting walk-on quarterback Andrew Bunch with Adrian Martinez out with a knee injury. It's also early in coach Scott Frost's rebuilding process, helping Brown keep the accomplishment in some perspective.
But Sun Belt teams had been 0-8 against Nebraska and had dropped 12 consecutive games against Big Ten members. Troy was a three-touchdown underdog against LSU, which had been nursing a 49-game home nonconference winning streak.
Against Nebraska, B.J. Smith ran untouched for a 26-yard touchdown in the fourth quarter, Cedarius Rookard returned a punt 59 yards for a score and Will Sunderland made another pick in the final minutes.
"Nebraska's just getting started. Scott Frost's going to do an unbelievable job there," Brown said. "They're going to get that thing back going.
"But this was a game that we felt like we could win. Our kids expected to win going out there. We didn't play very well offensively and were still able to win the game. Quite a different feeling than it was last year."
They're hoping for quite a different feeling than after the subsequent game, too.
After beating LSU, Troy fell 19-8 to a South Alabama team that came in 1-4. The Trojans lost four turnovers and allowed a safety.
"I think we've learned from it and we're going to try not to let those things happen again," defensive end Hunter Reese said. "We're going to learn from it, and whatever got us the win over LSU, whatever got us ranked, whatever helped us beat Nebraska, we're going to try to do those exact same things but better.
"And get ready for ULM like it was our last game. We've got to put everything together and not let complacency creep in."
---
---