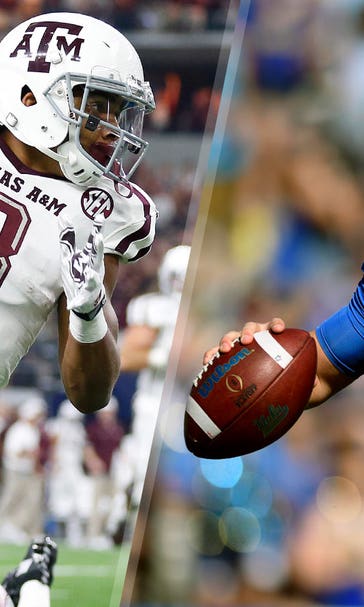 Top 10 true freshmen of 2015: A&M's Kirk, UCLA's Rosen lead list
December 22, 2015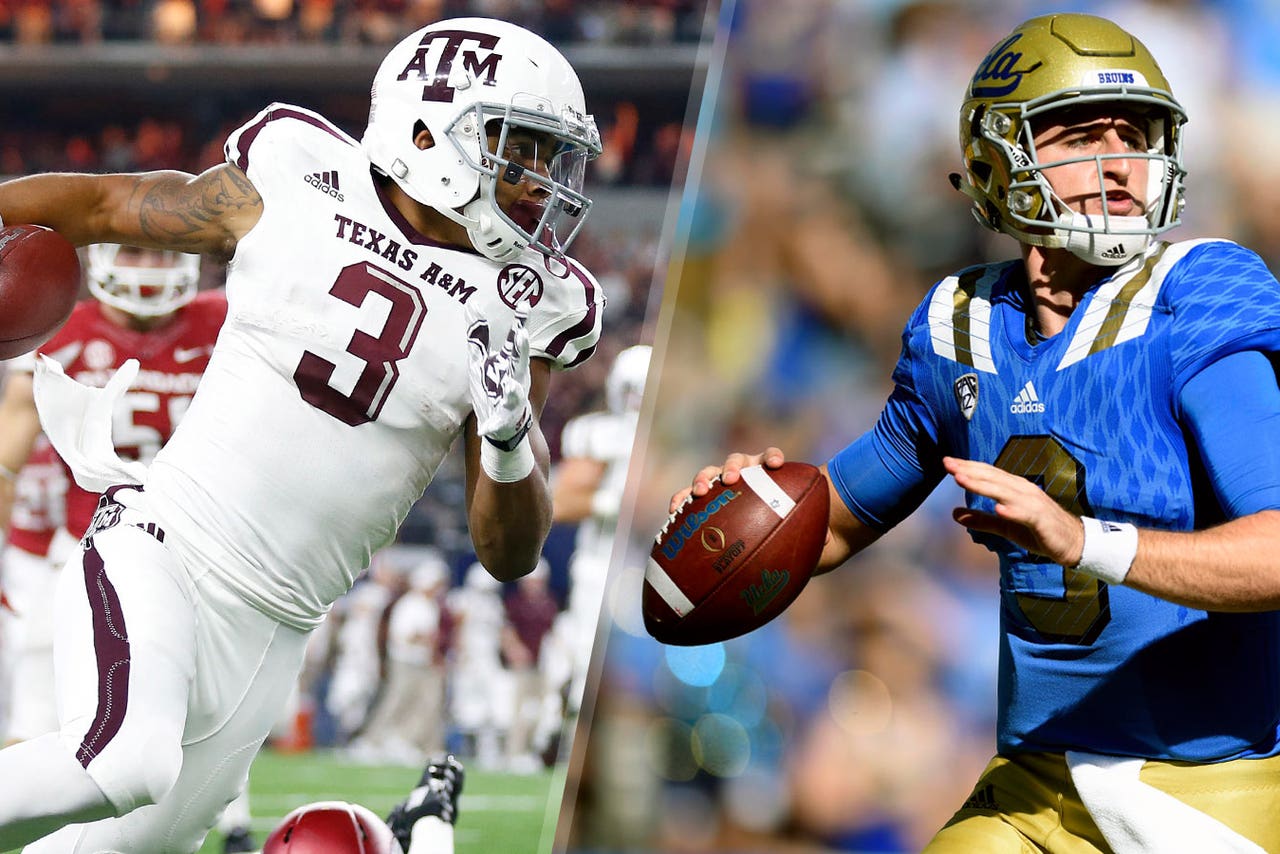 It's been a terrific season for newcomers in college football and this year brought a bunch of dynamic true freshmen. Here is our Top 10 on the guys who had the best debut seasons.
1. Christian Kirk, Texas A&M, KR/WR: In a very turbulent season, the Arizona native was the Aggies' one sure thing. A rock-solid, mature-beyond-his-years, go-to guy, Kirk showed his playmaking skills in the opener against Arizona State and never eased up, piling up 1,659 all-purpose yards and producing a team-best 70 catches en route to winning the SEC coaches vote as the SEC Freshman of the Year. 
2. Josh Rosen, UCLA, QB: The 6-foot-4, 210-pound former youth tennis star showed the kind of skills that had NFL personnel types raving. Rosen set a Bruins record for most passes without an INT at 245, He also threw for 3,349 yards, completed 60 percent of his passes and produced a 20-9 TD-INT ratio.
3. Saquon Barkley, Penn State, RB: There were some terrific rookie RBs out there (Iowa State's redshirt freshman Mike Warren and Washington's Myles Gaskin also deserve a lot of credit) but I'm putting Barkley atop this crop of runners because of the way he stepped up against some very good defenses, gashing Ohio State for 194 yards, Northwestern for 120 and Michigan State for 105 — and all three of those performances were on the road. Despite missing two games, Barkley still eclipsed the 1,000-yard mark, setting the Penn State freshman rushing record with 1,007 yards, averaging 6.1 yards per carry. On first downs Barkley averaged almost seven yards a carry.
4. Jordan Whitehead, Pitt, DB/RB: Averaged 7.9 yards per carry as a tailback, but did most of his damage as a defensive back for first-year coach Pat Narduzzi, leading the Panthers with 99 tackles and winning ACC Rookie of the Year honors. Against Notre Dame, Whitehead had four carries and two went for TDs. Narduzzi, who has been around some excellent DBs and produced some first-rounders, is a big believer in Whitehead. "We haven't had a guy like this before," Narduzzi said. "He's really special. He could play corner for us. He's very fast and he doesn't miss a tackle. He takes great angles. We'll play him both ways."
5. Calvin Ridley, Alabama, WR: Expecting the South Florida native to take off right where the great Amari Cooper left off was asking too much, but Ridley certainly backed up his recruiting hype, leading the Tide with 75 receptions for 893 yards and five TDs. 
6. Mitch Hyatt, Clemson, LT: The 6-5, 295-pounder from Georgia started all 13 games for the No. 1 Tigers at left tackle and became Clemson's first true freshman O-lineman to ever start the opening game. Hyatt was toughened up by going up against the Tigers' great Shaq Lawson at practice and more than held his own on Saturdays, being graded out at 88 percent by his coaches, and earning ACC Offensive Lineman of the Week after Clemson beat Florida State — the first true freshman in Tiger history to win that award.
7. Malik Jefferson, Texas, LB: The headliner of a superb crew of true freshmen. In truth, I thought hard about including two of Jefferson's teammates on here (O-linemen Connor Williams and Patrick Vahe). Jefferson is a sideline-to-sideline blur who finished second on the team with 61 total tackles, including seven for loss and is exactly the kind of leader Charlie Strong is hoping to build his foundation at UT around. "Malik is a Dude," said Strong while describing his young linebacker's presence and leadership qualities.
8. Minkah Fitzpatrick, Alabama, DB:  The NJ product became the first player in school history to return two interceptions for touchdowns in a single game when he burned Texas A&M in October. Fitzpatrick also has returned a punt for a TD and blocked a kick to go with his 41 tackles and eight passes broken up. 
9. Derwin James, FSU, S: The huge 6-3, 212-pound DB upped the physicality level of the 'Noles defense even further. James finished second on the team in tackles with 77  and also had 7.5 tackles for loss, two forced fumbles and two fumble recoveries.
10. Cameron Smith, USC, LB: A knee injury shortened his season but not before he had a breakout game when he picked off three passes against Utah and took one back for a TD. In all, Smith piled up 78 tackles before missing the final three games of the season.  
Bruce Feldman is a senior college football reporter and columnist for FOXSports.com and FS1. He is also a New York Times best-selling author. His new book, "The QB: The Making of Modern Quarterbacks," came out in October 2014. Follow him on Twitter @BruceFeldmanCFB and Facebook.
---
---