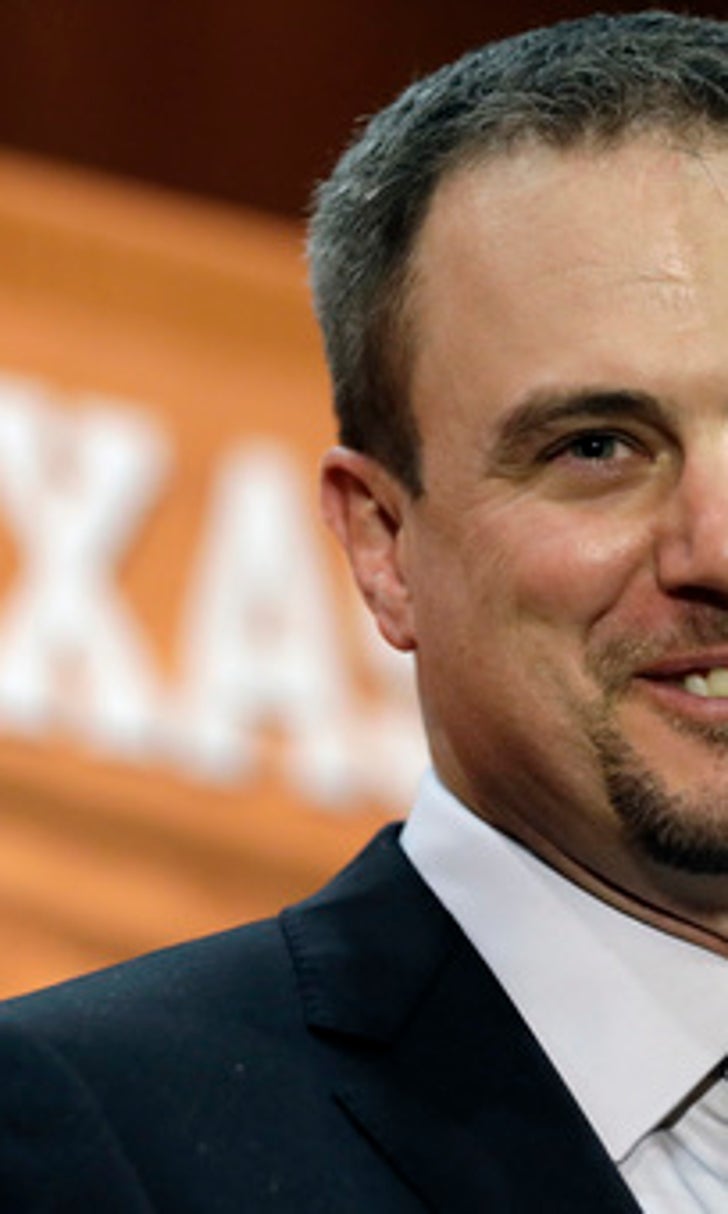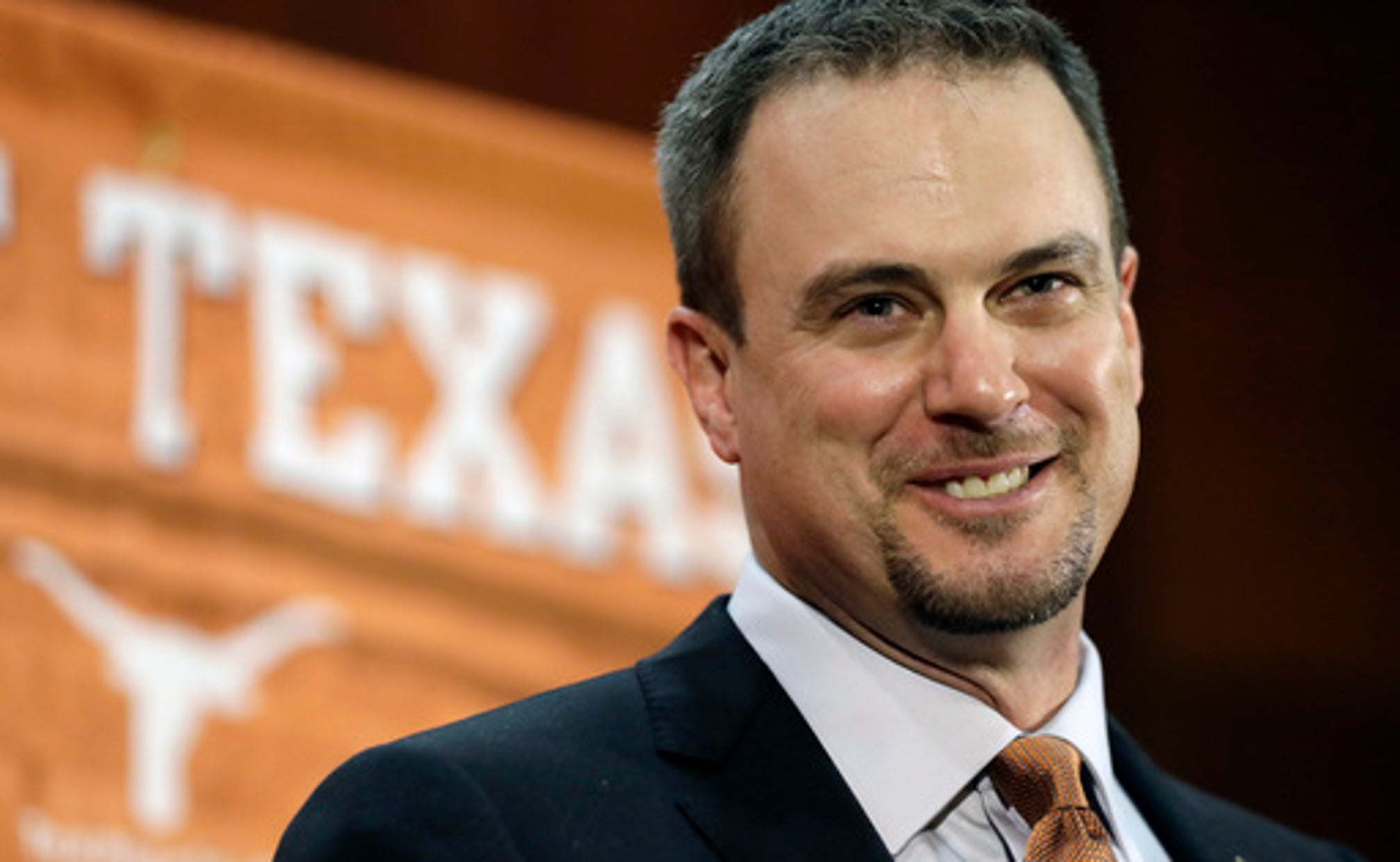 Tom Herman's No. 23 Texas to make big debut against Maryland
BY AP • September 1, 2017
AUSTIN, Texas (AP) The first time Tom Herman traveled to Texas, it was a 1998 road trip from California for a barely-paid small college assistant's job. Three days of driving had landed him in the border city of El Paso, with 600 miles still to go to a gig that paid him $5,000 and a meal card.
''Man, Texas is huge,'' Herman thought to himself.
In oh so many ways. Nearly 20 years later, he can say the same thing about his new job as the head at the University of Texas, where he's being paid more than $5 million per year to turn around the once-proud program after three straight losing seasons.
After nine months of rebuilding his team, rebuilding state-of-the-art locker rooms and ramping up recruiting, Herman leads his team onto the field for the first time Saturday when the No. 23 Longhorns host Maryland.
''We're (days) away from showing the world what we've been doing the last nine months, how hard we've been working,'' Herman said.
But the only thing that will really impress anyone is winning. Three years of losing and seven years without a Big 12 championship have the program in a funk. Mack Brown won a national championship in 2005 and played for another in 2009 but even he was forced out in 2013 when Texas got fed up after four straight seasons of at least four losses.
''(Herman) has pushed the right buttons, said the right things, and done an amazing job doing everything he could do right. I think everybody thinks he's the right hire,'' said Brown, who is now a college football television analyst for ABC/ESPN.
''Now you've got to win games. You've got to win games. Charlie Strong knows that. None of it matters if you don't win the games,'' Brown said.
Herman is getting the benefit of the doubt that he'll do that. Despite those consecutive losing seasons under Strong, Texas enters the season ranked in the Top 25. The Longhorns are recognized as a talented team that's short on depth with 18 freshmen and sophomores in the two-deep lineup. The defense was among the worst in the country last year.
''If you've been in our program for the last nine months, you're going to be ready to play a college football game if we jog you out there,'' Herman said.
Here's a few things to watch for when Texas plays Maryland:
QUARTERBACKS
Texas sophomore Shane Buechele is young but a tested veteran. He started 12 games last season and set a Texas freshman passing record with nearly 3,000 yards and 21 touchdowns. The offense is changing, but Buechele fought off a challenge from freshman Sam Ehlinger for the No. 1 job. Sophomore Tyrrell Pigrome will start for Maryland. He's small but elusive at 5-foot-11, 196 pounds and his ability to keep the Texas defense off balance will be the key to Maryland's chance to win.
TEXAS DEFENSIVE LINE
Back in January, Herman criticized this unit as ''fat.'' He changed his tune this week, calling the group a ''welcome surprise'' in training camp. Poona Ford, a wrecking ball at 5-11, 300 pounds, was named a team captain. The group otherwise lacks standouts and Ford will be depended upon heavily to be disruptive at the line of scrimmage to keep Texas from getting run over like last season.
PRESIDENTIAL BACKFIELD
Attacking that suspect defensive line will be Maryland running backs Ty Johnson and Lorenzo Harrison III, a duo Herman dubbed the ''Presidential Backfield.'' Johnson was a 1,000-yard rusher last season. Harrison was leading the Terrapins with 633 yards before he was suspended for the final four games.
SACK ATTACK
Maryland ranked second in the Big Ten in sacks last season and hopes it can get Buechele on the run from end Jessie Aniebonam and linebacker Jermaine Carter Jr. The two combined for 15 sacks last season. Texas has only two scholarship quarterbacks, and protecting Buechele will be paramount all season.
TEXAS SPECIAL TEAMS
Special teams misfires and blunders played a huge role in some big losses for Texas under Strong. The Longhorns have a terrific punter in Australian Michael Dickson but debut a new placekicker in junior college transfer Joshua Roland, who kicked three field goals in the spring game, all under 40 yards.
---
More AP college football: www.collegefootball.ap.org and https://twitter.com/AP-Top25
---
---