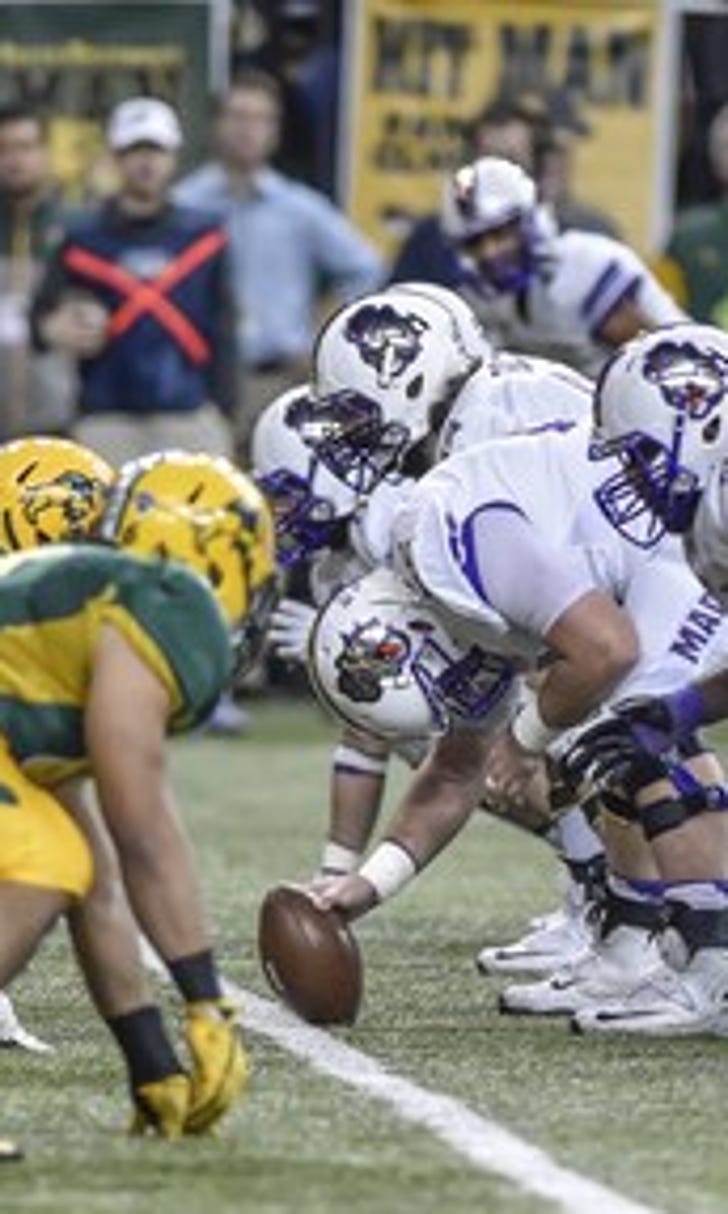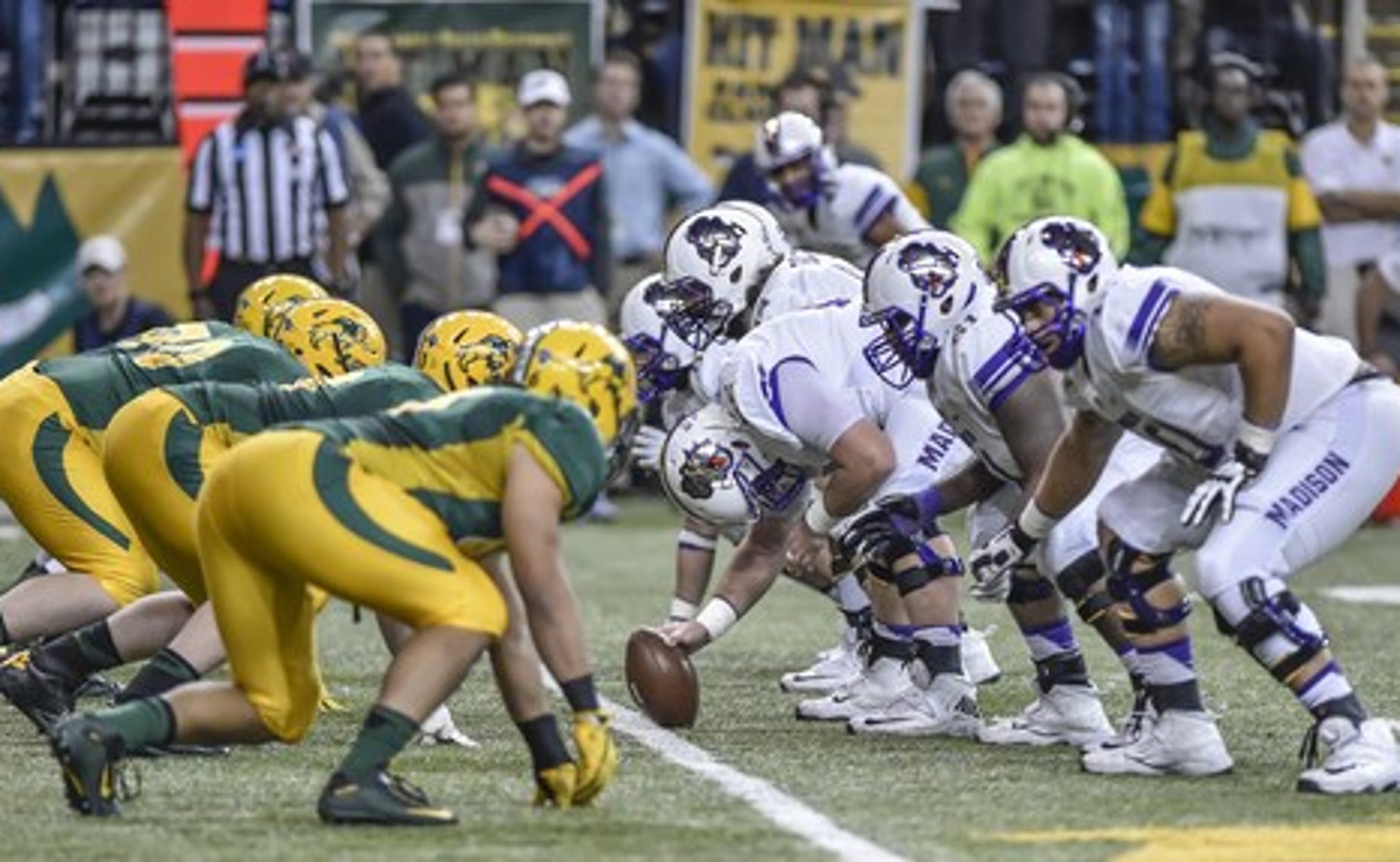 Title clash of FCS titans: James Madison vs. North Dakota State
BY AP • December 17, 2017
(STATS) - The FCS championship game matchup so many have anticipated has come to fruition.
Top-ranked James Madison gets to defend its 2016 national title against North Dakota State, whose run of five straight national championships from 2011-15 was ended by the Dukes in last year's semifinals.
It's FCS titan versus FCS titan.
Blowout wins in this weekend's semis set up the monumental game on Jan. 6 at Toyota Stadium in Frisco, Texas.
The matchup between the two top FCS programs can go either way.
James Madison (14-0), the No. 1 seed out of CAA Football, is on a 26-game winning streak, second in FCS history to North Dakota State's 33 in a row from 2012-14. NDSU (13-1), the No. 2 seed from the Missouri Valley Football Conference, is 96-8 since the start of the 2011 season.
The Dukes have been built in the same mold as North Dakota State, the gold standard of the FCS. Each team likes to take control along the line of scrimmage, using a powerful run game to control game clock and play a swarming style of defense.
They've split two all-time meetings - the first a 26-14 NDSU win in the second round of the playoffs. In last year's national semifinal at North Dakota State, James Madison basically had to win the game twice. It built a 17-0 lead in the first half, gave it all away, then overcame the Bison's momentum in the second half to win going away, 27-17. Quarterback Bryan Schor threw for 242 yards and three touchdowns in the upset.
James Madison, which went on to defeat Youngstown State in the 2016 final, will seek to become the seventh program to win consecutive FCS titles. North Dakota State's five in a row is the record, and a sixth overall title would tie the Bison with Georgia Southern for the most in history.
Just how did JMU and NDSU create the Frisco treat this weekend? Here's a quick review of the semifinal-round games:
---=
No. 2 seed North Dakota State (13-1) 55, No. 6 seed Sam Houston State (12-2) 13
Story Line: The Bison dominated on both sides of the ball. Running back Bruce Anderson scored five touchdowns and quarterback Easton Stick had a hand in five scores, while the defense intercepted FCS passing leader Jeremiah Briscoe three times. Safety Tre Dempsey added a fumble recovery for a fourth takeaway.
Game Ball: Anderson averaged 12.5 yards per touch, carrying the ball 17 times for a career-high 183 yards and three touchdowns and scoring on both of his receptions for another 54 yards. Each of his five scores went for at least 23 yards.
Key Stat: Take your pick, North Dakota State. But the blocking on the offensive line and terrific cutbacks and reads of the running backs helped the Bison rush for 471 yards - a program record in the playoffs. In addition to Anderson, Seth Wilson had 194 rushing yards, Ty Brooks 62 before leaving with a shoulder injury and Stick 32 - a foursome that averaged 9.8 yards on 48 carries.
The Takeaway: Given the enormity of the game, this might have been North Dakota State's most impressive performance of the season. While defense is the Bison's calling card, their offense has shifted to a higher gear in the playoffs, scoring 19 touchdowns. But the win came at a cost for coach Chris Klieman's team, as starting cornerbacks Jalen Allison and Jaylaan Wimbush and running back Ty Brooks suffered injuries that likely will sideline them for the national championship game.
---=
No. 1 seed James Madison (14-0) 51, No. 5 seed South Dakota State (11-3)
Story Line: In forcing a program-record 10 turnovers and sacking South Dakota State quarterback Taryn Christion five times, the Dukes destroyed the Jackrabbits' powerful offense. They pulled away early in the third quarter when Marcus Marshall scored on 65 and 87-yard touchdown runs.
Game Ball: Give it to the entire defense. Cornerback Jimmy Moreland had three interceptions, safety Jordan Brown two interceptions and a fumble recovery, defensive end Darrious Carter two sacks and two forced fumbles, linebacker Kyre Hawkins two fumble recoveries and safety Raven Greene scored on a 59-yard pick-six.
Key Stat: The 10 takeaways are jaw-dropping. They pushed the Dukes' season total to 43 with a plus-24 turnover margin - the FCS high in both categories.
The Takeaway: It was generally thought James Madison was at risk of losing to a Jackrabbits team that entered on a seven-game winning streak, including against North Dakota State. But defensive coordinator Bob Tropp's unit mauled them with their speed and power. The Dukes also got the necessary run game out of Marshall and Schor was his usual efficient self in their 26th straight win. Pure dominance.
---
---