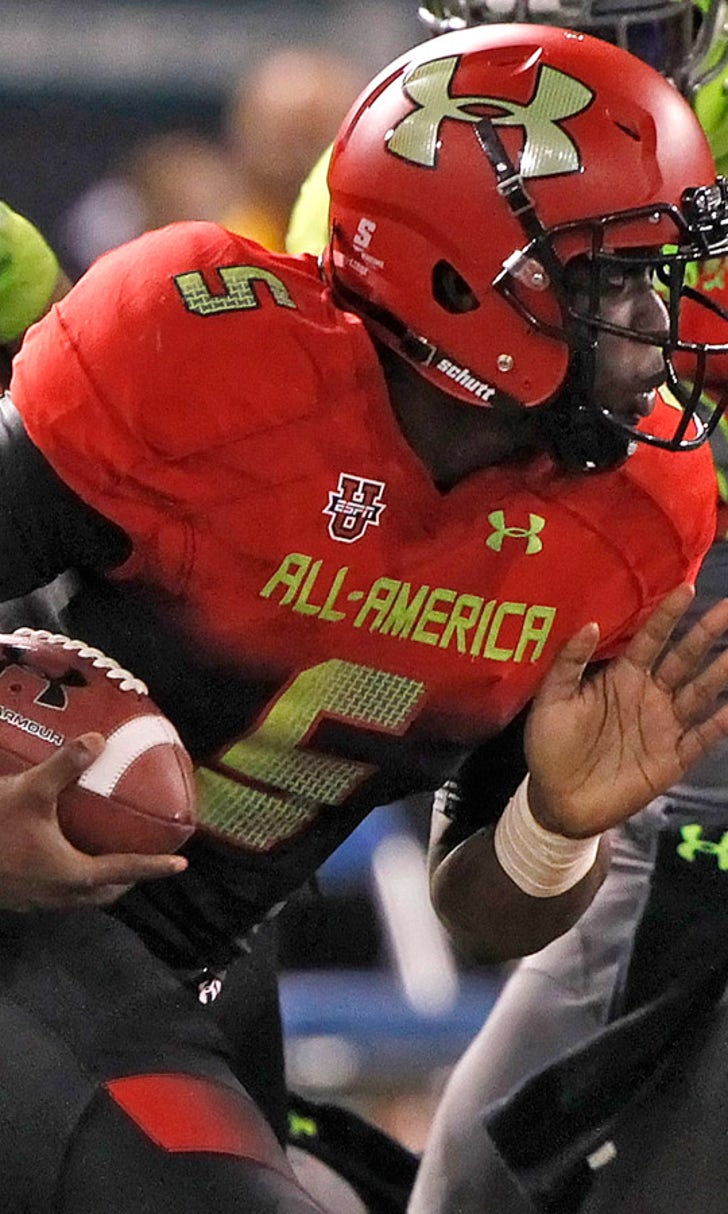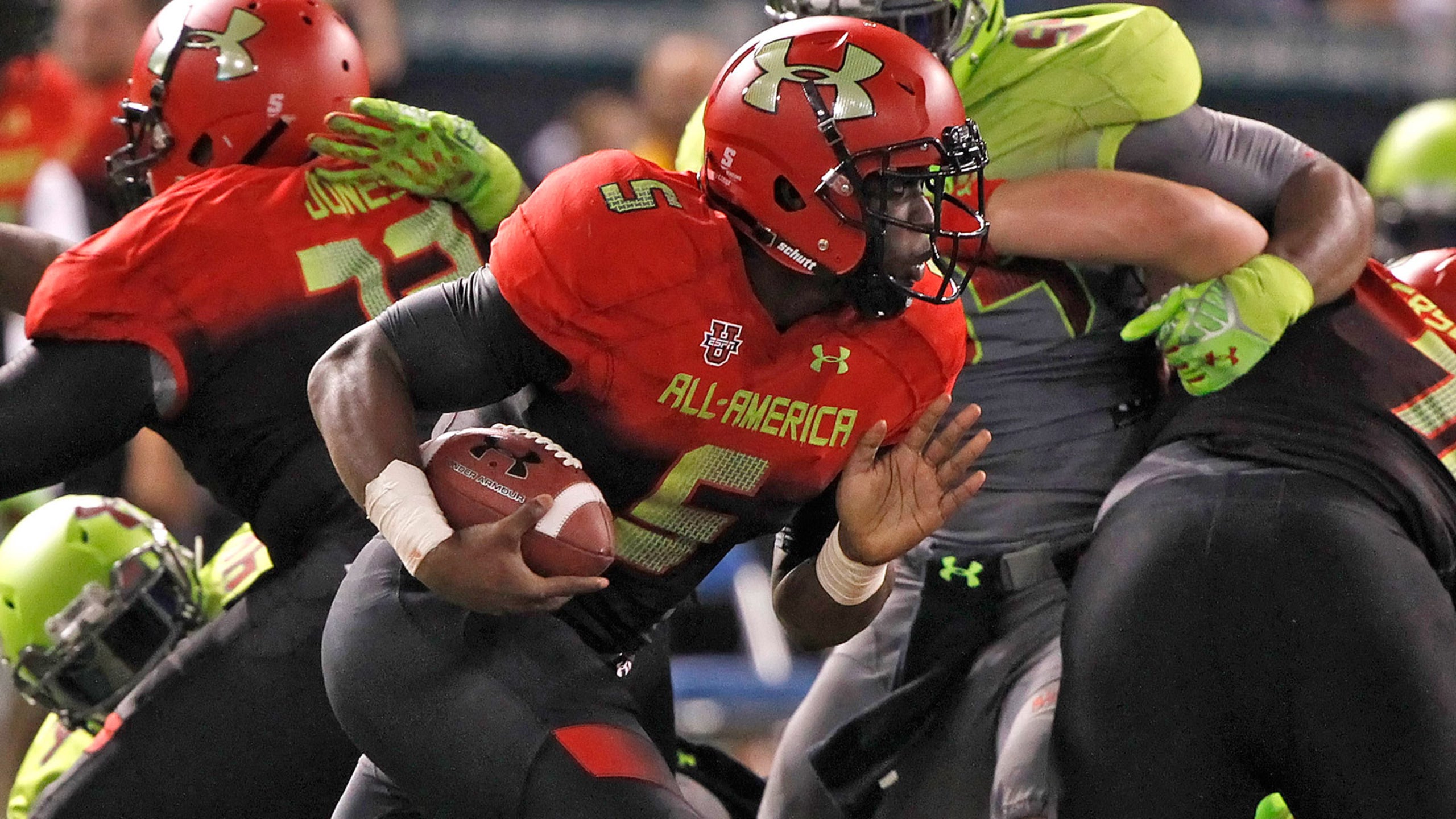 The top 2014 recruit at every position and a highlight video for each
BY Teddy Mitrosilis • January 31, 2014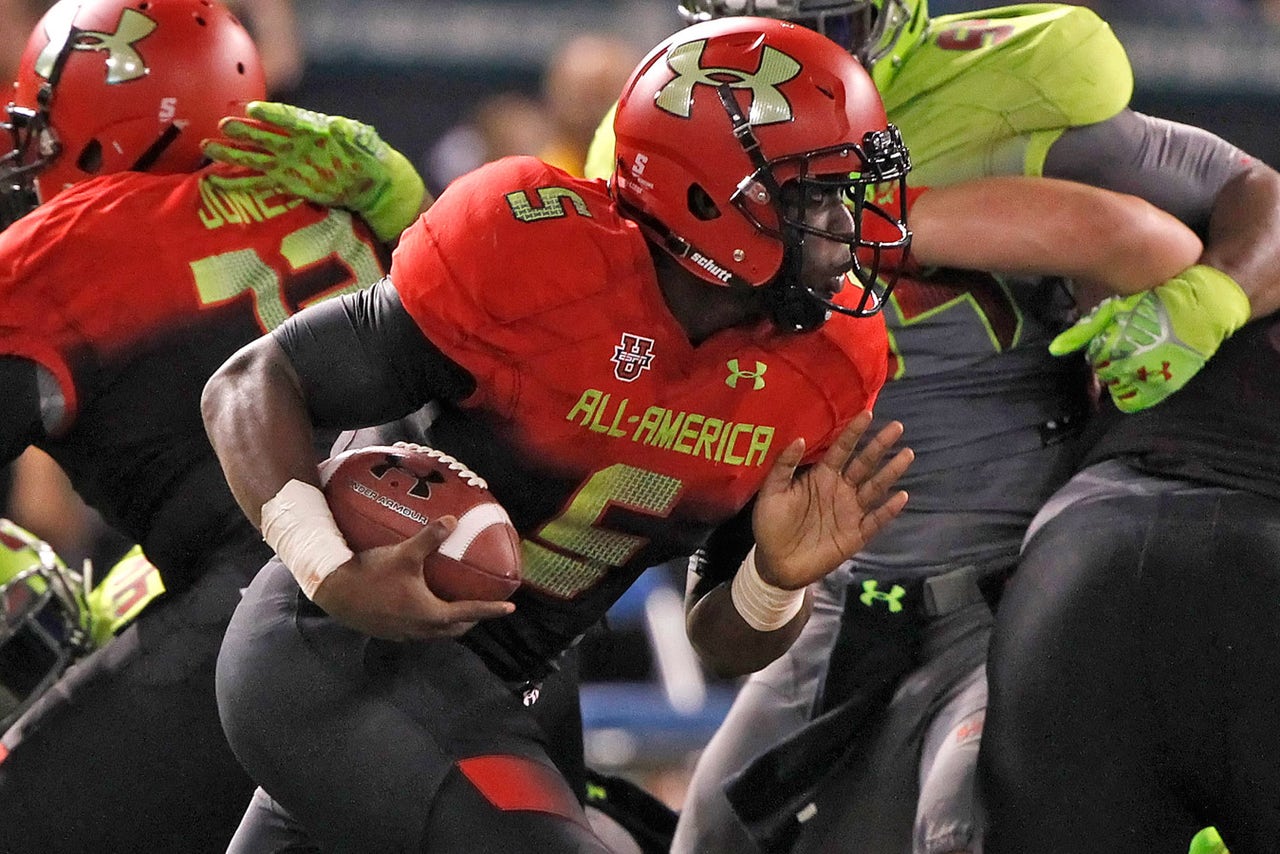 Moderation has never been a word used in conjunction with the consumption of college football recruiting.
We devour it without much consideration.
There's something wrong with that, to be sure, something wrong with the degree to which we analyze and discuss and "rank" the athletic abilities of teenagers.
But hell, it's also just in good fun for the vast majority of devout followers.
The fringe lunatics, who cyber-stalk recruits and tweet things at them, are not representative of most fans who engage this pseudo free agency for college football.
At least that's what I need to tell myself before feeding your addiction and prying open the most precious vault of recruiting content: highlight videos.
They're awesome. I can do without most other recruiting things, but the wormhole of YouTube highlight videos is deep and inviting. We're all suckers.
So as we near national signing day on Feb. 5, here's a highlight video for the top-ranked player at every position. There's not always a consensus among the major recruiting outlets regarding positional rankings, so I referenced them all and then just made a subjective decision. Feel free to disagree with everything below.
Pocket-passer QB – Kyle Allen (Texas A&M)
Allen, at 6-foot-3 and 200 pounds, is what they look like at the position: Tall, strong (with room to grow), arm strength, accuracy, some touch, good rhythm.
Texas A&M fans will have fun watching him in College Station, possibly as soon as this season. He'll compete with sophomore Kenny Hill to replace Johnny Manziel. Allen is mobile in the pocket, but he's not a "runner" by any stretch. So those who've criticized Kevin Sumlin's offense in the SEC -- saying it's a product of Manziel – will get a chance to own those comments, for better or worse.
Dual-threat QB – Deshaun Watson (Clemson)
Here's your Tajh Boyd replacement, Clemson fans.
Watson has already enrolled at Clemson, which gives him a full spring practice period to prepare himself for summer workouts and then fall camp, where he'll have a chance to win the starting QB job. He's 6-3 and 195 pounds with plenty of room to add muscle as he matures at Clemson. Like most "dual-threat" QBs, learning how to work through his progressions, rather than take off running after the first read, will be a primary order of development in his freshman season.
Running back – Leonard Fournette (LSU)
There's not much to say about Fournette other than this might be the single-most dominating highlight video on the Internet. He just physically overwhelms kids.
We covered Fournette in a bit more depth when he committed to LSU a couple weeks ago. Check that out or just replay the video above. Both good.
Fullback – Gerald Owens (Michigan State)
It's sort of funny to see fullback rankings, given how football has changed — particularly in college — and how few programs seem to be interested in that kind of player.
Owens will play fullback for the Spartans, but this doesn't mean he's some hulk who'll just slam into a linebacker while someone else makes the plays. He's incredibly agile and quick for being 6-2 and upwards of 240 pounds. His junior-season highlight tape above is silly – "fullbacks" aren't supposed to run like that.
Wide receiver – Malachi Dupre (Uncommitted)
Everyone, of course, wants Dupre, one of the few players of his stature who hasn't given a verbal commitment.
He was taking an official visit to UCLA on Friday and has already visited Ole Miss, Florida State, Alabama and LSU. Nick Saban and Les Miles both visited Dupre at home in River Ridge, La., this week. The guys at 247 Sports say it's almost a lock Dupre heads to Baton Rouge — they have the Tigers at 94 percent in their predicitons — but we'll see where he sends a letter on Feb. 5.
Tight end – Dalton Schultz (Stanford)
A top tight end heading to Stanford? Makes perfect sense.
Zach Ertz and Coby Fleener recently played the position well for the Cardinal and were high NFL Draft picks. Schultz could be next in line.
Offensive tackle – Cameron Robinson (Alabama)
No disrespect to guards or centers or offensive linemen in general — everyone understands how important they are to football. Nothing works without a good offensive line.
But unfortunately, there aren't a lot of great O-line highlight videos out there, so I'm going to spare you the others and stick with a tackle, the O-line position that definitely can be fun to watch on tape.  He's not in pads, but you get a good look at the massive Cameron Robinson in the video above.
Tip to whomever plays quarterback over the next few years for the Crimson Tide: Keep Cameron well fed, because he'll be your best buddy.
Defensive tackle – Andrew Brown (Virginia)
It's been a tough go for Mike London and the Cavaliers, going 6-18 over the last two seasons, so it's cool to see them have a player on here to be excited about.
Brown is, in scientific terms, what you'd call a "house" — 6-4 and almost 300 pounds of unleashed nastiness. We'll love watching, at least. Can't speak for ACC quarterbacks, though.
Defensive end – Myles Garrett (Texas A&M)
If Garrett ever gets bored with football, he could probably be a small forward in the NBA.
Seriously — look at that guy. His older brother is Sean Williams, who played college hoops at Boston College and then in the NBA. I wouldn't put any athletic endeavor by Myles.
Inside linebacker – Raekwon McMillan (Ohio State)
There aren't many things more fun than watching good linebackers on film. They just seek and destroy things.
If you're having a bad day at work or just general anger, take the 7:26 to watch this video and let McMillan handle the aggression for you.
Outside linebacker – Rashaan Evans (uncommitted)
Evans is uncommitted, but it'd be a surprise if didn't commit to Auburn.
He's from Auburn, his dad, Alan, played running back at Auburn — it'd be difficult for Gus Malzahn to let this one slip away. But it's not officially done, so that means Alabama and UCLA are still threats.
Cornerback – Jabrill Peppers (Michigan)
Peppers is listed as an "athlete" in some recruiting rankings, because he played everywhere in high school and was exceptional.
So the video above is mostly offensive highlights, but there's some corner play mixed in. Peppers is certainly talented enough to play both ways in college, but he'll likely be a great DB and return kicks. Anything that gets him running is cool with us.
Safety – Juju Smith (Uncommitted)
This could have went to Jamal Adams, but there wasn't a great highlight video for him and, besides, how can you pass up the opportunity to say "Juju" repeatedly?
Smith is out of Long Beach, Calif., and is likely headed to USC, but Notre Dame remains in the mix.
Kicker – Aaron Medley (Tennessee)
I didn't expect this, but watching a kicker's video was one of the more interesting highlight tapes I came across.
After a while, speedy kids breaking tackles and running away from high school players who have no chance to physically compete gets a bit repetitive. There's something compelling about putting a camera behind a kicker and watching him drill kicks over and over from different parts of the field (with two misses).
And, thankfully, the tape isn't set to some terrible hip-hop tune. 
Teddy Mitrosilis writes and edits college football for FOXSports.com. Follow him on Twitter and email him at tmitrosilis@gmail.com.
---