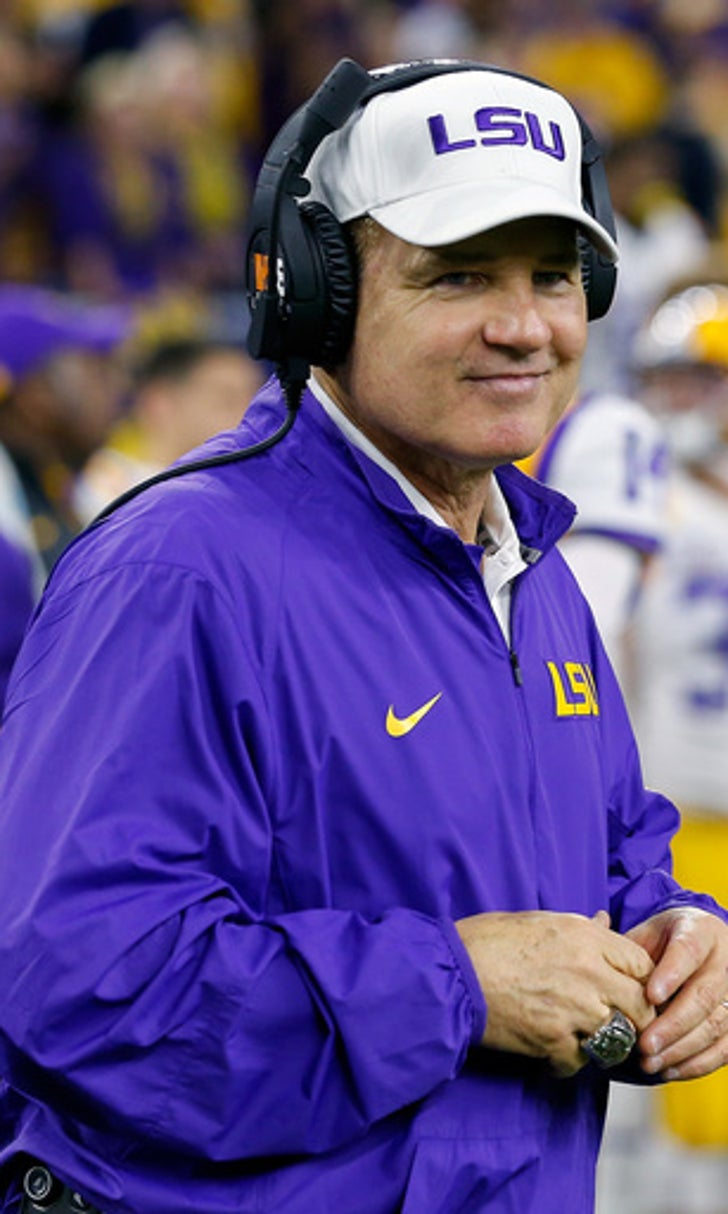 THE LATEST: Oklahoma lands last big recruit of signing day
BY foxsports • February 3, 2016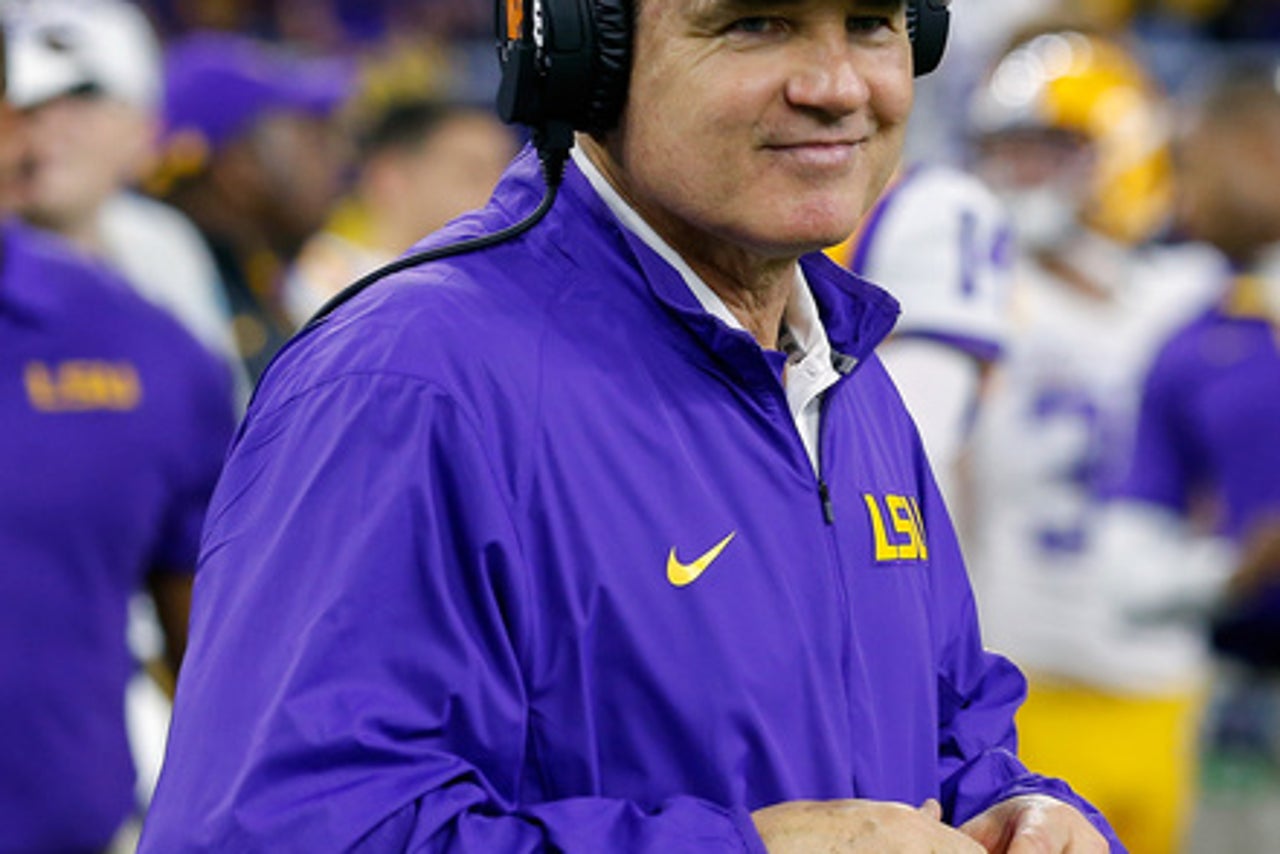 The latest developments on college football signing day (all times EST):
9:25 p.m.
COMMITMENT TRACKER: The last major recruit to make a signing-day decision was linebacker Caleb Kelly from California. He picked Oklahoma over Notre Dame and Oregon and became the highest-rated player of Bob Stoops' class.
The last remaining five-star player is Demetri Robertson, an athlete from Georgia who has said he planned to delay his choice. Robertson is considering Georgia and Notre Dame among his options.
So with the final unofficial standings using the average of the various web sites that rank that classes looks like this:
1. Alabama
2. Florida State
3. LSU
4. Ohio State
5. Michigan
6. Ole Miss
7. Georgia
8. Clemson
9. USC
10. Auburn
11. Texas
12. UCLA
13. Florida
14. Notre Dame
15. Tennessee
16. Stanford
17. Baylor
18. Texas A&M
19. Michigan State
20. TCU
21. Penn State
22. Oklahoma
23. Nebraska
24. Oregon
25. Arkansas
8 p.m.
THE FINAL (unofficial) STANDINGS: Recruiting ratings can move even after signing day if some highly rated players sign late.
Demetris Robertson, a top-notch athlete from Savannah, Georgia, rated either a five- or four-star by the recruiting services, has said he won't sign for a few days. When he does, he could move the numbers.
But using the numbers available at 5:30 p.m. and taking an average of the four most popular web sites that rank the classes (Rivals, Scout, 247Sports and ESPN) here is a ''consensus'' top 25.
Earlier rankings mistakenly left out Michigan State. The Spartans came in at No. 18
1. Alabama
2. Florida State
3. Ohio State
4. LSU
5. Michigan
6. Mississippi
7. Georgia
8. Clemson
9. USC
10. Auburn
11. Texas
12. UCLA
13. Florida
14. Notre Dame
15. Tennessee
16. Baylor
17. Texas A&M
18. Michigan State
19. TCU
20. Penn State
21. Oklahoma
22. Stanford
23. Nebraska
24. Oregon
25. Arkansas
WAITING ON KELLY: The last big-name recruit to commit on signing day will be linebacker Caleb Kelly, whose top choices are Oklahoma and Notre Dame.
----
4:15 p.m.
LES IS MORE: Remember when LSU almost fired coach Les Miles back in November? Well, it didn't hurt recruiting. LSU's highly rated class took a couple of hits on signing day, most notably losing stud linebacker Erick Fowler to Texas.
LSU locked up its loaded class filled with the top talent in its state, including nine of the 10 highest rated players, and came away with a class that will rank in the top five national, according to most of the experts.
--
3:55 p.m.
RANKINGS QUIP: There was some talk that Michigan State's recruiting class could end up in the top 10 this year - which would be unusually high for a program that has been hugely successful of late despite middling showings in the signing day rankings.
By the time coach Mark Dantonio spoke Wednesday, the Spartans were down around the edge of the top 20 in some of the major recruiting rankings - solid, but not spectacular.
''When I retire from here, I'm going to get a job in one of those places and I'm going to run my own service,'' Dantonio joked.
---
3:50 p.m.
BIELEMA DIALS IT BACK: Ole Miss coach Hugh Freeze told Sports Illustrated that Arkansas coach Bret Bielema apologized to him for a comment he made earlier in the day on ESPN that sounded as if Bielema was being crictial of the way the Rebels and Florida recruit.
Bielema said: ''Florida is kind of the new Ole Miss. They're doing some things recruiting that kind of shocks you a little bit.''
Bielema later said he meant it as a compliment to the Gators: ''This past week, we were competing versus them for a lot of guys, and we hadn't seen that before.''
--
3:40 p.m.
COMMITMENT TRACKER: De La Salle (Ca.) High School teammates Devin Asiasi and Boss Tagaloa announced their commitments at the same ceremony. One is staying in California, the other is leaving the state.
Asiasi, a tight end, picked Michigan over UCLA and USC.
Tagaloa, a defensive tackle, picked UCLA.
---
3:23 p.m.
COMMITMENT TRACKER: As it reaches midday on the West Coast, UCLA is poised to finish strong. The Bruins scored big with California five-star linebacker Mique Juarez, who was also considering Ole Miss and Alabama.
3:17 p.m.
COMMITMENT TRACKER: Not all the best players pick Alabama. Auburn landed one of the top defensive tackles in the country when Derrick Brown from Georgia picked the Tigers over the Crimson Tide and Georgia.
No one will cry for the Tide, of course. A little earlier, defensive end Terrell Hall from Washington, D.C., chose the Tide over Maryland.
3:05 p.m.
COMMITMENT TRACKER: USC went all the way across the country to grab offensive tackle E.J. Price from Atlanta away from Auburn and Georgia.
---
2:40 p.m.
HARBAUGH ON THE ROAD: Michigan coach Jim Harbaugh announced that the Wolverines will hold part of their spring practice in Florida.
Always recruiting!
MEANWHILE, IN COLUMBUS: While Harbaugh turned Michigan into a signing day spectacle, it was a quiet morning for Ohio State and that was just fine for Urban Meyer and the Buckeyes.
Ohio State lost out on a highly rated defensive back to Florida State, but otherwise a class that came into the signing day figuring to be one of the best in the country ended it as just that.
The most notable name in the Buckeyes' latest class - Nick Bosa, the brother of Ohio State All-American Joey. Like his big brother, Nick Bosa is defensive end.
---
2:10 p.m.
BIELEMA BOMB: Arkansas coach Bret Bielema is never shy about sounding off on opponents. During an interview on ESPN2 he took aim at Florida - and Mississippi.
''Florida is kind of the new Ole Miss. They're doing some things recruiting that kind of shocks you a little bit.''
COMMITMENT TRACKER: Another blue-chipper for Alabama. Linebacker Mack Wilson picked the Crimson Tide. Not a big surprise, though when Kirby Smart left Alabama to become head coach at Georgia there was some speculation Wilson could end up in Athens with the former Tide defensive coordinator.
Wilson joins buddy and fellow linebacker Ben Davis, who committed to the Tide earlier in the day. The two took their official visit together.
---
1:40 p.m.
COMMITMENT TRACKER: The top junior college recruit in the country picks Tennessee. Jonathan Kongbo, a defensive end who played for Arizona Western College, chose the Volunteers over USC and Florida State.
Kongbo committed to Tennessee last year, the de-committed earlier this year before ultimately signing with the Vols.
---
1:12 p.m.
COMMITMENT TRACKER: Rashan Gary, the nation's No. 1 recruit, picks Michigan. The defensive tackle from Paramus Catholic High School in New Jersey made his announcement on ESPN.
Michigan was the presumptive front-runner. His old high school coach works for the Wolverines, Michigan's star defensive back Jabrill Peppers also went to Paramus Catholic and there are several other New Jersey players heading to Michigan in this recruiting class.
Clemson was in the running, as well as a few Southeastern Conference schools.
---
12:39
COMMITMENT TRACKER: Offensive tackle Landon Dickerson picks Florida State over Alabama and Tennessee, adding to a great day for Jimbo Fisher and the Seminoles.
A little earlier, Florida State flipped defensive tackle Shavar Manuel, who had been expected to sign with the rival Gators.
Florida State and Texas were in the running for strongest performances signing days.
COMMITMENT TRACKER: After losing out to Ole Miss on highly touted receiver A.J. Brown, a Starkville native, Mississippi State got a big win on signing day by landing defensive tackle Jeffrey Simmons, who was considered the top prospect in the Magnolia state.
12:11 p.m.
SLEEPOVER
The sleepover worked. Quinn Nordin, the nation's No. 1 kicker, signed with Michigan. Nordin, you might recall, was previously committed to Penn State but Jim Harbaugh lured him away with a sleepover.
During the Wolverines' signing day extravaganza in Ann Arbor, Harbaugh said his bed at the Nordin's home was one of the most comfortable he has ever slept in.
---
NOON
COMMITMENT TRACKER: Always nice to take a player from a conference rival.
Running back Vavae Malepeai from Hawaii flipped from his Oregon commitment to go to Southern California.
The Trojans also lured Jamel Cook, an athlete who could wind up in the secondary, away from his Florida State commitment on signing day and beat Michigan for defensive end Connor Murphy.
---
11:45 a.m.
GARY'S CHOICE
Rashan Gary, the top-rated recruit in the country from Paramus Catholic High School in New Jersey, was scheduled to announce where he will attend school at about 1:10 p.m ET on ESPN. He was headed to Bristol, Connecticut, by limousine, from his high school.
Gary will choose from Michigan, Clemson or an SEC school.
---
THE SCOTT EFFECT?
Tennessee added former Miami interim head coach Larry Scott to its staff last month, and the move apparently is already paying dividends. Tennessee signed two Florida residents who previously had been committed to Miami. The two players to make the switch were athlete Tyler Byrd of Naples and wide receiver Latrell Williams of Lake City.
Scott, who served as Miami's interim head coach for the final six games of the 2015 season after Al Golden was fired, is Tennessee's new tight ends coach. - Steve Megargee reporting.
---
11:30 a.m.
COMMITMENT TRACKER: The scores keep on coming for Texas. Linebacker Jeffrey McCulloch picked the Longhorns over Notre Dame and Stanford.
---
11:26 a.m.
COMMITMENT TRACKER: Receiver Drake Davis is heading to LSU. He picked the Tigers over Alabama.
---
11:20 a.m.
COMMITMENT TRACKER: Receiver Nate Craig-Myers from Tampa, Florida, pulled out a mini-statue of Aubie, Auburn's costumed Tiger mascot, to choose Auburn over North Carolina.
---
11:09 a.m.
COMMITMENT TRACKER: Receiver A.J. Brown is one of the best prospects in the state of Mississippi and he grew up in Starkville, home of Mississippi State. But he's going to Ole Miss.
Brown told the Clarion-Ledger in Jackson, Mississippi: ''I was going to stay (home), but I felt like they didn't do a good job of recruiting. I didn't feel wanted.''
---
10:50 a.m.
COMMITMENT TRACKER: Linebacker Dontavious Jackson from Texas is heading to Florida State. Charlie Strong and the Texas made a later push to get Jackson, but the Seminoles closed the deal on him.
It's the third big signing day commitment for the `Noles who also landed defensive end Brian Burns and cornerback Carlos Becker, who was considering Ohio State.
---
10:45 a.m.
COMMITMENT TRACKER: Deontay Anderson won the day as far as spectacular commitments go. The four-star safety released a video on Bleacher Report of him skydiving, landing and opening up his jump suit to reveal and Ole Miss T-shirt.
---
AP College Football website: collegefootball.ap.org
---