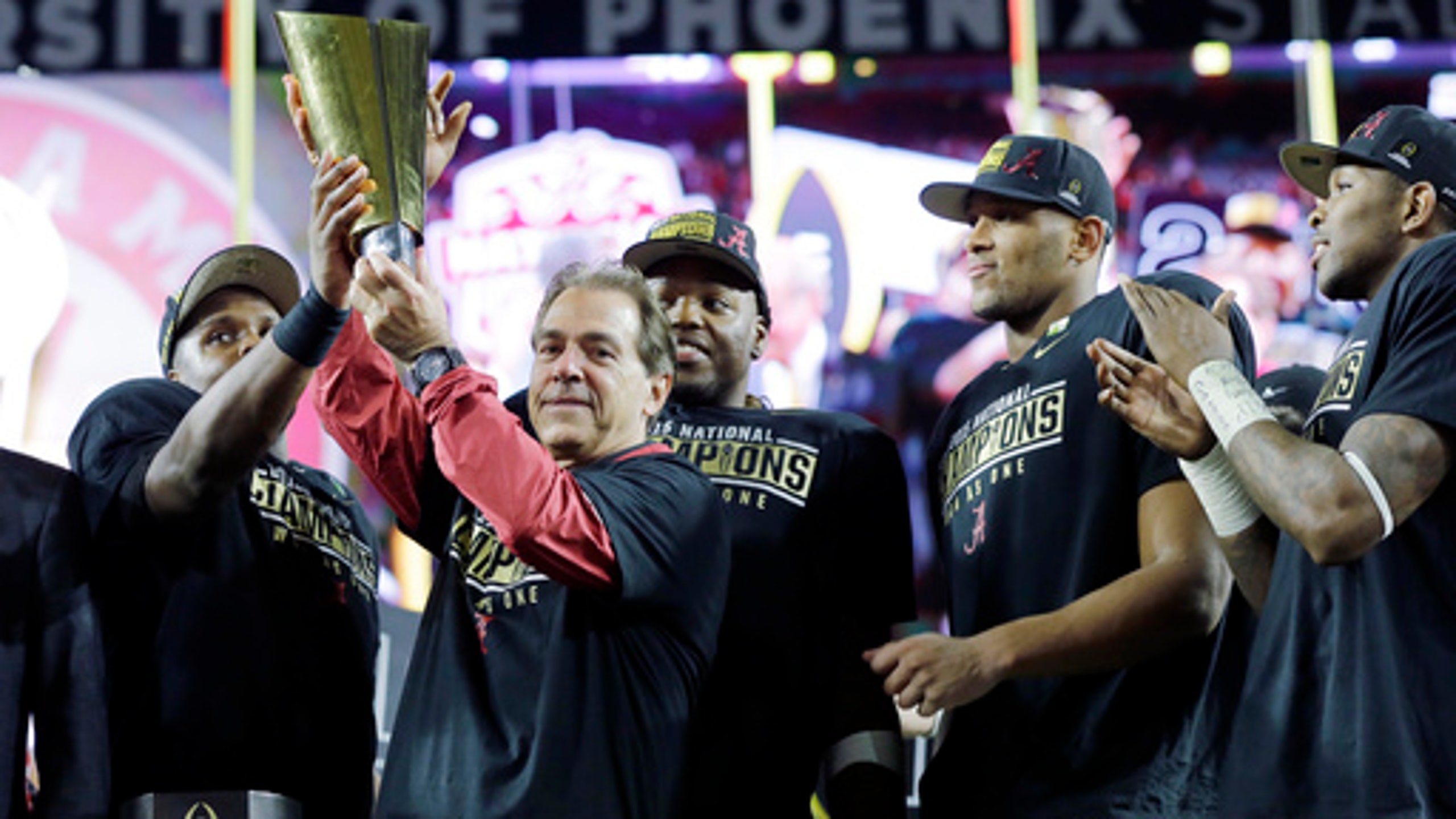 THE LATEST: National champ Alabama lands 2 DBs, top LB
BY foxsports • February 3, 2016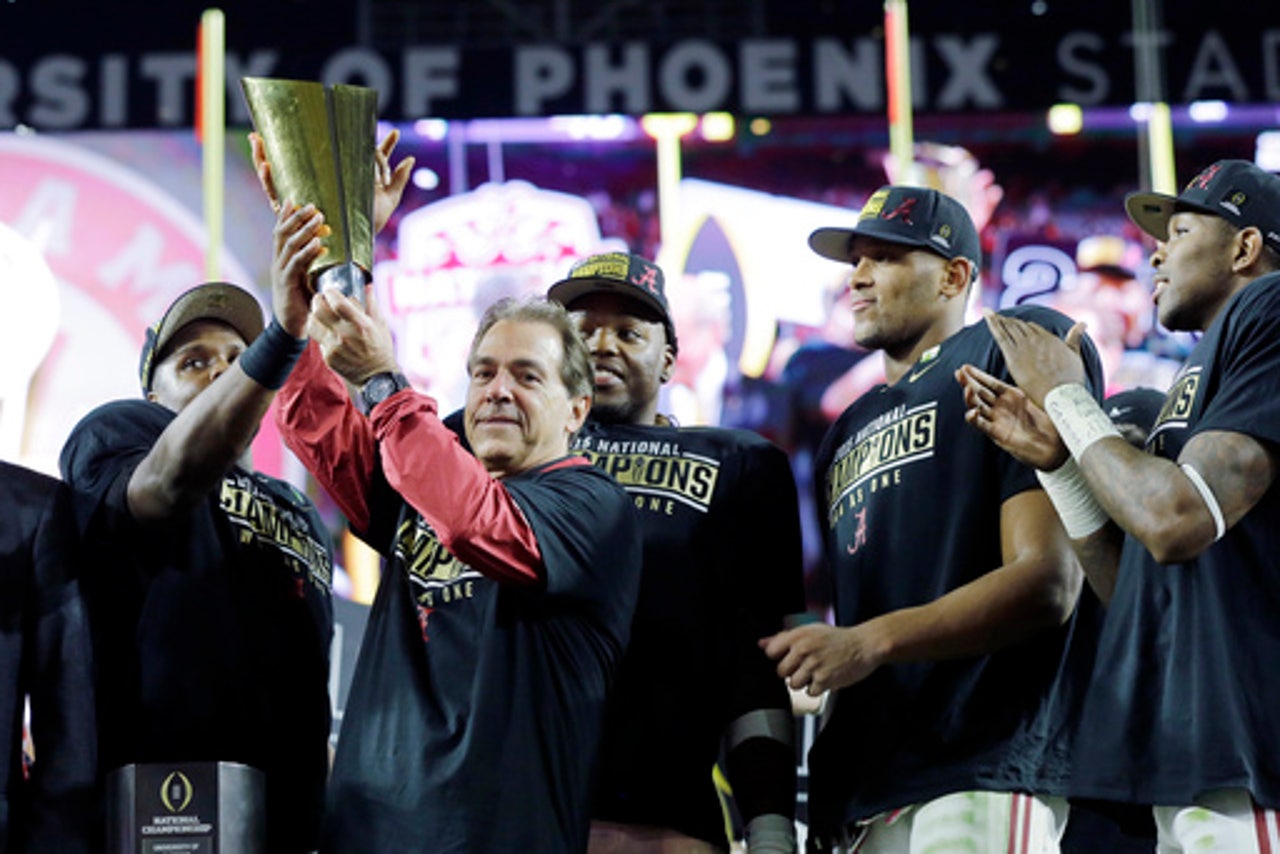 The latest developments on college football signing day (all times EST):
10:11 a.m.
COMMITMENT TRACKER
Linebacker Ben Davis from Alabama was the first five-star commitment of the day for the Crimson Tide. No surprise. Davis came into the day undecided but seemed to be leaning toward the Tide. Auburn, Georgia, LSU and Notre Dame were in the mix.
The national champs are also adding two highly-rated players for its secondary.
Nigel Knott and Shyheim Carter both announced at their respective high schools that they would play for the Crimson Tide. Knott was a star cornerback at Germantown High School in Madison, Mississippi, and picked the Tide over Mississippi State.
Carter, a cornerback from Kentwood, Louisiana, picked the Tide over Mississippi.
- David Brandt reporting.
9:55 a.m.
COMMITMENT TRACKER
Georgia has signed the son of former heavyweight champion Evander Holyfield. Running back Elijah Holyfield announced Wednesday he'll play for the Bulldogs. The 5-foot-11, 209-pounder starred at Woodward Academy in suburban Atlanta.
Now, he's looking to make a name for himself at Georgia, which adds some much-needed running back depth following a season-ending injury sustained by Nick Chubb.
- Paul Newberry reporting.
9:48 a.m.
COMMITMENT TRACKER
Parrish Cobb, a 5-foot-11, 178-pound cornerback from Waco's La Vega High School, is staying home to play at Baylor. Cobb had verbally committed to Oklahoma before his senior season last fall, but this week changed his mind. He made it official early Wednesday morning when he signed a letter of intent with his hometown Big 12 team.
Cobb had 56 tackles and four interceptions for La Vega, which went 16-0 and won a Texas Class 4A state championship. He was also a receiver with seven touchdown catches, plus returned kicks.
- Stephen Hawkins reporting.
---
9:33 a.m.
COMMITMENT TRACKER:
Ring up another one for Charlie Strong and Texas: S/LB Brandon Jones, the Lone Star state's defensive player of the year, picked the Longhorns over Texas A&M and Baylor.
---
9:15 a.m.
COMMITMENT TRACKER: Trayvon Mullen, a cornerback from Florida, picks Clemson over LSU and Florida State. The Tigers had three starting defensive backs, including star cornerback Mackensie Alexander, enter the NFL draft early. Mullen could step right in.
---
9:06 a.m.
STRONG HORNS
Say this about Texas coach Charlie Strong: He is a closer. The Longhorns may end up with the highest-rated class in the Big 12. The Longhorns scooped up defensive linemen Chris Daniel and Marcel Southall early Wednesday and D'Andre Christmas-Giles late Tuesday night.
The bad news: That surge might not be good enough for Texas to crack the top-10 nationally.
It's not just Texas feeling the squeeze with more competition (i.e. the SEC) in-state for top talent. The entire Big 12 is fighting to keep the Lone Star state from being poached.
---
9 a.m.
COMMITMENT TRACKER: Florida and Florida State typically butt heads for top in-state recruits. Defensive end Brian Burns picked the Seminoles over the Gators.
---
8:48 a.m.
COMMITMENT TRACKER: Mecole Hardman Jr., who gets compared to USC star cornerback Adoree Jackson, committed to Georgia over Tennessee and Alabama. The first good news of the day for new Bulldogs coach Kirby Smart.
Hardman used cakes instead of baseball caps to make his pick, but then jumped through a Georgia banner to commit to the Bulldogs.
---
8:15 a.m.
COMMITMENT TRACKER: The first uncommitted blue-chipper of the day is following in his father's footsteps. Safety Nigel Warrior, the son of former Tennessee star Dale Carter, chose the Volunteers.
---
7 a.m.
GARY'S DAY
The consensus top recruit in the country will have a stage to himself to announce where he will be attending college. Defensive tackle Rashan Gary from New Jersey is scheduled to disclose his pick at about 1:15 p.m. on ESPN. Not just on ESPN, but at ESPN. Gary will be at the network's studios in Bristol, Connecticut. Fans of Michigan, Clemson and some SEC schools will be locked in for the big reveal.
---
6 a.m.
SIGNING ON DOTTED LINE
College football's annual restocking of the shelves is here.
National signing day is just the start of the period in which high school prospects can sign a letter of intent that binds them to their chosen school. But for most top recruits and FBS teams, signing day is the end of the process, when all those verbal commitments become official.
This signing day begins with the nation's No. 1 recruit uncommitted, LSU in position to be the recruiting champs and Texas trying to finish strong. And of course, Alabama is expected to clean up.
---
AP College Football website: collegefootball.ap.org
---