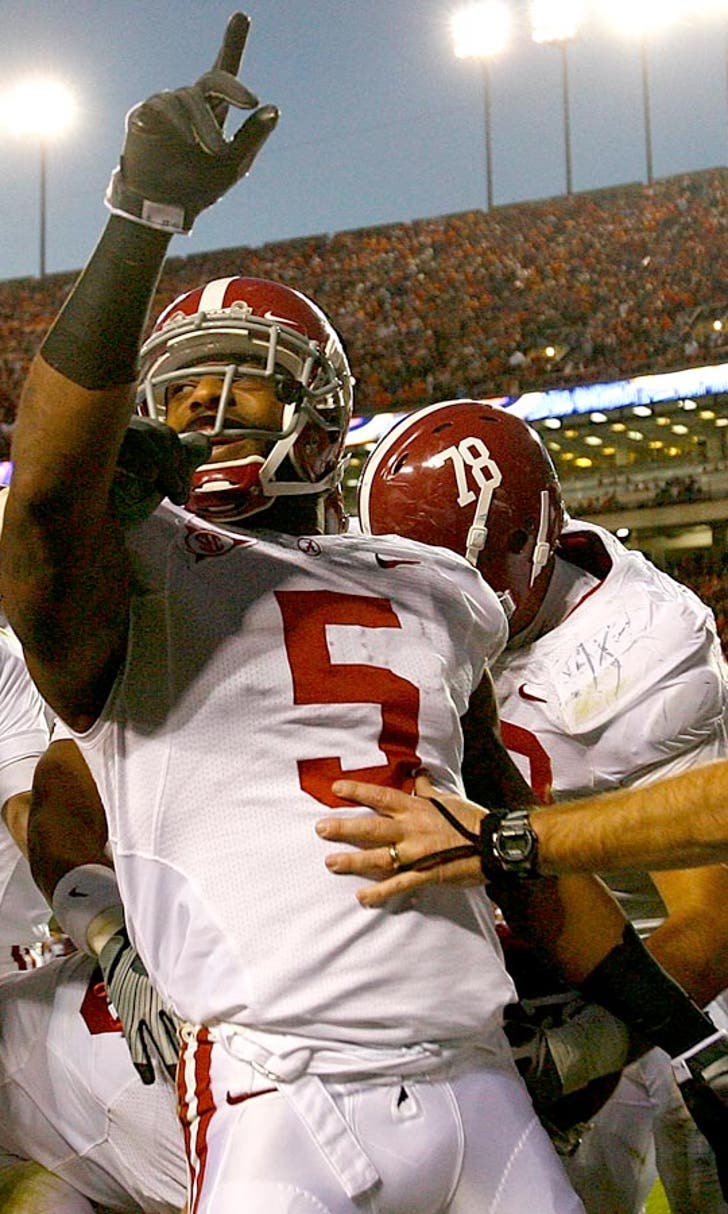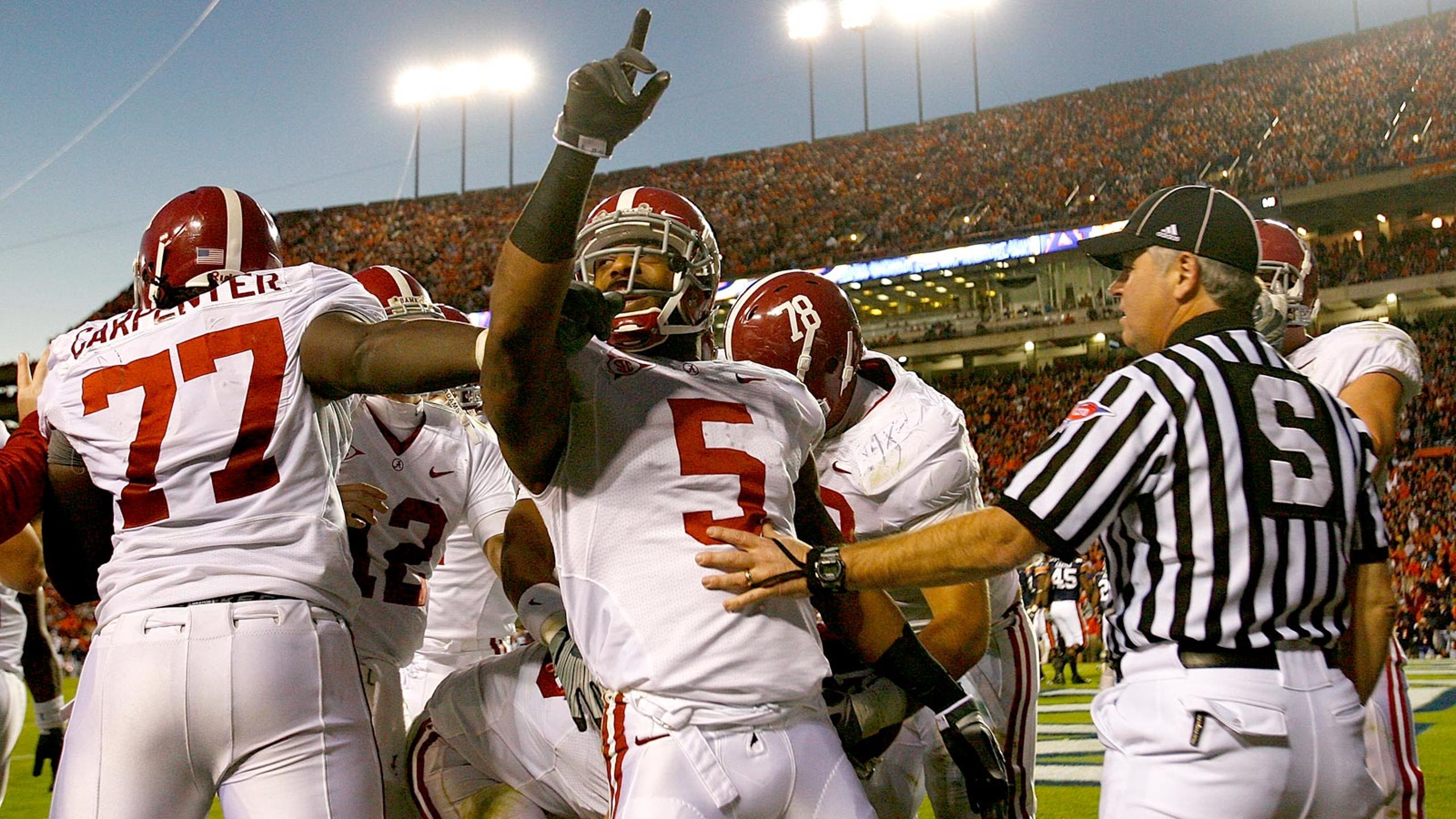 The Iron Bowl that launched Saban's Alabama dynasty, five years later
BY Aaron Torres • November 25, 2014
Ask some of Alabama's most prominent football alums what they believe to be the moment that launched Nick Saban's dynasty, and you're bound to get a few different answers. 
Quarterback Greg McElroy mentioned the 2007 Independence Bowl; in Saban's first year, the team used 15 practices before the game to beat up on each other, before beating up on Colorado. The win bled into the offseason and into the following season, in which Alabama went 12-0 in the regular season before losing to Florida in the SEC title game.
Trent Richardson mentioned that game as a potential turning point; Alabama used the fuel from that loss all offseason to set themselves up for 2009, a year which culminated in the school's first title under Saban. 
Javier Arenas, a captain that season, pointed to a narrow win over Tennessee that season as arguably the most important moment. Arenas described it as a game that taught the Tide "how to win, no matter what" after needing a field goal block in the final few seconds to seal the victory. 
Yet despite all those big wins and the lessons they taught, the game that was arguably the most important in that 2009 title season, and arguably launched a run of three national championships in four years, was a November victory in the Iron Bowl, the Tide's annual showdown with in-state rival Auburn.
Simply put, that Iron Bowl featured just about every attribute of a great rivalry game; it was a back-and-forth affair with championship implications, and one that came down to the last few minutes in a series known in Alabama lore simply as "The Drive." 
"The Drive" carried significance well beyond what anyone realized at the time. Without it there is no first national championship under Saban, and without that first title the Saban dynasty doesn't exist either — at least not as we know it.  
Five years later, with the 2014 Iron Bowl slated for Saturday, FOX Sports tracked down a handful of key Alabama players and coaches to get their memories on the epic game that altered the trajectory of both the Crimson Tide's program and college football.
There was little reason to believe the 2009 Iron Bowl would be a classic in the days preceding the game. Sure, things are always contentious when Alabama and Auburn get together, but at the time the two programs were in different places.
On the one hand, Auburn came in unranked, a solid but unspectacular 7-4 team under first-year head coach Gene Chizik. The fact that those four losses had all come in the team's previous five SEC games gave little reason to think the Tigers would hang tight with the Tide.
On the other hand, Alabama was every bit deserving of their No. 2 national ranking entering the game. The Crimson Tide had used the fuel from the loss to Florida in the previous year's SEC Championship Game to amass an 11-0 record.
What might've even been scarier for Auburn, the Crimson Tide were just starting to play their best ball.
"We really were clicking on all cylinders," McElroy said of his first Iron Bowl as Alabama's starting quarterback. "It started in the second half of the LSU game (that year), and it carried all the way through."
But while Alabama arrived at Jordan-Hare Stadium the Friday after Thanksgiving riding high, Auburn showed up ready for a fight. And coming off a bye week, which gave first-year offensive coordinator Gus Malzahn an extra week to go to the drawing board, Auburn wasn't necessarily fighting fair. 
From the beginning, the Tigers went deep into the playbook and pulled just about every trick they had. Auburn scored just three plays into the game, on a 67-yard end-around to wide receiver Terrell Zachary. On the ensuing kickoff, an onside kick gave Auburn the ball back, and a deep pass from quarterback-turned-wide receiver Kodi Burns set up another touchdown.
Just seven minutes into the game, Alabama was already down 14-0. 
"You look up and you don't even know what happened," Richardson said. 
Alabama was certainly surprised by Auburn's trickery, but the Tide had something the Tigers weren't totally prepared for either: resiliency. Alabama had been in similar positions before, specifically in that previously mentioned game against Tennessee earlier in the season. It was a game that Alabama won 12-10, when Terrence Cody blocked a 44-yard field goal attempt as time expired.
And it was because of that win that everyone at Alabama had confidence they could weather the storm against Auburn.
"That Tennessee game made us realize you can't take any team for granted," Arenas said. "By the time it came to Auburn, we were immune to all that. We were immune to being too nervous if we fell behind early."
Becoming overwhelmed by the moment simply wasn't in Alabama's DNA. 
"The thing about that team was that they never panicked," former Alabama offensive coordinator and current Colorado State head coach Jim McElwain said. "That was just the mindset. No matter what the situation was, they never got nervous."
Instead, Alabama stuck to the game plan and followed all the credos that Nick Saban had been hammering into the team since he had arrived three offseasons prior. For the Crimson Tide, there would be no panic, just focus on the next play. If they took care of the little things, the big things would take care of themselves. 
"It's such a cliché, but that's what it was," McElroy said. "Let's go get seven, let's answer, let's quiet this crowd a little bit. We just need to get some points."
And that's exactly what Alabama did. A 14-0 deficit had become 14-14 by halftime thanks to a touchdown run by Richardson (getting heavy carries for the injured Mark Ingram), and a scoring pass from McElroy to tight end Colin Peek. 
Heading into halftime Alabama had all the momentum, and a bunch of confidence. 
"They were done," Arenas said. "They had pulled out all the stops. They had pulled out all their tricks."
Richardson agreed.
"They threw all their shots first," Richardson said. "But when they were done with all their big shots, what was left? We still had our best shots in us."
Well, that wasn't entirely true. 
Alabama may have had their best shots remaining, but Auburn wasn't done firing either. The Tigers hit another big play less than four minutes into the third quarter to take a 21-14 lead, and then they did something that few thought they were capable of: They held serve by pinning their ears back and playing some old-fashioned SEC defense. The Tigers may have ranked just 68th in the country in total D that season, but they spent most of the second half keeping Alabama completely off-balance. 
"They made some good adjustments, and we had a hard time running the ball," McElroy said. "We were built on running the ball, and any time you struggle to do that, you're going to have a hard time." 
The Crimson Tide did have a hard time but were able to get points, even if they didn't get touchdowns. Kicker Leigh Tiffin knocked through a pair of third-quarter field goals to cut the Alabama deficit to 21-20. 
It set up a fourth quarter where Alabama seemed primed to take the lead. 
That eventually happened, on a series that will live in Crimson Tide lore forever.
The final Alabama series of the '09 Iron Bowl has become simply known in and around Tuscaloosa as "The Drive," although it didn't have a fancy nickname when the Tide got the ball back with eight minutes to go in the game. At that point there were no visions of grandeur; no thoughts of the multiple national championships that would follow or even the SEC championship to come the following week, the Tide's first in a decade. 
At that moment, the goals were simple. Just move the chains and get momentum. 
"Any time you go onto the field like that, you're just trying to make a couple plays, get a few first downs," McElroy said. "We just wanted to see what they were giving us, what we could do, hopefully get into field goal range and Tiffin would knock one through."
For Alabama "The Drive" started innocently enough, with a seven-yard run by Richardson to get things going. A nine-yard pass to Julio Jones gave the Crimson Tide their first first down of the series. 
Then things really got rolling. 
A few passes to Jones and Mark Ingram, and runs by Ingram and Richardson helped get Alabama to midfield, where the game plan was tweaked. Now it wasn't just about finding a way to get points. It was about finding a way to get points while not allowing Auburn to get the ball back with enough time to counter.
"That was one of the great things about Coach Saban," McElwain said. "Sometimes you're only focused on your side of the ball. What he does is, make sure that all three phases of the game are involved in all the decisions so you're not just worried about what you're doing (as the offensive coordinator), but how it effects the defense and special teams too." 
The Crimson Tide continued to milk the clock while putting themselves in the position to score the go-ahead points. They continued to pick up yardage and first downs before Richardson — just a freshman — caught a 17-yard screen pass that put Alabama in the red zone. 
After two running plays and with less than 1:30 left on the clock, the Crimson Tide called a timeout to set up what they hoped would be the game-winning play. Enter the Tide's unlikely hero: fullback Roy Upchurch, who had made just one catch in the game.
"Roy was a confident guy," Mark Ingram said. "He was a veteran who had made big plays for us in the past."
And Upchurch was especially confident that day, since he knew something that no one else in Jordan-Hare Stadium did: The Auburn defense was overlooking him. Every time he lined up in the backfield, they hardly paid him any mind.
"Upchurch kept saying, 'Coach, they're not even touching me (out of the backfield), they're not even touching me,'" Richardson said. 
Saban and McElwain decided to find out. 
"I was up in the booth," McElwain said. "We discussed it. And (Saban) said 'Let's go for it. Let's play-action this.'"
That's exactly what the Crimson Tide did. McElroy dropped back in the pocket, faked the handoff to Richardson, and rolled to his right. There was Upchurch. 
"It opened up in the flats and Greg hit him," McElwain said. 
Auburn did give him a tap on the way to the end zone, but for the most part Upchurch was right where he said he'd be: open for the winning score.
The touchdown gave Alabama a 26-21 lead they would never relinquish and Upchurch his moment in the spotlight, right in front of a small section of Alabama fans in Jordan-Hare Stadium. 
"After he ran it in, I can remember him pointing the ball towards the stands," Richardson said. "I can remember all the camera flashes. It was just a beautiful moment." 
It was also was the moment that changed Alabama football forever. 
"It just felt like it was supposed to happen," Arenas said of the play, which he watched from the sidelines as a defensive starter. "It was shock, but I wouldn't call it disbelief, if that makes sense. Because I really felt like we were going to win that game."
Alabama's run to the title didn't end that night at Jordan-Hare Stadium, but as it turned out the Tide had overcome their biggest hurdle.
After spending a year of stewing over the 2008 title game loss to the Gators, the rematch became a simple formality. Florida was ranked No. 1 in the country but it never stood a chance. 
"I've never seen a locker room that intense before a game," Ingram said. "Guys had bloodshot eyes, they'd been crying. They were just so ready to go." 
It showed on the field as the Crimson Tide cruised to a 32-13 victory. A little over a month later, coach Saban and Alabama were lifting the Coaches' Trophy after beating Texas in the title game at the Rose Bowl.
The Florida and Texas wins may serve as the most memorable moments on the Crimson Tide's path to the first championship of the Saban era, but none of that would've likely been possible without the Iron Bowl win, without "The Drive." 
So was the 2009 Iron Bowl the actual turning point for the entire Alabama program? Asked a second time, some of the stars of that game think so. 
"It was a stepping stone for us," Ingram said. "It was huge. That win ... was everything."
His backfield teammate agreed. 
"That win started it all," Richardson said.
"If we didn't win that game," he added, "who knows where we'd be." 
Aaron Torres is a show writer for FOX Sports Live and a contributor to FOXSports.com. Follow him on Twitter @Aaron_Torres, on Facebook or e-mail at ATorres00@gmail.com.
---