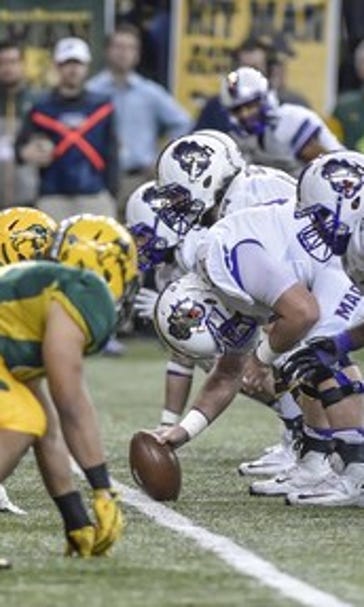 The crystal ball: FCS playoff projections
November 19, 2017

(STATS) - The final full Saturday of games before Sunday's playoff announcement went from "in with a win" to seeing how many teams would back into the field.
The script was reversed when one potential at-large candidate after another lost.
It's led to a highly debated 24-team field, which will be announced during an ESPNU selection show at 11 a.m. ET Sunday. Ten conference champs go in as automatic qualifiers and 14 teams will have at-large bids.
"Today's games impacted the process a lot," Richard Johnson, the chair of the selection committee, said. "We had to wait; there was a lot of teams that lost that had a chance to control their own destiny. That was a surprise."
Among the teams that lost in Week 12: Delaware, Furman, Illinois State, Monmouth, Montana, New Hampshire, Nicholls (Thursday night), Northern Arizona, South Dakota and Western Carolina. It's opened the door for Austin Peay, Eastern Washington and McNeese to possibly join the party.
Defending national champ James Madison will have the No. 1 seed and the Missouri Valley Football Conference should have the most teams in the field.
PROJECTED BIDS BY CONFERENCE
* - Automatic qualifier
Big Sky (3): Eastern Washington (7-4); *Southern Utah (9-2); Weber State (9-2)
Big South (2): *Kennesaw State (10-1); Monmouth (9-2)
CAA (3): Elon (8-3); *James Madison (11-0); Stony Brook (9-2)
Missouri Valley (5): *North Dakota State (10-1); Northern Iowa (7-4); South Dakota (7-4); South Dakota State (9-2); Western Illinois (8-3)
Northeast (1): *Central Connecticut State (8-3)
Ohio Valley (2): *Jacksonville State (10-1); Austin Peay (8-4)
Patriot (1): *Lehigh (5-6)
Pioneer (1): *San Diego (9-2)
Southern (3): Furman (7-4); Samford (8-3); *Wofford (9-2)
Southland (3): *Central Arkansas (10-1); McNeese (9-2); Sam Houston State (10-1)
STATS' PROJECTED PAIRINGS
Top 8 seeds receive first-round byes
Central Connecticut State-Lehigh winner at No. 1 seed James Madison
Monmouth-Stony Brook winner at No. 8 seed Wofford
South Dakota-Eastern Washington winner at No. 5 seed South Dakota State
Western Illinois-Austin Peay winner at No. 4 seed Central Arkansas
San Diego-Weber State winner at No. 3 seed North Dakota State
Samford-McNeese winner at No. 6 seed Sam Houston State
Elon-Northern Iowa winner at No. 7 seed Southern Utah
Kennesaw State-Furman winner at No. 2 seed Jacksonville State
---