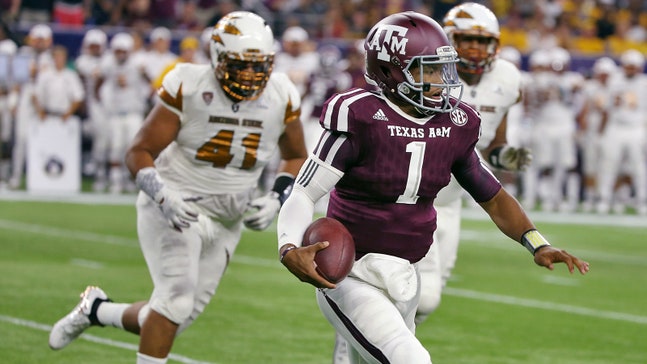 Texas A&M to start Kyler Murray at QB against South Carolina
Published
Oct. 30, 2015 4:29 p.m. ET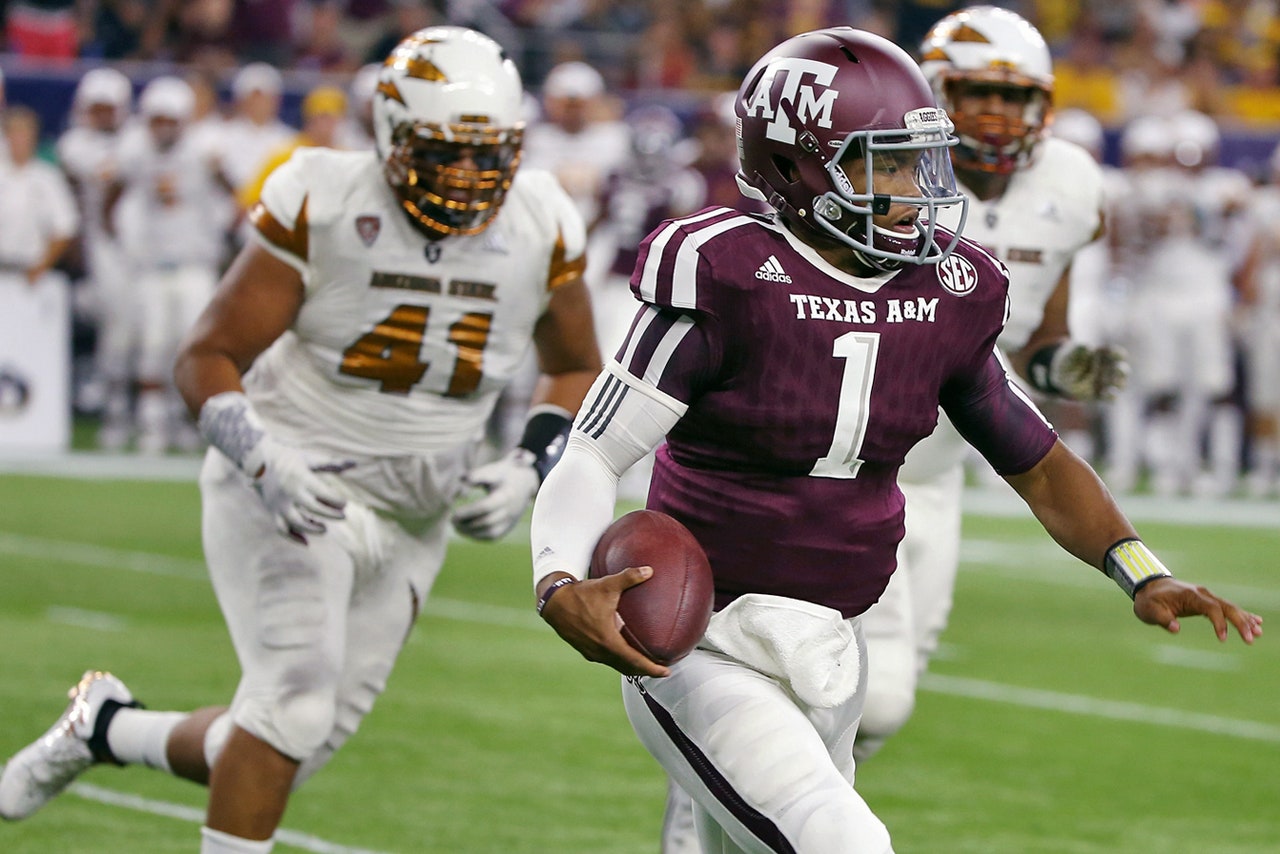 After opening up the quarterback competition this week, Texas A&M head coach Kevin Sumlin has decided to start freshman Kyler Murray against South Carolina on Saturday. 
There's been a bit of drama surrounding Murray in recent weeks. He was benched last week versus Ole Miss, reportedly for some sort of incident between himself and the coaching staff. However, Kyle Allen's struggles at the position, oupled with the Aggies' two-game losing streak, opened up things for Murray. 
On the year, the freshman has thrown for 167 yards and one touchdown in limited time. While diminutive in size and generally inexperienced, Murray is cat-quick, and possesses ability running the football that Allen simply doesn't have. He'll theoretically give Texas A&M an added dimension within its offense. 
Allen also is competing with junior college transfer Jake Hubenak.
"All three ... guys have played in games now," Sumlin said. "Some have had great moments, some bad moments, and a little bit of both. Looking for consistency across the board at quarterback. Cutting down on turnovers."
The Aggies were 5-0 before back-to-back blowout losses to Alabama and Mississippi. Allen threw 13 touchdown passes with two interceptions in the first five games but has thrown only one touchdown pass with four interceptions in the past two. In the 41-23 loss to Alabama, all three of his interceptions were returned for scores.
"We've got to establish a rhythm offensively in run and pass and really take our shots when we have them instead of just trying to get the ball down field a lot in the opening part of the game," Sumlin said. "To establish that rhythm we have to run the ball better."
They'll try to do it in just their second-ever meeting with South Carolina. It is the Gamecocks' first trip to College Station and first trip to Texas since 1976. South Carolina is coming off an open week after interim coach Shawn Elliott helped the team snap a two-game skid with a win over Vanderbilt in the first game after coach Steve Spurrier's abrupt resignation.
Elliott loves that his team remains upbeat despite its 3-4 record.
"We've got ... a fun football team right now," Elliott said. "I don't know if that's the right way to say it, but there's not a lot of long faces, not a lot of heads dragging. Everybody's working in the right direction, moving forward."
Sumlin had to remind his team to embrace a positive mindset this week and realize that despite the last two weeks the Aggies are not a bad team.
"We're not 2-5. We're 5-2," Sumlin said. "We have opportunity to close this season out with some opponents to get some big wins and still have a great season and still be in the thick of this thing at the end."
Some things to know about the South Carolina-Texas A&M game:
RESPECT: Like many coaches around the country, Sumlin looked up to Spurrier as he was moving up the coaching ranks.
"He's kind of the guy who I always wanted to be," Sumlin said. "Came into SEC, won in this league, threw the football, played defense, won national championships and did it his way. Had a huge impact on me from the outside."
When asked for his thoughts on Spurrier's resignation, Sumlin raved about his unique accomplishments.
"It will be a long time, maybe never, that one guy will win a Heisman, coach a Heisman winner and win a national championship," Sumlin said. "That's why there are already statues of him."
SMALL FRY: Kicker Elliott Fry, from Frisco, Texas, is the lone player from Texas on the Gamecocks roster and is prepping to play against a team he grew up loathing. Fry said he rooted for the Longhorns in the A&M-Texas rivalry. He's got family backing the Aggies, including a stepbrother who's a sophomore there.
"I always joke with my dad if it came down to a game-winner what he'd actually want to happen," Fry said. "Hopefully, he'll want me to do good."
SLOWING DOWN GARRETT: Texas A&M defensive end Myles Garrett leads the SEC with 8 sacks and four forced fumbles. The sophomore also has 13 tackles for losses, a blocked punt and an interception this season.
"I don't know if you stop a guy like that," Elliott said. "But you certainly can't take seven-step drops and get us in third-down situations and let him rush the passer. It just doesn't match up. I don't care what kind of offensive tackles you've got."
QUARTERBACK SHUFFLE: Pay no attention to the depth chart on the coach's desk. Elliott said the Gamecocks will start former walk-on Perry Orth on Saturday, then use whoever they feel can help win the game at any time, whether that's Connor Mitch or Lorenzo Nunez.
It's about what we need to do to get the job done," Elliott said. "Nunez could be in there second series, who knows. Don't pay a whole of attention to that depth chart."
The Associated Press contributed to this report.
---
---