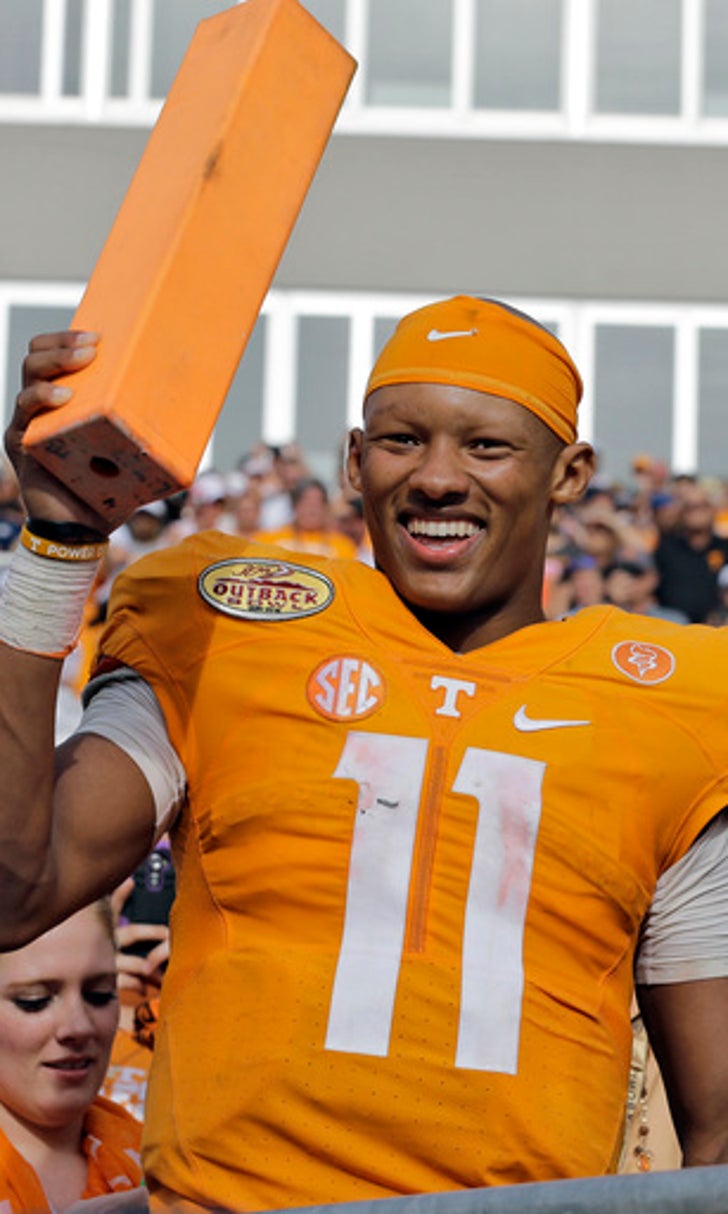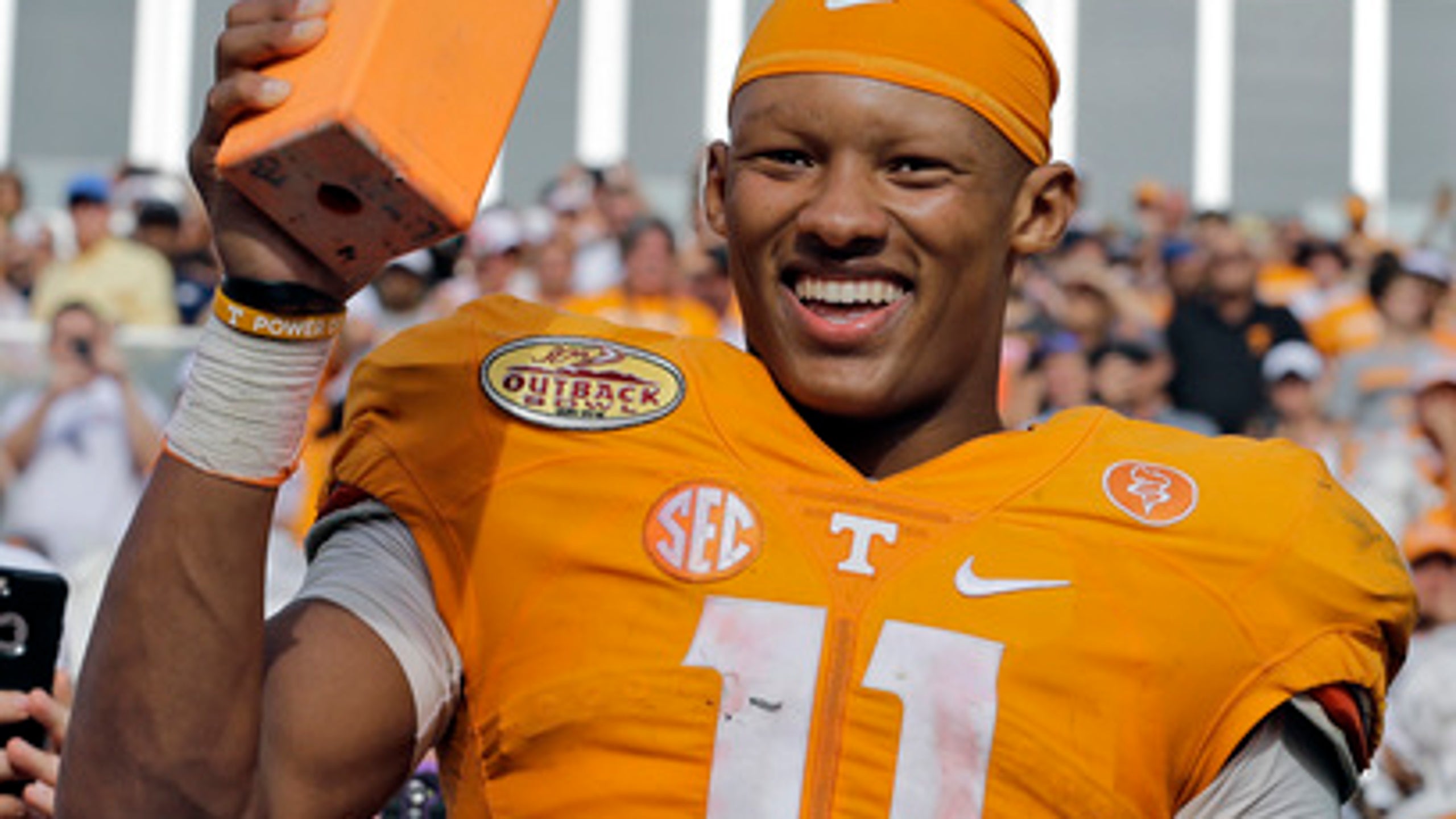 Tennessee's Dobbs becomes more vocal leader in senior year
BY foxsports • August 26, 2016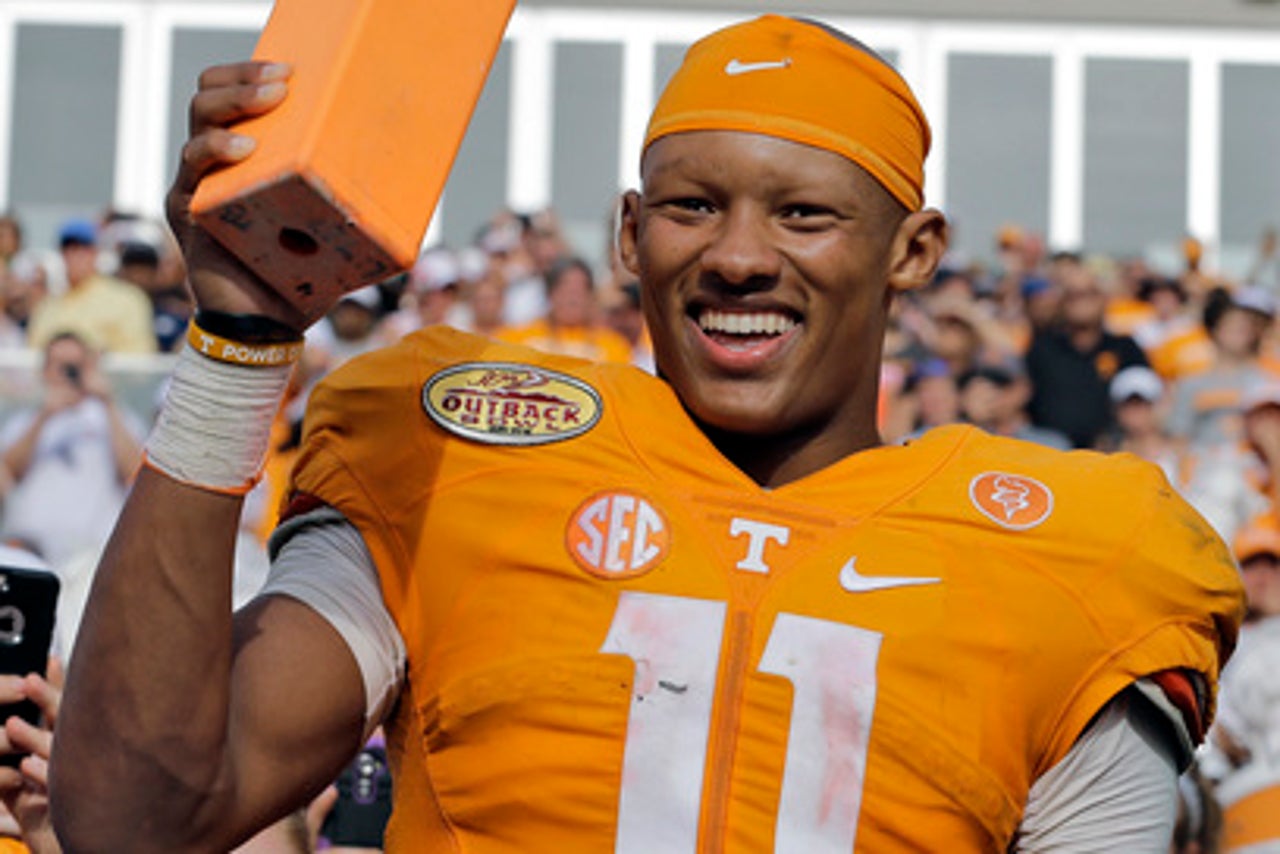 KNOXVILLE, Tenn. (AP) Tennessee quarterback Joshua Dobbs added one more assignment to his long list of responsibilities.
The face of Tennessee's program also has become the voice of its offense. Coaches and teammates say they've noticed a difference in him this year in that regard. He doesn't hesitate to let the entire offense know when something needs to be corrected or when someone's done something well.
''He's definitely more vocal,'' senior guard Dylan Wiesman said. ''He stands up and he'll get on guys and call them out. That has definitely improved. That is what's making him a better leader.''
Dobbs, whose 22 career starts lead all active Southeastern Conference quarterbacks, downplays the changes in his leadership approach. The senior said he has always tried to lead ever since taking over the starting spot for good late in the 2014 season.
But he acknowledges he has made a few tweaks to his leadership style.
''I'm just being myself, pushing my teammates, holding them to a higher standard,'' Dobbs said. ''I've always held them to a high standard and have said things when needed, but this year it's just holding them to an even higher standard than I have in the past. I'm glad they're seeing that and they're responding to it well.''
No. 9 Tennessee has its highest preseason ranking since 2005 as it heads into Thursday's opener with Appalachian State. Tennessee is seeking its first conference title since its 1998 national championship.
Dobbs is making sure the Volunteers understand what's at stake.
''If we're not executing, he'll let us know,'' junior wide receiver Josh Malone said. ''If in a certain period of practice we're not executing, we'll start that whole entire period over and make sure we're executing that period of practice.''
Dobbs' willingness to face challenges on and off the field explains why Tennessee coach Butch Jones says that ''when you look at the definition of a student-athlete, it starts with Josh Dobbs.''
Dobbs has rushed for 1,160 yards and 19 touchdowns over the last two seasons. He threw for 2,291 yards and 15 touchdowns in 2015.
His classroom performance is also impressive. Dobbs majors in aerospace engineering and made the SEC Academic Honor Roll last each of the last two years.
Dobbs wants to design airplanes when he's done playing football and has spent portions of the last two summers performing internships for Pratt & Whitney. His latest internship took place in Montreal, and Dobbs said it gave him an opportunity to test out the French he had learned in high school.
''I could hear it well,'' Dobbs said. ''But speaking it, I was a little rusty.''
Malone decided to sit in on one of Dobbs' engineering classes last summer before they started a workout. Malone said the experience left his ''mind blown.''
''I'm just more fascinated he can handle that challenge and still perform on the field,'' Malone said.
Dobbs' latest assignment is to improve his passing accuracy. Dobbs threw just five interceptions last season but he completed only 59.6 percent of his passes, down from 63.3 percent in 2014. He has talked about trying to get his completion percentage up to 65 or even 70 percent.
Offensive coordinator Mike DeBord says Dobbs still performed well enough that Tennessee ranked second in the SEC in third-down efficiency last season, but he added that the senior's accuracy has ''really improved'' this summer.
DeBord also described the change in the way Dobbs is communicating with teammates and ''really taking control'' of the offense.
''He knows all of us, he knows how to work with all of us and knows how to talk to all of us, which is a pretty important part of being a leader,'' Wiesman said. ''You have to know how to talk to your guys. He has that connection with all of us.
''Just him getting closer with everybody has allowed him to be a great leader because he knows how to talk to us, how to motivate us.''
---
AP college football website: www.collegefootball.ap.org
---