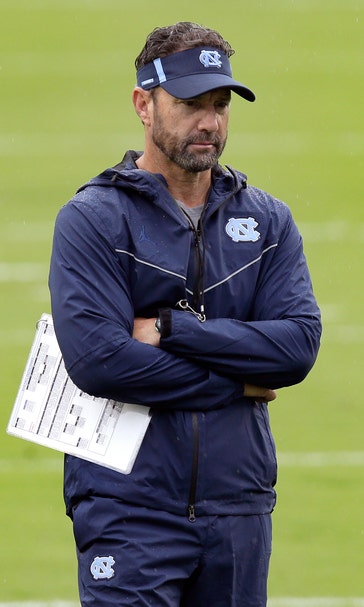 Suspensions hover over Tar Heels in climb back from 3-9 year
August 16, 2018
CHAPEL HILL, N.C. (AP) — Little went right for North Carolina last season in what became the first serious stumble of Larry Fedora's tenure. Things aren't off to a great start in the bid to get the Tar Heels rolling again, either.
The Tar Heels will be shorthanded in the opening month due to suspensions for 13 players who committed secondary NCAA violations by selling school-provided shoes. And that could put them in an early hole as they try to regroup from a year filled with injuries, inexperience and shaky play.
"They all know what's going on," Fedora said. "They've all been aware that there could be some penalties like this. Our guys are prepared for it. They're working their rear ends off during camp and they're getting ready."
North Carolina (3-9, 1-7 Atlantic Coast Conference in 2017) had never won fewer than six games under Fedora before last season. And the Tar Heels aren't far removed from an 11-win season in 2015 that included an ACC division title.
The good news is the Tar Heels appear deep at running back and have a big-play receiver back in all-conference specialist Anthony Ratliff-Williams, while a defense that had its struggles in 2017 returns seven starters to at least offer the chance of growth.
The question of who would play quarterback was supposed to be the highest-profile position battle of training camp. But with seven-game starter Chazz Surratt among the nine players facing four-game suspensions, junior Nathan Elliott will open the year as the guy leading the Tar Heels' fast-paced attack after starting the final three games of last season.
"We handled the situation and now we're going to move forward," Elliott said. "This is our first bit of adversity this team is going to face. We're going to pay the consequences for that and we're going to move forward and get ready for the season."
Some other things to know about North Carolina for the 2018 season:
SHORTHANDED EARLY: Eleven Tar Heels will begin their suspensions immediately, with the bulk of the suspensions involving rotation players. Two of the suspensions involving expected starters at defensive end are staggered a bit, so Malik Carney (12 starts last year) won't sit out until Week 2 while Tomon Fox (two starts in 2017) won't sit out until Week 5. And that means the Tar Heels' starting lineup will be largely intact in Week 1.
UP FRONT: The Tar Heels have work to do on the offensive line. Four of last year's starters are gone. Junior tackle Charlie Heck is back after starting 11 games last year, while junior tackle William Sweet (three starts in 2017) is back from a knee injury.
CLOSE GAMES: The Tar Heels are picked to finish sixth in the seven-team Coastal Division, but the biggest way to surpass that would be to flip a few close loses from last year. The Tar Heels had one-possession margins in home losses to Virginia and Miami, and they also held leads well into the second half of losses against bowl-bound instate rivals Duke and North Carolina State.
GROUND OPTIONS: North Carolina should have options at running back. Top rusher Jordon Brown (613 yards, four TDs) is back, along with No. 2 rusher Michael Carter (558 yards, eight scores). And the Tar Heels are adding Ohio State transfer Antonio Williams, a former four-star instate recruit who was granted a waiver to play immediately this fall instead of sitting out a year typically required by NCAA rules.
THE SCHEDULE: The Tar Heels visit California from the Pac-12 on Sept. 1. The Week 2 trip to East Carolina — to face a rowdy, chip-on-its-shoulder hostile crowd — looms as a critical early game, one that tripped up North Carolina State two years ago. There's a home game against UCF after its unbeaten season, while the ACC schedule includes home games against Pittsburgh, Virginia Tech, Georgia Tech and N.C. State.
---
---