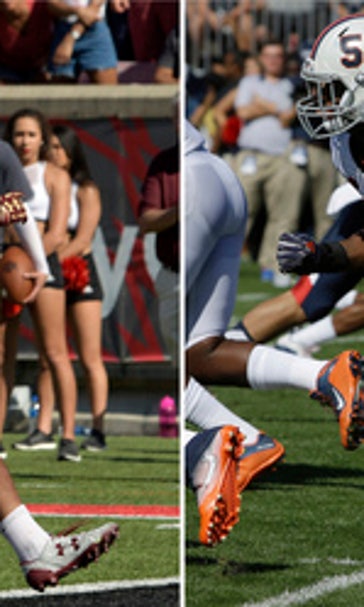 Streaking Virginia seeks 1st win against Boston College
October 20, 2017

CHARLOTTESVILLE, Va. (AP) Virginia is on a roll in its second season under Bronco Mendenhall, and the Cavaliers will have to do something they have never done to keep in going on Saturday: beat Boston College.
The Eagles (3-4, 1-3 Atlantic Coast Conference) have won all five previous meetings and are coming off their best performance of the season. Freshman AJ Dillon ran for 272 yards and four touchdowns last weekend as Boston College won 45-42 at Louisville . Dillon had only run for 330 yards and two scores in his first six college games.
Virginia linebacker and ACC tackles leader Micah Kiser is looking forward to the challenge.
''It's going to be hard-nosed football. I think now the day and age of college football is kind of be really cute with things - throw the ball around, try to get a numbers advantage through motions and things like that,'' he said. ''I think with Boston College, it's going to be more, like, man-on-man, just old-school, hit-it-out football.
''That's what it's going to come down to: Who's tougher?''
Lately, Virginia (5-1, 2-0) has been winning such matchups. The Cavaliers held Duke to 255 yards two weeks ago and limited North Carolina to 257 yards last week. Much of the Tar Heels' total came on running plays of 56 and 47 yards. Those are the kind of numbers that jump out at Eagles coach Steve Addazio.
''They're stout. They're athletic. They play really hard. They're well-coached. They have a good scheme. It's a good football team,'' he said earlier this week. ''And that always gets my attention when I see a good football team.''
The Cavaliers, off to their best start since the 2007 team started 7-1, could achieve bowl eligibility for the first time since 2011 with a victory. Kiser, however, was on the 2014 team that started 4-2, had everyone feeling good and lost five of its last six, so he's taking nothing for granted, and not setting limitations.
''Five isn't the goal, and quite frankly I think for a lot of guys on the team six isn't the goal,'' he said. ''We want to go to a bowl game, yes, but at the same time right now we're 2-0 in the Coastal, and we have our eyes set on more than just going 6-6. We're going to take each week at a time, one game at a time.''
---
Here are some things to look for when Boston college visits Virginia:
CHILLIN DILLON: Dillon figures to be the featured running back for the Eagles after last week's performance, and there aren't many backs with his combination of size and speed. Only one Virginia linebacker outweighs him - he's 240 and Chris Peace is 245 - so stopping him before he gains much momentum could be key.
PASSING FANCY: Kurt Benkert has been very good in some games and somewhat off target in others. If he has one of his good days, that usually means completing some balls downfield and loosening up the defense. Key for Virginia will be slowing Eagles' DE Harold Landry, who stands second in program history with 26 sacks.
WALKER ALERT: BC's Michael Walker is a do-everything wide receiver who can be very dangerous. He's only caught 15 passes for 80 yards, but has returned 19 punts for a 16.8-yard average, good for eighth in the nation, and 19 kickoffs for a 22.8-yard average.
BANDWAGON ANYONE? Virginia has failed to draw 40,000 fans to any of its first four home games, and while the players have started to notice it more since they are winning, they also know it may take time to make believers. ''We have to earn fans,'' Kiser, a fifth-year senior, said. ''Half a season of success doesn't really do away with five years of consecutive losing. We have to earn the right for them to come, and hopefully we do in the future.''
---
More AP college football: www.collegefootball.ap.org and https://twitter.com/AP-Top25
---
---