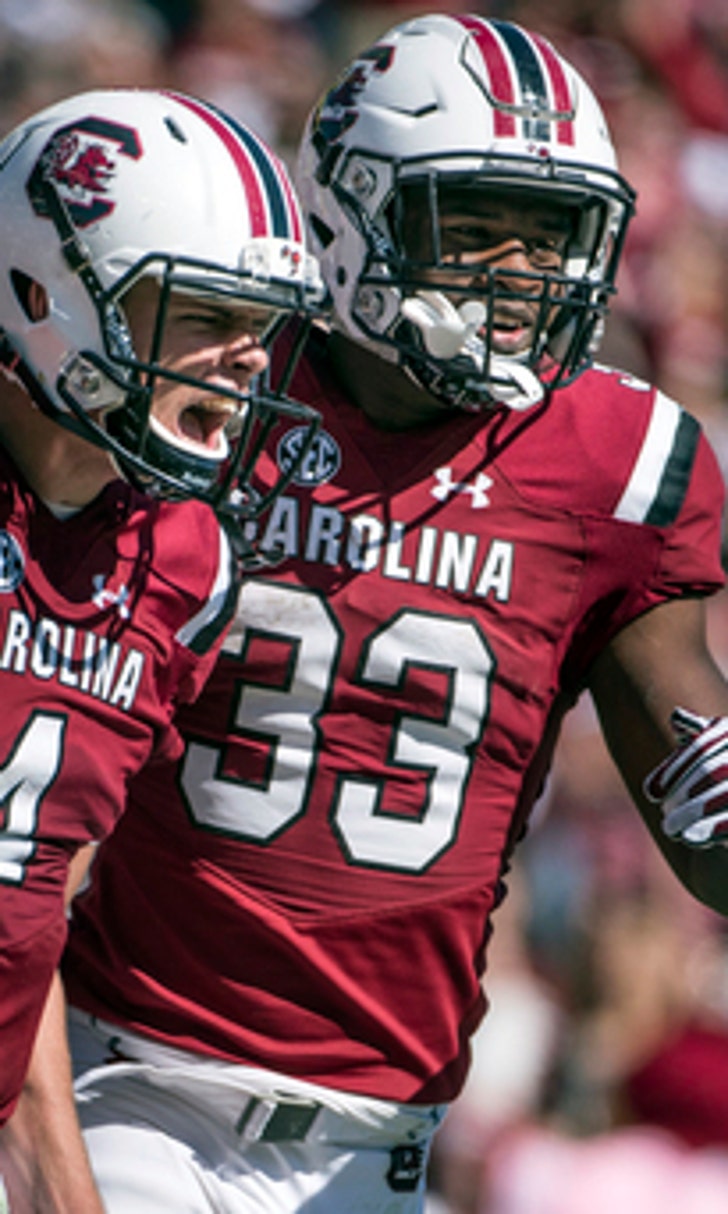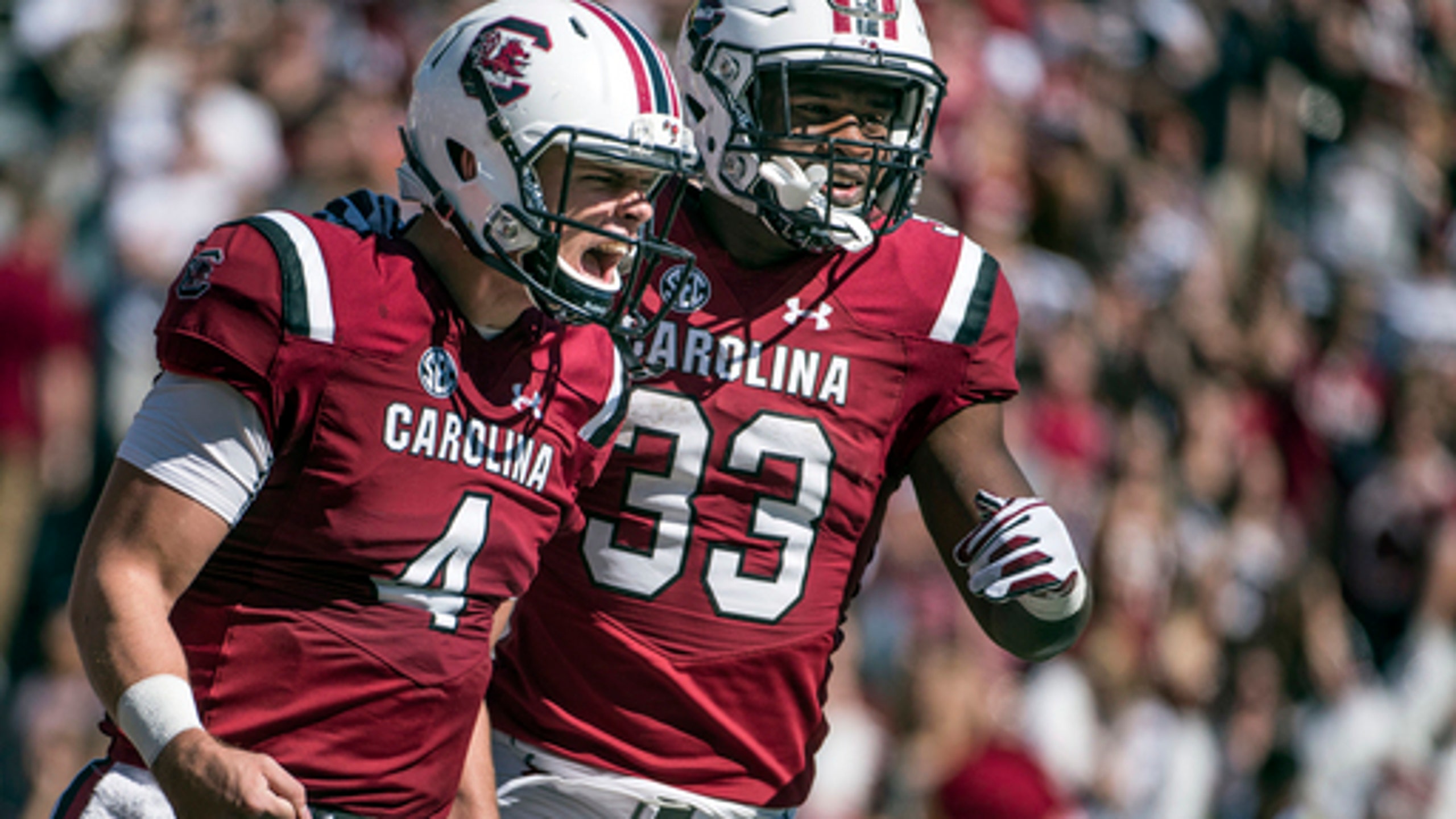 Staying with Bentley: Gamecocks rolling with freshman QB
BY foxsports • October 25, 2016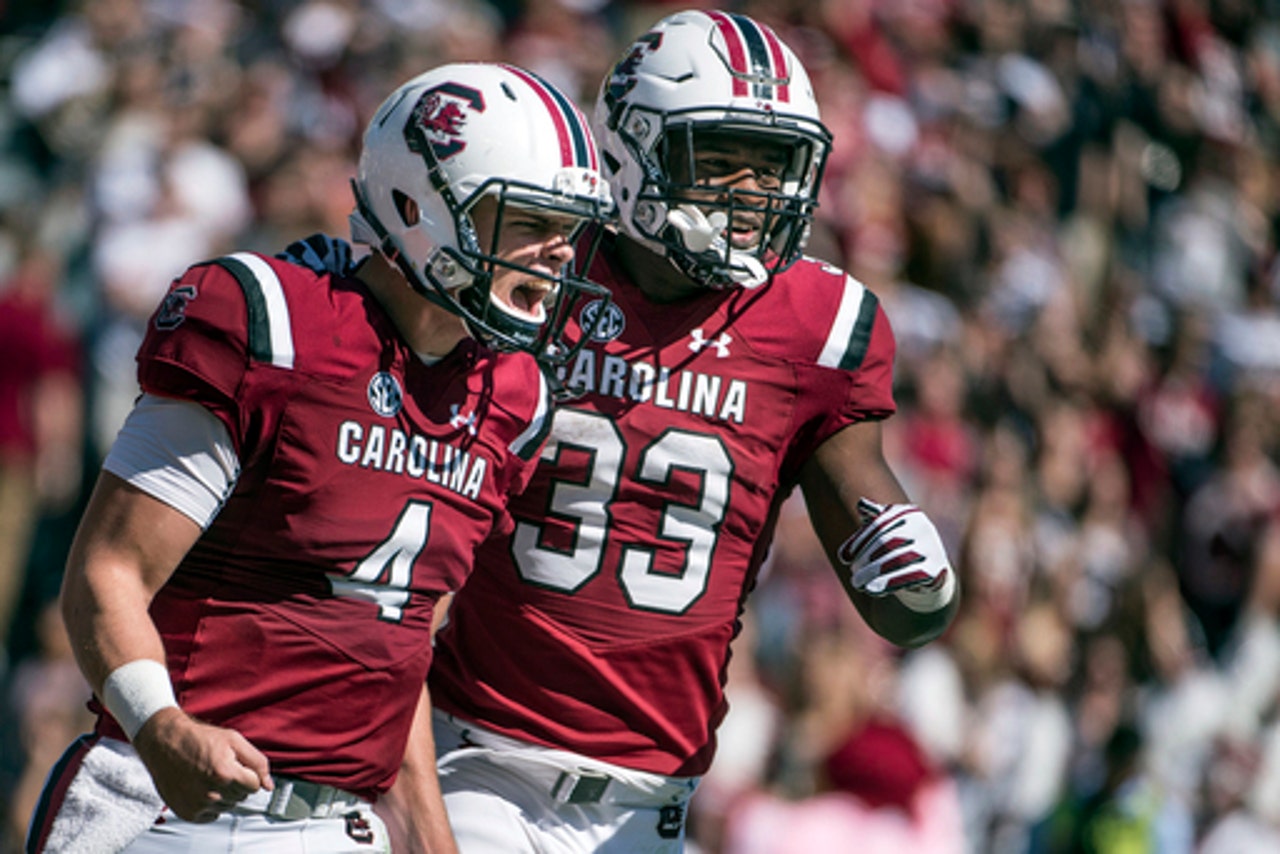 COLUMBIA, S.C. (AP) South Carolina center Cory Helms learned quickly not to play Madden with a young quarterback like Jake Bentley.
''They start reading the defenses and making plays,'' Helms said with a smile. ''They want to win.''
The Gamecocks (3-4, 1-4 Southeastern Conference) hope their latest freshman quarterback brings that video-game attitude to the field each week. Bentley made his college debut last week, getting the call to start and leading South Carolina to a 34-28 victory over UMass last Saturday.
Bentley's task gets considerably tougher this week when South Carolina faces No. 18 Tennessee (5-2, 2-2) on Saturday night.
Bentley gave the Gamecocks a boost from almost the moment he stepped behind center. He led them to a 27-7 lead, including TD passes of 16 yards to K.C. Crosby and 24-yards to Bryan Edwards - just the second time this season South Carolina had connected for more than one scoring throw in a game.
Bentley finished with 201 yards and two touchdowns, sparking an offense that was last in Football Bowl Subdivision scoring average and had not scored more than 20 points in any of its first six games.
''It really gave everybody a lift,'' tight Hayden Hurst said. ''He's very poised and confident.''
Gamecocks coach Will Muschamp and quarterbacks coach Kurt Roper, the team's co-offensive coordinator, have decided to roll with their two freshmen quarterbacks the rest of the season. Bentley, at 6-3 and 223 pounds, has a live arm and a quick release. Fellow freshman Brandon McIlwain, who started three of the first six games, is more adept at running zone read schemes and South Carolina brought him in on several goal line situations.
''I just feel like right now, from an ability standpoint, (Bentley and McIlwain) give us the best opportunity, and they're just going to keep getting better,'' Muschamp said. ''Both of them do things equally well, and we'll continue to rep that way.''
Muschamp said Bentley has kept a workmanlike approach despite his first-game success. Bentley told Muschamp at practice he had watched about 2 1-2 hours of Tennessee film.
''He knows how to prepare the right way,'' the coach said.
Tailback A.J. Turner said Bentley allows the Gamecocks to take more downfield chances, which in turn opens up room for their running backs. No surprise that South Carolina had its most productive game on the ground this season with 194 yards.
''That's something that Jake did for us,'' Turner said.
Bentley had offers from Alabama, Clemson, LSU and Nebraska among others. He planned to spend another season in high school before his father, Bobby, became Muschamp's running backs coach last December. The younger Bentley chose to speed up the process, graduating early and joining the Gamecocks this summer.
Muschamp expects Bentley's progress to continue throughout the season. Muschamp does not allow Bentley or other South Carolina freshmen to speak to the media.
Tennessee coach Butch Jones thought Bentley managed the offense like a veteran in his first start.
Vols cornerback Emmanuel Moseley believes Bentley's inexperience won't matter come Saturday.
''Even though he is supposed to be a senior (in high school) right now it doesn't matter,'' Mosely said. ?He went out there and did a great job. He got his team the win.''
The UMass win left all South Carolina players feeling good early in the week. Left tackle Mason Zandi said the team had a little extra spirit on the practice field as it prepped for Tennessee - and he knows a lot of that is because of Bentley's performance.
''Jake's got a little bit of swagger. You come into your first start, you throw two impressive touchdowns, definitely no mistakes,'' said Zandi, a senior. ''That's a big deal for a kid who's supposed to be a senior in high school.''
---
AP Sports Writer Steve Megargee from Knoxville, Tennessee contributed to this report.
---
Online:
More AP college football: www.collegefootball.ap.org
---