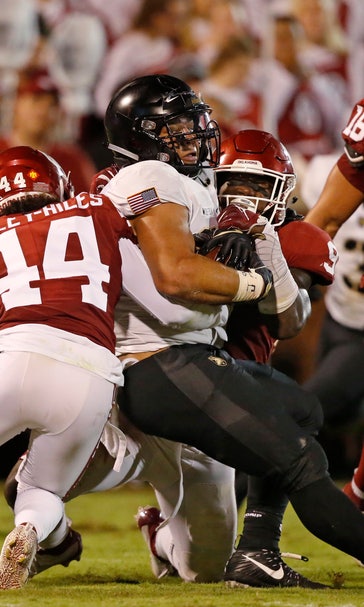 STAT WATCH: OU linebacker sets FBS record with 28 tackles
September 24, 2018
Kenneth Murray went into Oklahoma's game against Army with the goal of breaking the school record for tackles. The sophomore linebacker ended up setting the Football Bowl Subdivision mark.
Murray made 28 stops in the Sooners' 28-21 overtime win over the Black Knights on Saturday. That broke the record shared by three players.
Curtis Bolton, Murray's buddy and fellow OU linebacker, finished with a career-high 23 tackles.
Both had plenty of opportunities against a triple-option offense designed to dominate time of possession. Army held the ball for 44 minutes, 41 seconds and got off 87 offensive plays to the Sooners' 40.
Murray made a then-career-high 10 tackles against Iowa State on Sept. 15 before setting his sights on the OU record of 24 tackles by linebacker Carl McAdams against Navy in 1965.
"I told probably 10 of my teammates that I was going to break it this week," Murray said. "I told them, I was praying to God about it. Me and Buzzy (Curtis Bolton) are always competing, trying to see who's going to make the most plays."
200 CLUB
Arizona's J.J. Taylor ran for a national season-high 284 yards on 27 carries against Oregon State. The only other 200-yard game over the weekend was by Penn State's Miles Sanders, who went for 200 on 22 runs against Illinois.
There have been 12 200-yard performances this season.
CATCHING ON
Dillon Mitchell of Oregon and Kaleb Fossum of Nevada matched the national season high for receptions with 14 apiece.
Mitchell was targeted 17 times, and he amassed 239 yards on his 14 catches against Stanford, the most by a Pac-12 player since Washington State's Vince Mayle had 252 yards against Arizona State in 2014. Fossum amassed a career-high 150 yards on his 14 receptions.
SACK 'EM UP
Central Michigan defensive lineman Mike Danna had his first four sacks of the season against Maine to match the national season high. Boston College's Wyatt Ray also had a four-sack game, against Wake Forest on Sept. 13.
New Mexico State had eight sacks against UTEP, second most in the Bowl Subdivision this season.
RUN, RUN, RUN
Air Force set the national season high for rushes when it ran on 86 of its 107 plays against Utah State. It was the most since the Falcons ran 91 times against Nevada last season.
Army and Navy each ran 78 times in their games, tying for second most this season.
STAT OF THE WEEK
Ten of Alabama's 34 scoring drives have lasted less than a minute, with nine of them resulting in touchdowns.
---
---