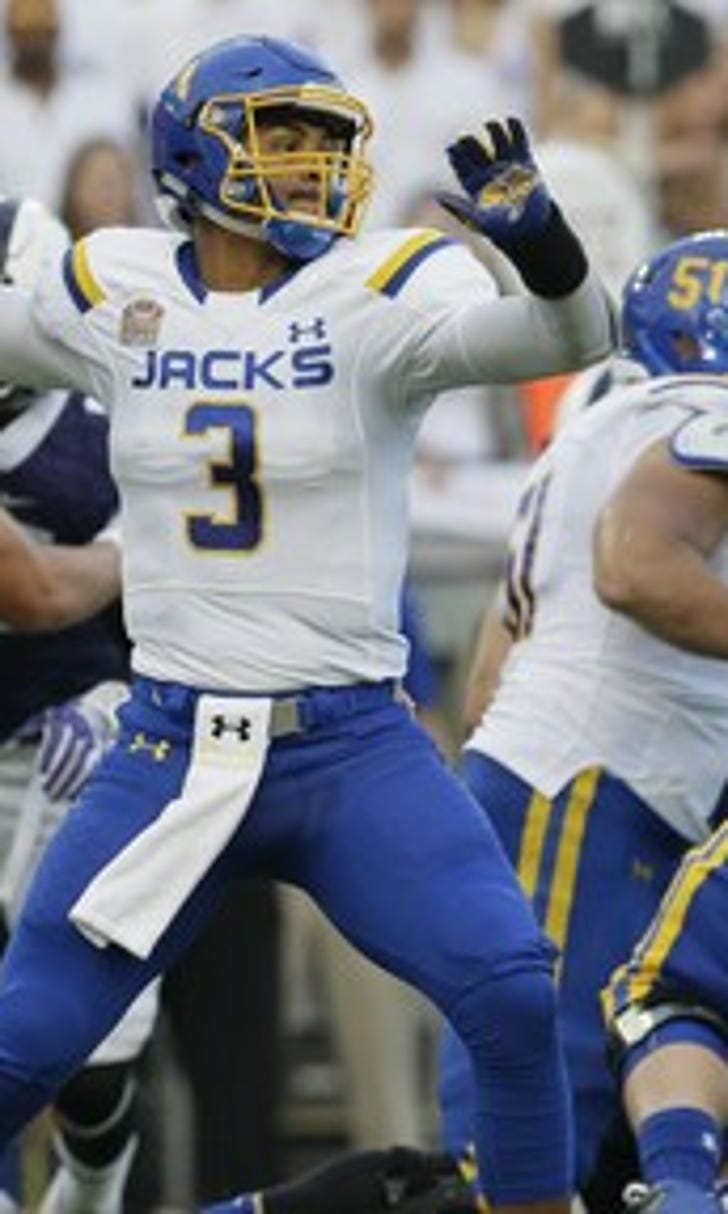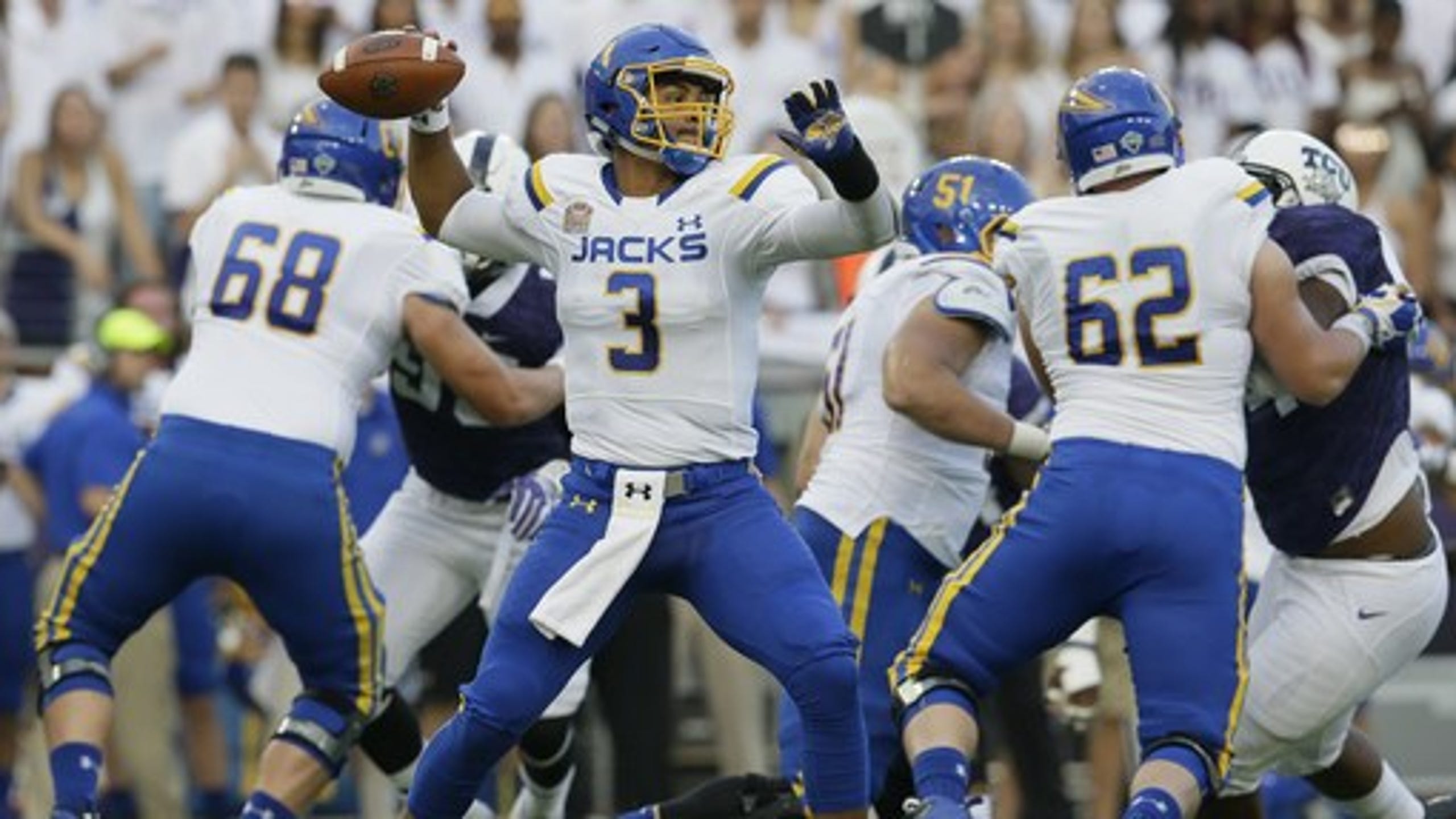 South Dakota State takes aim on No. 1 Bison
BY foxsports • October 10, 2016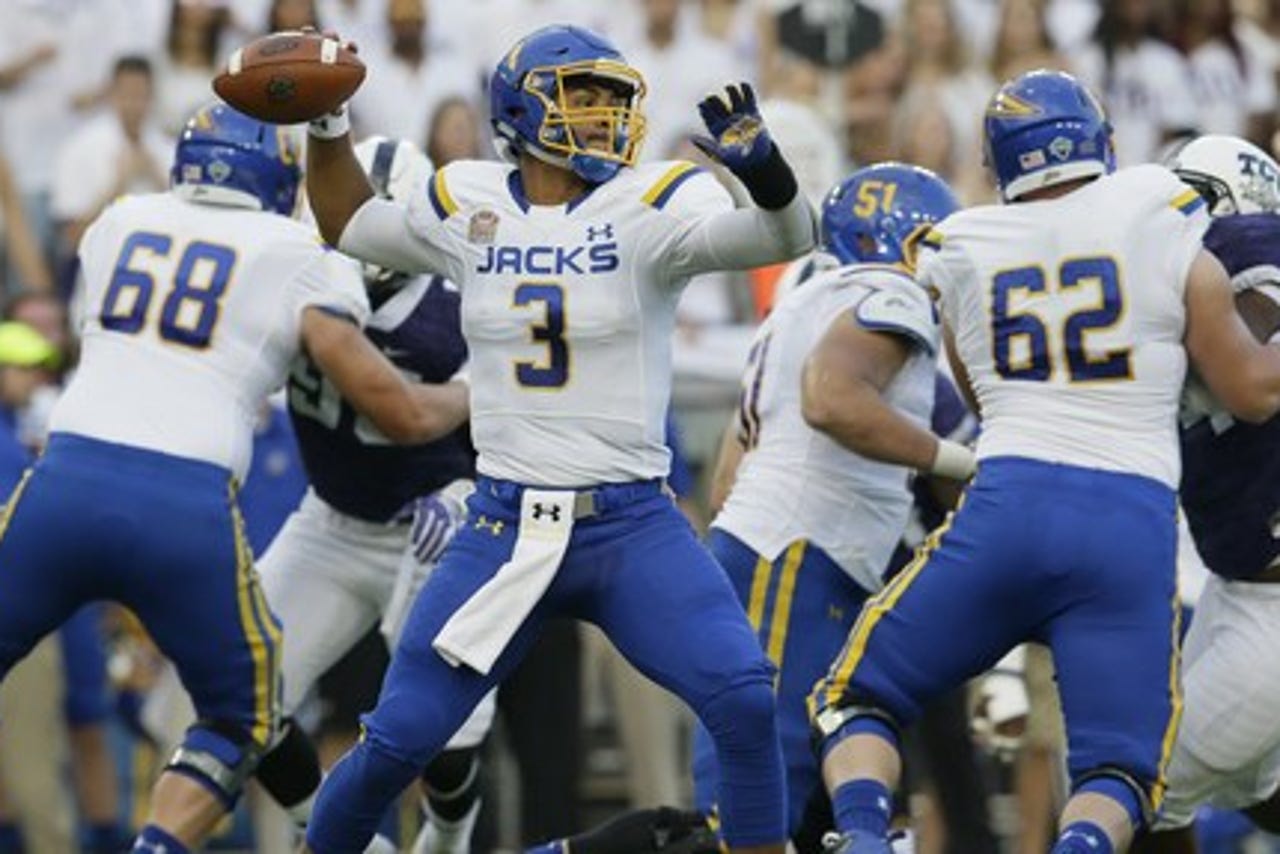 (STATS) - While North Dakota State has been the team of the decade in the FCS, the opponent which the Bison have picked on more than any other is South Dakota State.
The Jackrabbits are in a crowded group of teams, of course, but they have lost eight times to the five-time reigning FCS national champions since the start of the 2010 season.
On an upcoming Saturday full of big matchups, SDSU hopes to take down the top-ranked Bison. In fact, four of this week's matchups are between teams ranked in the STATS FCS Top 25, which remained relatively unchanged Monday.
SDSU (3-2) moved up one spot to No. 11, while NDSU (5-0) received all 160 first-place votes in the national media poll. Both teams are 2-0 in the Missouri Valley Football Conference and sit atop the standings with Youngstown State (4-1).
The only change among the top 10 teams was The Citadel leaping over Charleston Southern to No. 8. After NDSU, Sam Houston State (5-0) was ranked second followed by Jacksonville State (4-1), Eastern Washington (5-1), Chattanooga (6-0), Richmond (5-1), James Madison (5-1), The Citadel (5-0), Charleston Southern (3-2) and Montana (4-1).
South Dakota State hasn't defeated North Dakota State since a 28-13 win at home on Oct. 17, 2009. Saturday's Dakota Marker rivalry game will take place in the Fargodome, where the Bison are 51-4 since 2010.
This year's Jackrabbits team is winning a little differently than in many past seasons - with a high-powered passing attack. Behind sophomore quarterback Taryn Christian, wide receiver Jake Weineke and tight end Dallas Goedert, the offense ranks fifth nationally in passing yards per game (339.6). The Jackrabbits are fourth in scoring average (45) and 13th in total offensive yards per game (461.4).
NDSU holds a 59-40-5 series lead heading into the 105th all-time meeting of the 14th most-played series among FCS schools.
Familiar conference rivals will get together across the FCS this weekend. In the Southern Conference, it's No. 8 The Citadel at No. 5 Chattanooga in a first-place showdown between last year's conference co-champs. No. 6 Richmond hosts No. 13 Villanova (5-1) in CAA Football, while No. 14 Youngstown State (4-1) visits No. 21 Northern Iowa (2-3) in the Missouri Valley.
South Dakota State outlasted Western Illinois 45-39 to move into the No. 11 spot. The Jackrabbits were followed by Western Illinois (4-1), Villanova, Youngstown State, North Carolina A&T (4-1), Coastal Carolina (3-2), Albany (4-1), Eastern Illinois (4-2), Cal Poly (3-2) and Harvard (4-0).
Rounding out the Top 25 were Northern Iowa (2-3), North Dakota (4-2), Central Arkansas (4-1) and two newcomers, Samford (4-1) and Grambling State (4-1). Samford, from the Southern Conference, last appeared in the Top 25 in the final 2013 rankings, while Grambling State became the first Southwestern Athletic Conference team in the poll since the Tigers ended last season at No. 24.
McNeese and Illinois State fell from the Top 25 following losses this past weekend.
A season-high 10 conferences were represented by at least one team in the rankings, led by the Missouri Valley with five, the Big Sky and CAA four each and the Southern Conference three.
A national panel of sports information and media relations directors, broadcasters, writers and other dignitaries select the STATS FCS Top 25. In the voting, a first-place vote is worth 25 points, a second-place vote 24 points, all the way down to one point for a 25th-place vote.
The Top 25 is released every Monday afternoon during the regular season, except for Sunday morning, Nov. 20, prior to the selection of the 24-team FCS playoff field. A final Top 25 will follow the FCS championship game, which will be held Jan. 7 in Frisco, Texas.
---