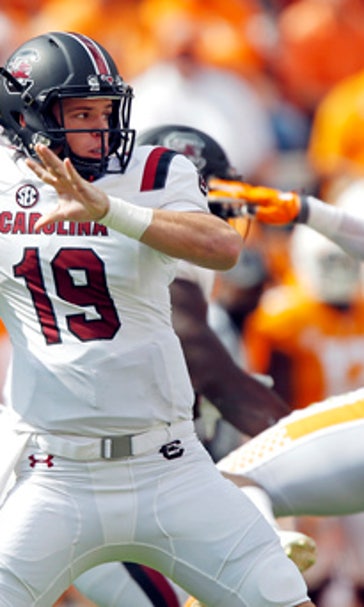 South Carolina get starting linemen back for stretch run
October 26, 2017

COLUMBIA, S.C. (AP) South Carolina's offensive line will finally look like it did at season's start - and just in time to help during a stretch run for the surprising Gamecocks.
South Carolina coach Will Muschamp said injured tackles Zack Bailey and Malik Young, and guard Cory Helms - all starters - will play when the Gamecocks (5-2, 3-2 Southeastern Conference) take on Vanderbilt (3-4, 0-4) on Saturday night.
Bailey went down in week three against Kentucky while Helms was hurt a week later. Young got hurt in the first quarter at Texas A&M last month. The three have missed a total of nine games while South Carolina has mixed and matched backups and moved players to other line positions in their absence.
That's coming to an end.
''All three linemen will be back this week,'' Muschamp said.
South Carolina is coming off two straight SEC wins where the defense was critical. The Gamecocks got three defensive scores in a 48-22 victory over Arkansas two games ago, then had a goal line stand to hold off Tennessee, 15-9, the late time out.
A week off gave several South Carolina players an opportunity to heal, Muschamp said.
The coach believes Bailey, Helms and Young have practiced and will play, though it is unclear if all will start.
The Gamecocks, 13th in the SEC in rushing last year, brought in a new offensive line coach in Eric Wolford to spark an underperforming unit last year.
Bailey, at 6-foot-6, 311 pounds, and Young, 6-3, 303 pounds, were expected to provide a powerful duo of protection at the tackles while the 6-4, 309-pound Helms would help open holes up the middle and keep pass rushers out.Without them, there has been limited cohesion and Carolina's run game has been stagnant. The Gamecocks are 13th in league rushing averaging 110 yards per game.
Backup lineman Sadarius Hutcherson, a redshirt freshman, played at guard and tackle to compensate for the lost starters. He said everyone on the offensive line felt uplifted when their banged-up teammates returned to full-time practicing. ''It's a big boost,'' Hutcherson said.
Especially against Vanderbilt, which is last in the SEC in defending the run and 10th in sacks. The trio can help make sure South Carolina takes advantage of Vanderbilt's weaknesses. ''We haven't been playing the way we should,'' Commodores safety Ryan White.
Also relieved by the return is quarterback Jake Bentley , who has been sacked 17 times so far this season including seven in a loss at 24-17 loss at Texas A&M three weeks ago.
''That's three guys that give us a lot of confidence being back out there,'' Bentley said. ''Guys with a lot of experience. The running backs know they can run behind them any play and get the yardage they need. And I know I'm going to get great protection every play.''
The Gamecocks will certainly need all the experience they can get down the stretch.
Following struggling Vanderbilt, South Carolina goes to Georgia and takes on Florida at home to close out SEC play. The Gamecocks have gone 0-4 against the Bulldogs and Gators the past two seasons.
Bentley said the Gamecocks, tied for second in the SEC East with Florida, team does not spend much time considering their spot in the standings or what might have to happen for them to wind up in Atlanta in the SEC championship game.
The only focus, he said, is winning.
''Our goals are our goals and nothing's changed about that,'' Bentley said. ''We expect to win.''
That could become easier with a healthier offensive line.
---
AP Sports Writer Teresa Walker of Nashville, Tennessee, contributed to this report.
---
More AP college football: http://collegefootball.ap.org and https://twitter.com/AP-Top25
---
---