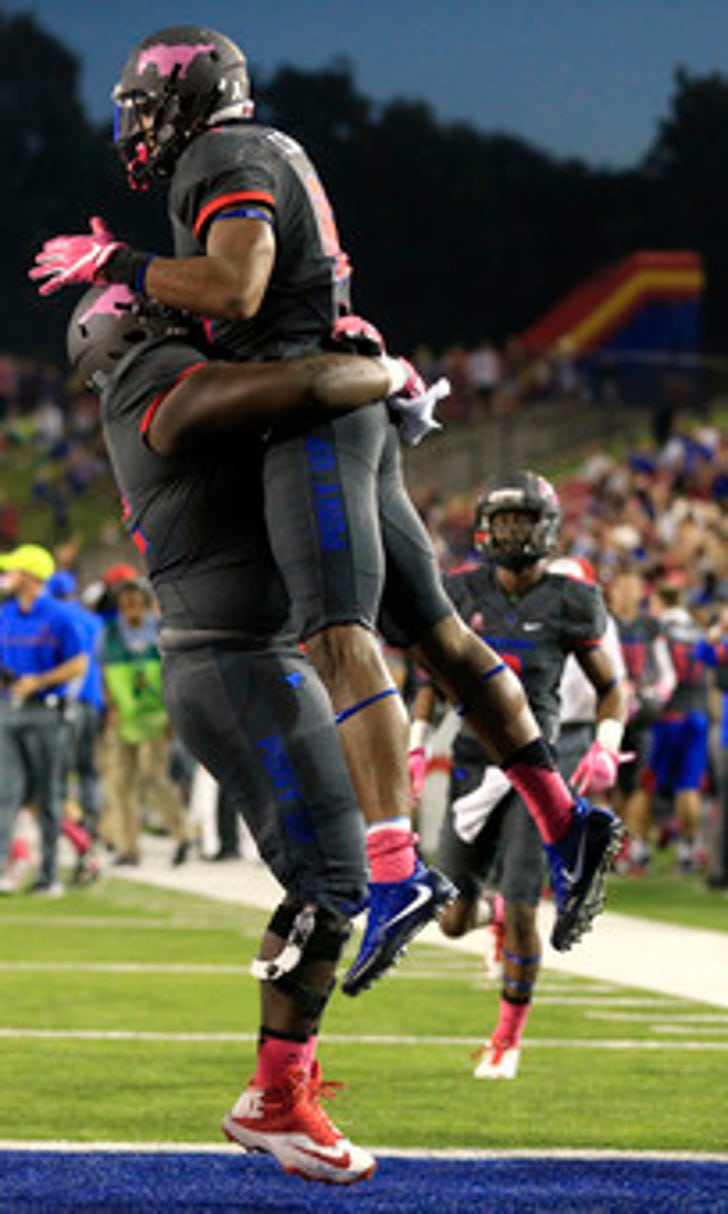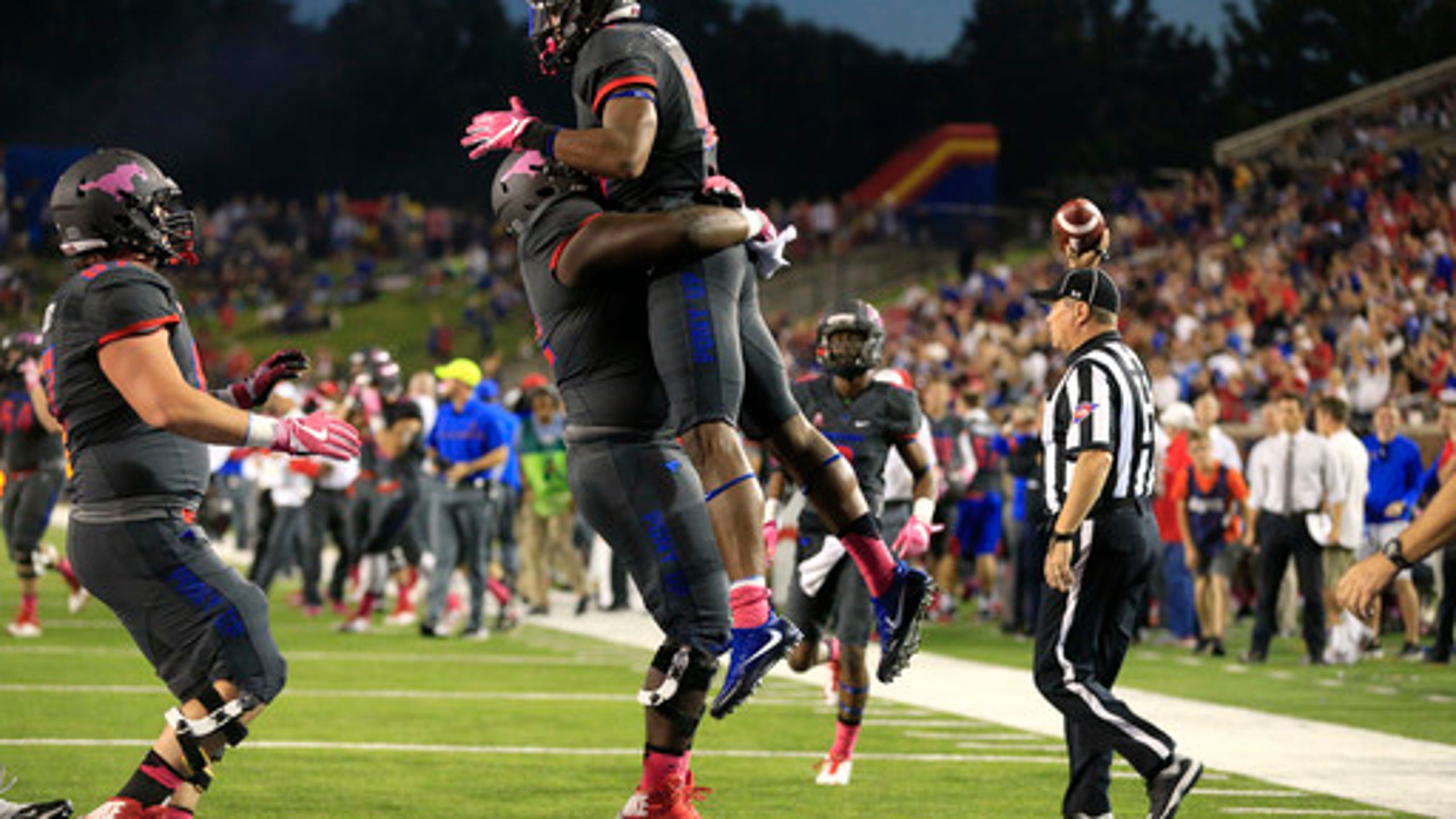 SMU stuns No. 11 Houston 38-16 by shutting down QB Greg Ward
BY foxsports • October 23, 2016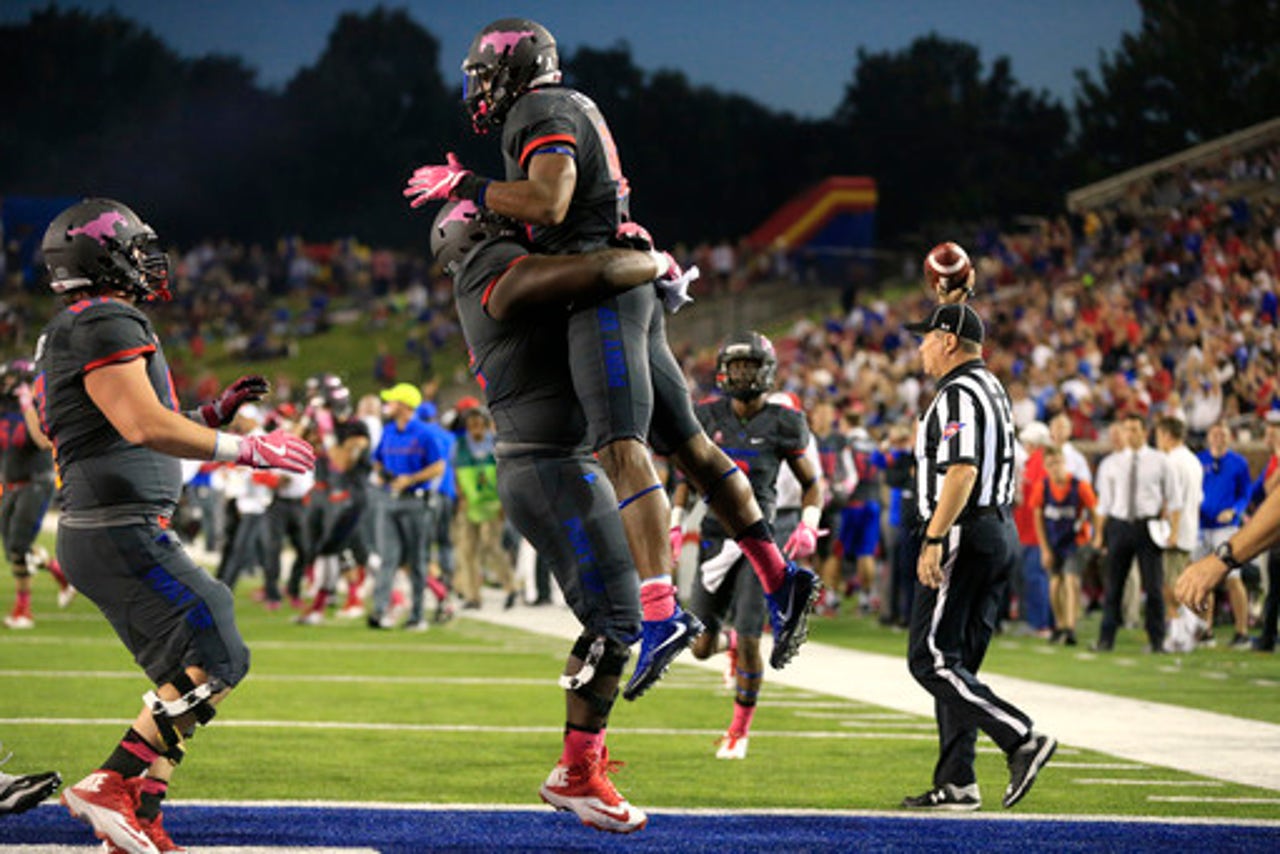 DALLAS (AP) A grim-faced Tom Herman could hear the whoops and hollers of SMU players as the Houston coached tried to explain a shocking 38-16 loss to the Mustangs on Saturday night.
Was it hard to listen to that celebration?
''More than you know,'' Herman said.
Ben Hicks threw for three touchdowns and ran for another score in SMU's first win over a ranked team in five years.
The Cougars (6-2, 3-2 American) lost for the second time after a 5-0 start that included a season-opening win over then-No. 3 Oklahoma that vaulted Houston into the Top 10.
The last time the Mustangs (3-4, 1-2) beat a team ranked 11th or higher, they were No. 4 and finishing off a near-perfect 1982 season (11-0-1) with a 7-3 victory over sixth-ranked Pittsburgh in the Cotton Bowl. SMU tied No. 7 Texas A&M in 1994.
It was SMU's fourth win in 20 tries against Houston since returning from the so-called death penalty in 1989. The first loss was 95-21.
''For us to come in and get a signature win like this is huge,'' SMU coach Chad Morris said. ''And I shared with our players for the last two weeks, `It just takes one (win) to start a revolution. It just takes one win to put some wind in our sails.'''
Greg Ward Jr. couldn't shake a persistent SMU pass rush or find receivers for big plays, finishing with 241 yards passing - almost 100 below his average - and just 3 yards rushing on 17 carries thanks to seven sacks.
One of the sacks was for an 18-yard loss to the Houston 22 when coach Tom Herman went for it on fourth down trailing 28-14 early in the fourth quarter.
Herman got conservative moments later, choosing a 19-yard field goal attempt on fourth down from the SMU 2. Ty Cummings hit the right upright for his second miss.
''Immense introspection when you lose a game like that,'' Herman said. ''We'll leave no stone unturned to figure out why that happened.''
Hicks was 16 of 31 for 228 yards, including a 28-yard touchdown to a wide-open James Proche for a 28-7 lead in the final seconds of the first half. SMU appeared content to run out the clock before a 40-yard run by Braeden West, who had 115 yards rushing and a punctuating touchdown late.
THE TAKEAWAY
Houston: Herman figured to be the hottest name in coaching for the offseason searches of LSU and any other high-profile programs that might be looking. Perhaps that doesn't change, but this October isn't helping. Convincing wins over Florida State in the Peach Bowl and the Sooners in this year's opener have lost some luster.
SMU: Morris, the second-year coach who went 2-10 in his debut season, has a good chance to build on his biggest win, and one of the program's biggest since the crippling NCAA sanctions almost 30 years ago. The Mustangs faded in the second half after strong early efforts against two other high-scoring Texas teams, Baylor and TCU. They finished the job this time.
TONE-SETTING TURNOVERS
The Cougars lost two fumbles in the first quarter and never got their high-powered offense going. Houston was outgained 406-303. ''When you play a team at their place that's fresh, that's hungry, motivated, to give them life like that,'' Herman said. ''You're playing catch-up the whole game from that point on.''
CAREER GAME
SMU defensive end Jarvis Pruitt recovered one of the fumbles and had three sacks in the Mustangs' first win over a ranked team since beating No. 20 TCU 40-33 in overtime in 2011.
POLL IMPLICATIONS
Houston: The Cougars could tumble all the way out of the rankings after being at No. 6 for several weeks following the victory over the Sooners. The fall has been sudden for a program coming off its first New Year's bowl in 30 years and the second 13-win season in program history.
UP NEXT
Houston: The Cougars start a stretch of three straight home games against UCF next Saturday. That stretch ends against No. 7 Louisville. They also get a bye after nine straight weeks of playing.
''It's a one-game season to get to that bye week and put everything we've got into protecting our home stadium and preparing and executing better than we did tonight,'' Herman said.
SMU: The Mustangs visit Tulane next Saturday before a home game against Memphis, which just lost its first conference game against Navy.
---
Online:
AP college football website: http://collegefootball.ap.org
---