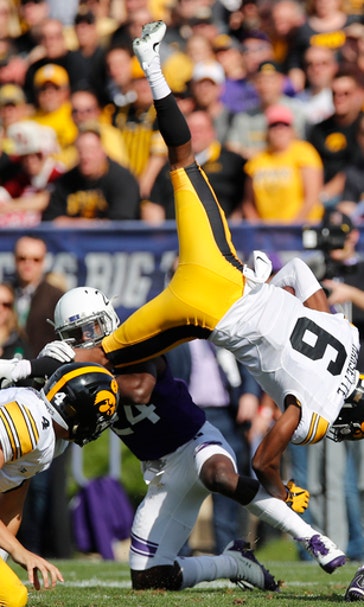 Sluggish offense hampering Hawkeyes once again
October 24, 2017

IOWA CITY, Iowa (AP) Barring a turnaround that doesn't seem like it's coming, Iowa's season will likely come down to one word.
Forgettable. Once again, it's largely the offense that's to blame.
The Hawkeyes (4-3, 1-3 Big Ten) have scored 19 points or less in three of its first four league games and they lost all three. The Big Ten's 12th-ranked rushing attack, hampered by injuries on what was supposed to be a stellar offensive line, has left a team oriented toward the ground game stuck playing left-handed way too often.
Iowa hosts Minnesota (4-3, 1-3) on Saturday in a game that's crucial for bowl eligibility instead of the Big Ten West title.
''We see a lot of close plays on film ... and you are what your record says you are. We're a 4-3 football team,'' fullback Brady Ross said. ''We know the answers to the test. We've just got to keep practicing hard, focus on the details and finish plays so they're not close plays. They're completed plays. That's the challenge.''
Coach Kirk Ferentz has often described his program as one where the margin for error is always slim. This year's struggles in the running game under first-year coordinator Brian Ferentz has shown why that isn't hyperbole.
Injuries to tackles Ike Boettger, Boone Myers and running back James Butler have hampered the team's ability to pound the ball between the tackles, throwing the offense out of whack. Iowa has been forced to start a pair of first-year tackles in Alaric Jackson and Tristan Wirfs, and Wirfs is the only true freshman to start at tackle in Ferentz's 19 seasons at Iowa.
Though both are considered potential stars down the road, it's of little surprise that the Hawkeyes have rushed for just 921 yards through seven games after having two backs crack 1,000 yards in 2016. That's 102nd out of 129 FBS schools, and good for only 131.6 yards per game and a paltry 3.54 per rush.
Part of that is because Butler's absence robbed Iowa of its best downhill runner. But Iowa has also too often tried to force the 195-pound Akrum Wadley to get yards up the middle, and he's just not particularly built to do that. Wadley is averaging 4 yards and has produced just six runs of at least 20 yards in 145 carries even though he was considered among the nation's most dangerous backs entering this season.
Ferentz said Tuesday that Butler's status for this weekend's game is up in the air.
''We've been really hard on ourselves,'' center James Daniels said. ''We know that if we're not able to run the ball, it doesn't matter what our defense does or our passing game does. Iowa football, our pride is being able to run the ball. If we can't do that, we won't be very successful.''
Iowa's defense has done its part, ranking 20th nationally and fifth in the Big Ten in scoring defense at 18.4 points per game. But the Hawkeyes are on the verge of playing out the string because of an offense that has lost its identity.
That's not the position the Hawkeyes hoped to be in in late October, but it's their reality.
''Execution and experience are probably the two biggest things,'' Ferentz said. ''But to that point, our goal is always to be balanced.''
---
More college football coverage at http://collegefootball.ap.org and www.Twitter.com/AP-Top25
---
---