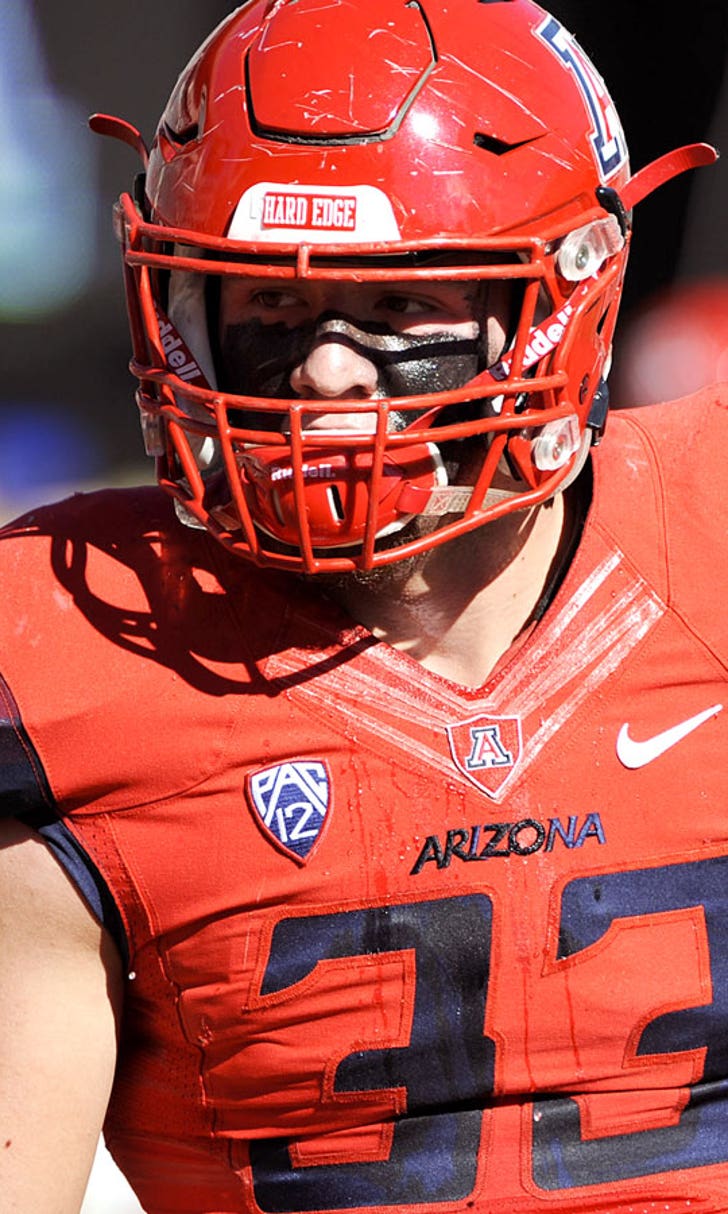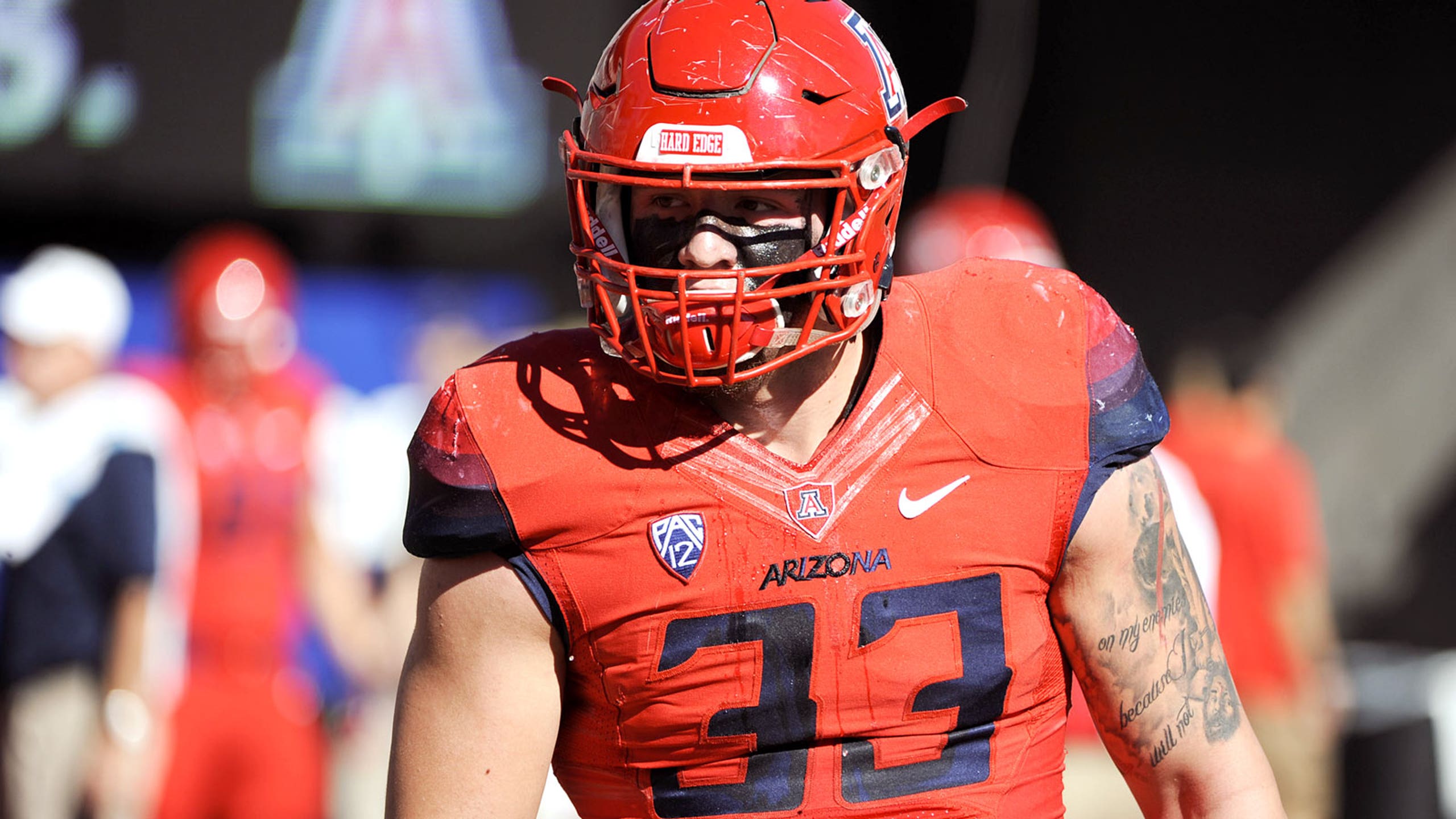 Scooby Wright demanded Arizona hide his All-American award
BY Bruce Feldman • July 31, 2015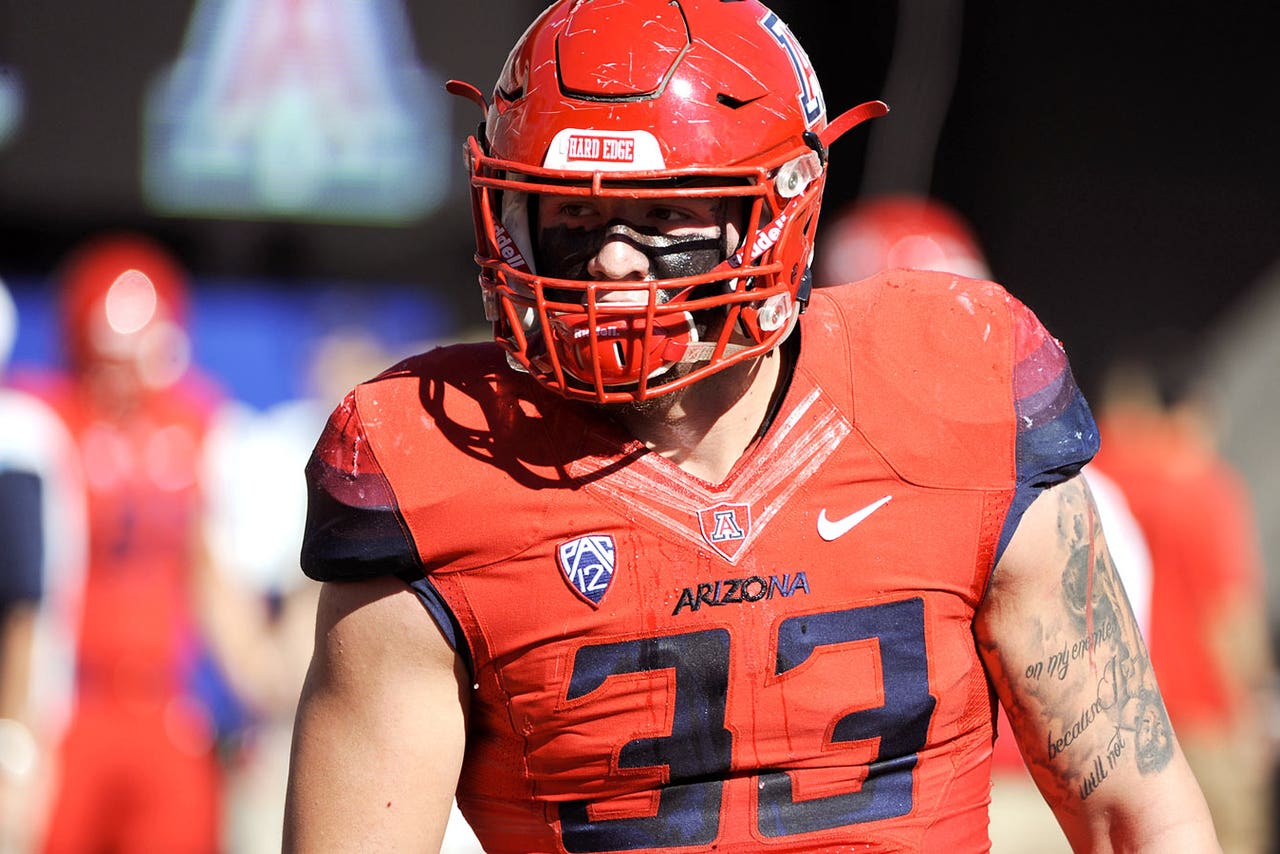 BURBANK, Calif. -- Arizona's produced some great defensive players who have earned first-team All-American status. Ricky Hunley, Chuck Cecil, Tedy Bruschi and Chris McAlister are among the Cats stars honored with their pictures on the wall above the U of A football practice field. After putting up arguably the most impressive statistical season by any defensive player in school history, coach Rich Rodriguez was eager to put up junior Scooby Wright's photo on that wall.
After all, Wright was a huge reason why the Cats won the Pac-12 South title en route to him winning the Bronko Nagurski Trophy, the Rotary Lombardi Award and the Chuck Bednarik Award -- all awarded to the nation's top defender -- in addition to the Pac-12's Pat Tillman Defensive Player of the Year, after he ranked in the top five among FBS players for total tackles (163), tackles for loss (29.0), sacks (14.0) and forced fumbles (six).
However, the low-key linebacker, who has crafted the "Two-Star Scooby" persona from his unheralded recruiting rep, asked his coach not to put up the picture. 
"I think he prefers the image of 'Two-star Scooby' than 'Mr. All-American,'" said Rodriguez.
The two came to an agreement, Rodriguez said. "I told him OK, we'll wait till your career here is over. I should've told him, 'OK, but you have to play two more seasons here.'"
Rodriguez said he thinks Wright can be even more productive this year than his astounding numbers in 2014. "He's about 10 pounds bigger, and he's even a little quicker because he's worked so hard to get better in space," he said. "You gotta embrace the unpleasantness of the really hard part to be really good, and Scooby does that."
The one thing Wright didn't do was come to Pac-12 Media Days. Instead, Rodriguez opted to bring two seniors. 
"Scooby probably is thanking me as we speak that he can be in the weight room right now and doing a few more curls," Rodriguez said. "He might be getting another tattoo. I think he had a two-star Scooby; he might be putting one on that says 'still two-star Scooby.' We'll talk about him quite a bit. The legend of Scooby Wright grows, but he's earned every bit of it." 
Bruce Feldman is a senior college football reporter and columnist for FOXSports.com and FOX Sports 1. He is also a New York Times Bestselling author. His new book, The QB: The Making of Modern Quarterbacks, came out in October, 2014. Follow him on Twitter @BruceFeldmanCFB and get all of his content on Facebook.
---