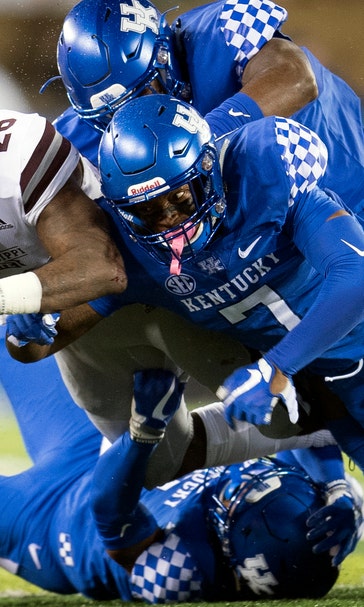 Rough loss to Kentucky humbles No. 23 Mississippi State
September 25, 2018
STARKVILLE, Miss. (AP) — Mississippi State suddenly has a lot bigger problems than former coach Dan Mullen coming to town.
The 23rd-ranked Bulldogs and their fan base have been looking forward to Saturday's game against Florida for several months, ever since Mullen left Starkville after nine seasons to become the Gators' head coach. But instead of going into the weekend undefeated Mississippi State is smarting after a 28-7 road loss to Kentucky .
The setback certainly put a damper on first-year coach Joe Moorhead's honeymoon in Starkville. And he will certainly face more difficult questions if he can't beat the man he replaced on Saturday.
"We need to handle adversity, which we're now forced to confront with this one loss," Moorhead said. "We can't let the same game beat us twice, so we can't let the ramifications or collateral damage of this Kentucky game affect us in the Florida game or moving forward."
Mississippi State (3-1, 0-1 Southeastern Conference) struggled against Kentucky, especially on offense and with penalties. The Bulldogs have been one of the SEC's best rushing teams the past few seasons, but were held to just 56 yards on the ground on 28 carries Saturday.
The lack of an effective run game was surprising, but maybe the most frustrating thing for Moorhead was how his veteran team lost its composure on the road in Lexington. The Bulldogs were called for 16 penalties, including multiple false starts and unsportsmanlike conducts.
"I think you can exert maximum effort and do the things that are necessary to be successful on every play without losing your head and being hot-tempered," Moorhead said. "There's a difference between playing hard and picking up the ball and throwing it at somebody, or playing hard and pushing somebody after the snap. That's not toughness."
Mississippi State's poor running game revealed a familiar problem over the past few seasons. If the Bulldogs can't run the ball, the passing game can't save them. Senior quarterback Nick Fitzgerald was just 16 of 32 passing for 145 yards and an interception.
Mississippi State struggled to stop Kentucky's star linebacker Josh Allen, who caused havoc in the Bulldogs' backfield the entire game.
"You hear the term don't let the game-wreckers wreck the game, and the kid to his credit played a great game," Moorhead said. "We have to do better. I have to do better."
One positive for Mississippi State is that its goals for the season all remain intact. Since Kentucky plays in the Eastern Division, the Bulldogs still control their own destiny in the Western Division as they continue to navigate the SEC gauntlet.
Moorhead pointed to his experience as offensive coordinator at Penn State in 2016 as proof that one — of even a few — bad games don't have to ruin a season. The Nittany Lions started that year with a 1-2 record before winning nine straight games, including the Big 10 Championship, and advancing to the Rose Bowl.
"One loss won't define this season. One loss won't define this team," Moorhead said. "I promise you this, we are working tirelessly, and we are going to get this freaking thing right."
---
---