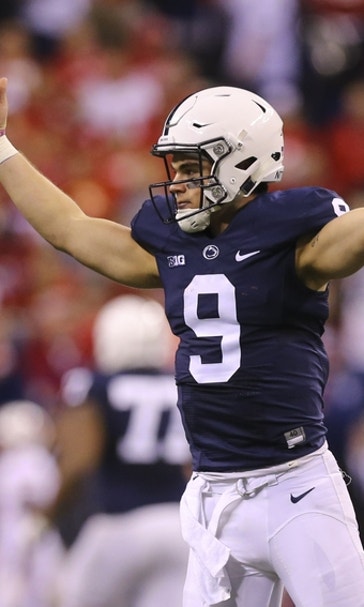 Rose Bowl 2017: Clay Helton Previews USC Match Up With Penn State
BY Fansided and Alicia de Artola/FanSided via Reign of Troy • December 14, 2016
Head coach Clay Helton broke down the USC vs. Penn State match up on Tuesday, previewing the Trojan's next challenge in the Rose Bowl.
For the next three weeks, USC will prepare to face off with the Penn State Nittany Lions.
Head coach Clay Helton, as always, gave a primer on the Trojans' next opponent following practice at Howard Jones Field.
Here's what Helton had to say about James Franklin's Nittany Lions:
On Early Impressions Of Penn State…
I've watched a lot of film on Penn State in between recruiting and the first thing that I've come away with is, Coach Franklin does a tremendous job of coaching his football team.
Offensively, you look at them playing in the Big Ten and the amount of success that they're having offensively — 37 points a game — and it starts with their skill players.
On Quarterback Trace McSorely…
[Trace] McSorely in our opinion is one of the most creative quarterbacks that we've seen to date.
His ability to escape rush, keep plays alive — you saw it in that Wisconsin game — he's a big reason why they're ultra successful.
I love his decision making. He's a kid that's got 25 touchdowns, only five interceptions, and he really does a great job of diagnosing the one-on-one match up and just putting the ball up and letting those big receivers and tight ends that he has to go ahead and make plays.
On Running Back Saquon Barkley…
Obviously [Saquon] Barkley is the Big Ten Offensive Player of the Year. He already has 1,300 rushing yards. He's averaging 5.3 a carry, as good a back as we've seen all year. [He's a] very, very talented individual.
On Receiver Chris Godwin…
And then you look at Godwin, who is very big receiver, a physical receiver, a jump ball receiver. [He had] 1,100 yards last year and he's already caught nine touchdowns this year.
On Defensive Coordinator Brent Pry…
Defensively, I think it starts with the coordinator Brent Pry. I had the opportunity to coach with Brent at the University of Memphis.
More from Reign of Troy
He has always been known for his aggressive style of play-calling and you see the zone pressures that he brings on a game basis. He's really getting to the quarterback and doing a tremendous job of really hurting you in the run game. It's one of the reasons that they're ranked No. 22 in the country on defense.
On the Middle of the Defense…
It starts down the middle of their defense with their two interior linebackers in Brandon Bell and Jason Cabinda and then their free safety Marcus Allen. I think any time that you have a safety that has over 100 tackles on the year that's extremely impressive.
On the Defensive Front…
On the outside I've been impressed with their two defensive ends [Evan] Schwan and [Garrett] Sickels, both have six sacks on the year already. They apply a good amount of pressure off the edge.
---
---