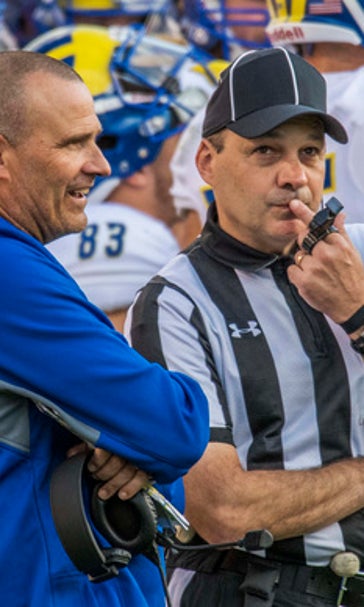 Rocco angle adds intrigue to Richmond-Delaware clash
October 20, 2017

(STATS) - The shock and awe has subsided, though the tension still lingers some.
October games are almost always big deals in CAA Football, especially ones involving teams with legitimate postseason aspirations such as No. 11 Richmond and Delaware. Yet there's a little added drama to Saturday's showdown between the longtime league rivals, simply because the Blue Hens' new head coach just happens to be the Spiders' old one.
Danny Rocco's cross-conference change of address raised many an eyebrow among FCS fans and observers this past winter, not to mention the impact the stunning move had on other programs. It's also made the schools' 32nd meeting one of the most anticipated in the series' history as well as on this season's CAA schedule.
"It'll be a little bit different," Richmond senior quarterback Kyle Lauletta acknowledged. "But I'm excited for it and I think everybody's been waiting for it for a long time."
While Rocco's first matchup with his former employer has been the dominant and obvious storyline, it's probably overshadowed the significance of the game itself. Both the Spiders and Blue Hens sport 4-2 overall records and 2-1 marks in CAA play, and in a league where as many as eight teams still harbor viable postseason hopes, Saturday's winner will greatly enhance its playoff credentials while delivering what could turn out to be a fatal blow to the other's.
Rocco has tried his best during the week to downplay the reunion angle, though he admits there will be some measure of sentiment when he sees all those familiar faces on the opposing sidelines at Delaware Stadium.
"I've really tried my darndest to just stay focused on the process and maintain my priorities and focus on the routine that we have here in place," he said. "I think it's always the game day that is the experience. Those are where the moments occur.
"These are student-athletes that we had recruited (at Richmond), had been in their homes, we had relationships with and then we had a lot of success together. I have great appreciation for what they've done for me, both the university and the student-athletes that we coached, and I think it was a mutual experience."
Rocco's five-year run at Richmond indeed yielded its share of great memories, with the Spiders reaching the FCS playoffs in the final three of those seasons and advancing to the national semifinals in 2015. Which is why so many questions were asked when he opted to leave a program that had re-established itself among the subdivision's upper tier for Delaware, a football-centric school long on tradition and potential but short on results in recent years.
His arrival has re-energized a fan base that had remained loyal through six consecutive non-playoff seasons since Delaware made the 2010 national title game, but had grown frustrated with the program's lack of progress. The Blue Hens appear to be back on an upward climb, however, after beginning October with an impressive 24-20 road win at now-No. 22 Stony Brook and following up with last week's 17-0 league victory over William & Mary.
Delaware held the Tribe to 196 total yards and 11 first downs in the latest strong performance from a defense that's limiting opponents to 14 points per game, sixth-best in the FCS. The unit also posted its third straight outing of allowing fewer than 100 passing yards, a stretch it began by keeping top-ranked James Madison's high-powered attack in check on Sept. 30.
"They're hard to move the ball on," Spiders coach Russ Huesman said. "They're where they're supposed to be, they're physical, they can run. It's probably the best defense I've seen on film that we've played by a long shot."
Delaware's defense may be facing its sternest test to date as well. With All-America candidate Lauletta at the controls, the Spiders are averaging an FCS-leading 392.7 passing yards per game and rank third overall in total offense (510.8 ypg). Lauletta is completing a career-best 65 percent of his attempts while throwing for three or more touchdowns in four of Richmond's six games.
"I think he's taken the next step in his development, his evolution in terms of his ability to be efficient," Rocco said. "He's one of the most competitive young people I've ever been around. That's really the one thing that makes him special."
Lauletta, Richmond's career leader in passing yards (9,076) and touchdowns (64), admits he'll have a little extra fire for the game - though it has nothing to do with having to compete against his ex-coach. The native of suburban Philadelphia - roughly an hour's drive from the Delaware campus - was largely overlooked by the Blue Hens' previous staff despite a distinguished high school career.
"They're a school that didn't really recruit me as much as I would have liked out of high school, so I've always carried that chip on my shoulder," he said. "That's something that still hasn't left me."
---
---