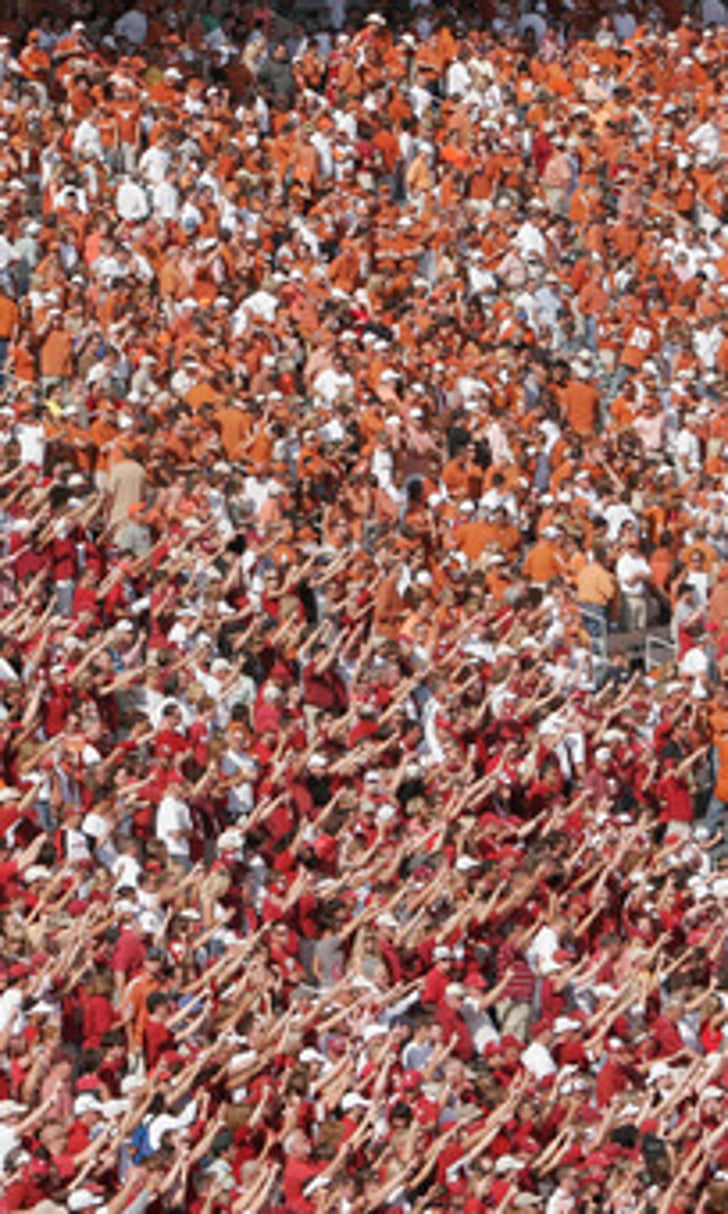 RIVALRY WEEK: Oklahoma in Big 12's best rivalries
BY foxsports • November 23, 2016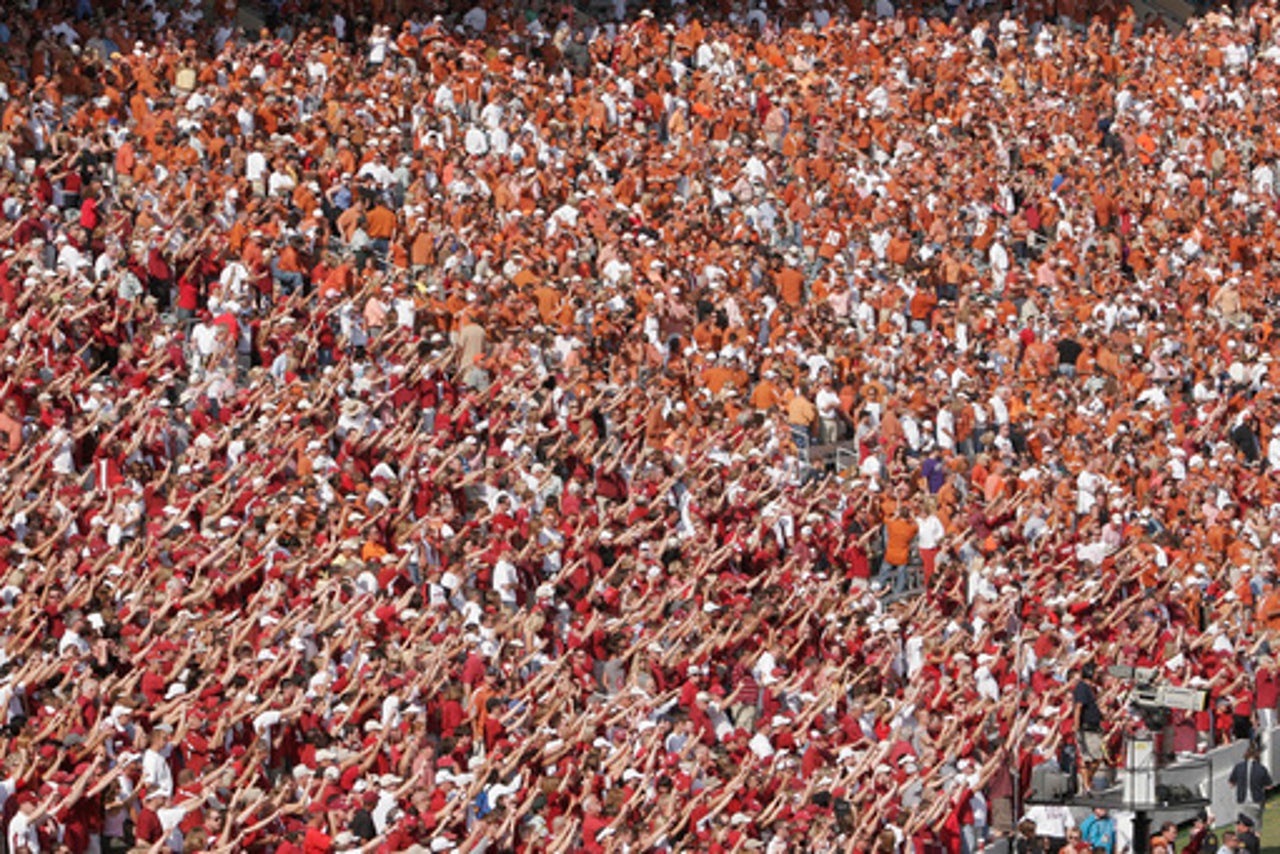 Oklahoma and Oklahoma State will end the regular season with Bedlam for the Big 12 title. The Sooners already won their other big rivalry game this year.
Each October at the State Fair of Texas, Oklahoma plays Texas in the Red River Showdown. The crowd is split evenly at midfield, with fans clad in crimson and burnt orange on opposite ends of the historic Cotton Bowl Stadium.
The few real rivalry games in the 20-year-old Big 12 carry over from the old Big Eight and Southwest conferences.
Bedlam will have Big 12 title implications for the fourth time in six years since the league went to 10 teams without divisions.
When the Big 12 reinstates its title game next season, the top two teams in the overall standings will play for the championship. If that was the case this year or last year, the Sooners and Cowboys would have played consecutive games against each other both times.
A look at some Big 12 rivalries:
OKLAHOMA-OKLAHOMA STATE
Series began: 1904.
Series record: Oklahoma leads 85-18-7.
Trophy: Bedlam Bell.
Why it's a big deal: It's a more than century-old intrastate rivalry that incorporates not only football, but every sport the two schools play against each other. Despite the lopsided advantage in football by Oklahoma, many of the recent games have had a direct impact on who wins the Big 12 title.
Best game: In 2012, Oklahoma kept its Big 12 title hopes alive with a 51-48 overtime victory after never leading in regulation and wiping out double-digit deficits in both halves. The Sooners tied the game on Blake Bell's fourth-down 4-yard keeper with 4 seconds left in regulation.
This year: The winner Dec. 3 in Norman is the conference champ. Seventh-ranked Oklahoma is going for its 10th Big 12 title, while No. 10 Oklahoma State has won only one.
KANSAS-KANSAS STATE
Series began: 1902.
Series record: Disputed due to a forfeit by the Jayhawks in 1980. Kansas believes it leads 65-43-5 while Kansas State says it is 64-44-5.
Trophy: Governor's Cup.
Why it's a big deal: The Sunflower Showdown is one of six series in the nation that has been played continuously for at least 100 years. The game usually has special meaning because both schools recruit in-state talent - nearly 100 players from Kansas dot the rosters of the two teams.
Best game: What should have been the best game occurred in 1995, when the Jayhawks were ranked sixth and the up-and-coming Wildcats were No. 14. But as has happened so often in the series, the game turned into a rout. Kansas State won 41-7.
This year: Kansas State coach Bill Snyder likes nothing more than to beat up Kansas, and doing so Saturday would give him career win No. 200. The Jayhawks upset Texas last weekend for coach David Beaty's first Big 12 win, but haven't won back-to-back games since 2011.
OKLAHOMA-TEXAS
Series began: 1900.
Series record: Texas leads 61-45-5.
Trophy: The Golden Hat.
Why it's a big deal: The Red River Showdown, that moniker a nod to the river that separates the two states, is played about a three-hour drive from each campus in the shadow of a Texas-sized Ferris wheel. It has been played in Dallas every year since 1929. There's the real Texas longhorn named Bevo and the horse-drawn Sooner Schooner wagon.
Best game: The 1963 game matched the nation's top two teams. The Sooners were coming off a win at top-ranked USC to take over the No. 1 ranking, and the Longhorns were ranked second. Texas won 28-7 and went on to its first national championship.
This year: Dede Westbrook set a single-game Oklahoma record with 232 yards receiving and Samaje Perine ran for 214 yards as Oklahoma won 45-40 in the highest-scoring game in the history of the rivalry.
BAYLOR-TCU
Series began: 1899.
Series record: TCU leads 53-52-7.
Trophy: None.
Why it's a big deal: Referred as ''Revivalry'' by some, the game matches the Big 12's private Christian schools that are about 100 miles apart. They were reunited as conference rivals when TCU joined the Big 12 in 2012. (They were in the Southwest Conference together from 1923-96). The longest-played series for both teams dates back to a scoreless tie in 1899 when both schools were in Waco.
Best game: In a matchup of the Big 12's only remaining undefeated teams in 2014, Baylor overcame a 21-point deficit in the final 11 minutes to win 61-58 on a game-ending field goal. That was TCU's only loss that season. The Horned Frogs and Bears finished as Big 12 co-champions, both at 11-1 overall, and were the first two teams left out of the initial College Football Playoff.
This year: Kyle Hicks ran for 192 yards and five TDs as TCU won 62-22 on Nov. 5, handing Baylor its worst home loss since 2005.
---
AP Sports Writer Dave Skretta contributed to this report.
---
More AP college football at www.collegefootball.ap.org and https://twitter.com/AP-Top25
---