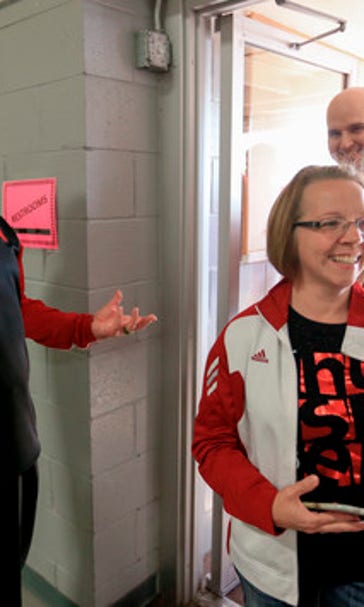 Riley touring Nebraska to stoke interest in Huskers
May 12, 2016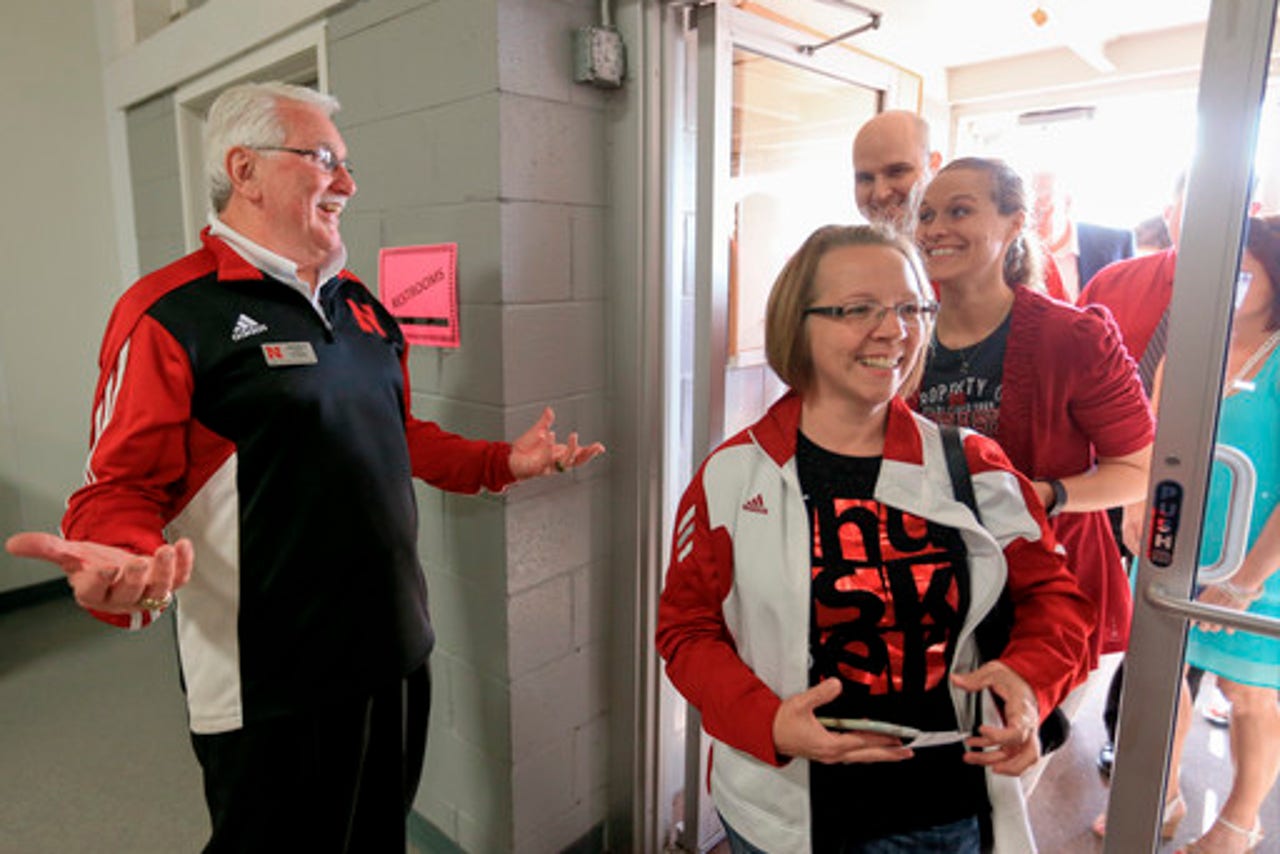 COLUMBUS, Neb. (AP) More than 600 men and women dressed in their Husker finery filed into the giant exhibition hall of the Platte County Agricultural Society. Hearty New York strips and pork loin were ready in the buffet line, the cash bar was open and a crowd was forming around the table where a Nebraska football season ticket was up for raffle.
In the back of the room, coach Mike Riley, with wife Dee by his side, shook hands and made small talk with folks who passed by. Some asked for an autograph. Many wanted their pictures taken with him. About an hour later, Riley stood at the dais and professed his love for the state where he took up residency a year and a half ago, reviewed the 2015 season and offered a position-by-position rundown for 2016.
By Friday afternoon, similar scenes will have played out in seven towns and cities across the state. While a goodwill tour like this is common throughout college football, it takes on added significance in a state where there are no major professional sports, let alone another power-five conference program.
Football long has been the greatest point of pride here. The Huskers' five national championships and unprecedented run of excellence from the 1960s through `90s are still celebrated.
The heyday has long passed, though.
In the best of times, Nebraska coaches made their way around the state to press the flesh. But with a conference championship drought that dates to 1999, a 6-7 record in Riley's first season and an NCAA-record sellout streak to protect, fan outreach would seem critically important now.
''The people in Nebraska have supported us so loyally through the years that this is almost the least we can do,'' Riley said in an interview before Thursday night's appearance at a Columbus Area Chamber of Commerce event. ''I love talking to people who care, and people in Nebraska care more than anybody. When you're doing this, it's really fun because you have a group that is very interested in what you're talking about because they love their team, their school, their state.''
Memorial Stadium has been sold out for 347 consecutive games since 1962, and the feat is even more remarkable when considering that there are only 1.8 million people in Nebraska and the stadium has expanded to more than 90,000 seats. Of the 22,043 people who have football season ticket accounts, 3,047 list residences more than 200 miles from Lincoln.
Nebraska development officer Jack Pierce said the sellout streak was in jeopardy for three games last year. He said he had to call on friends of the program a few days before each of those games to buy up tickets that had been turned back in by the opponent.
There still are a limited number of season tickets available for this year.
The Huskers' records for winning seasons and consecutive bowl appearances fell by the wayside years ago. Pierce called the sellout streak ''our last bastion.''
Riley said that in planning this week's tour, he never heard anyone say preservation of the streak was part of the motivation.
''But that's not a bad agenda, either,'' he said.
Kevin McCright, who attended the Columbus event, is like many Nebraskans in that he remembers his first time at Memorial Stadium. It was in 1968, and he saw the Huskers lose 12-0 to Kansas State.
''It was snow and cold. We had garbage sacks on our feet,'' `McCright recalled.
McCright has been a fan ever since, though he wasn't able to buy season tickets until about five years ago.
''You come to something like this, you feel like you maybe know the coach, you get more of a passion for the team,'' he said. ''You feel more of a connection because `I've met the head coach, I've talked to him about certain things.' As a sports fan, I cheer for the person I have had an interaction with.''
That's the point of the tour, athletic director Shawn Eichorst said.
Eichorst said he's confident the sellout streak will survive. But he doesn't take it for granted, not when fans might find it easier to stay at home and watch on high-definition TV.
''From my perspective,'' Eichorst said, ''it's about continuing to engage with the generations of Huskers, whether it's those who are further up in years or those young kids who we need, through their parents or us, to get introduced to Husker athletics and the University of Nebraska in general.
''I think we'll continue to see a high demand for Husker athletics and tickets, but it's important, just like it was 10 years ago or 20 years ago, to keep people interested and engaged. It doesn't happen by accident.''
---