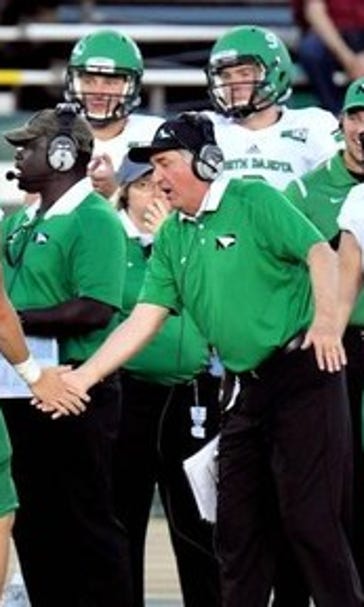 Report: North Dakota may join Summit, MVFC
January 24, 2017

(STATS) - North Dakota is on the verge of changing conferences.
The Grand Forks Herald reported Tuesday that UND has agreed to leave the Big Sky Conference for the Summit League in 2018 if its FCS football program is approved to join the Missouri Valley Football Conference. The latter move is expected to happen Wednesday in a vote of MVFC presidents, with UND and the Summit League waiting to make a potential formal announcement Thursday.
North Dakota joined the Big Sky in 2012 and would play one more school year - 2017-18 - as a full-time member. The Summit League doesn't sponsor football, so the Fighting Hawks program would remain in the Big Sky as an affiliate member for the 2018 and '19 seasons, although it wouldn't be eligible for the conference's championship or automatic playoff bid. They would join the MVFC, which has 10 members, in 2020.
UND won a share of the Big Sky title this past season. By leaving the Big Sky, it could effectively end the conference's potential plan to split into a two-division alignment in football once Idaho rejoins in 2018.
Moves to the Summit and MVFC would make North Dakota more geographically compatible with many conference rivals than it is with some of the Big Sky schools. The Fighting Hawks would be in the same conference with North Dakota State, South Dakota and South Dakota State for the first time since the 2003-04 school year, when they were members of the North Central Conference in Division II.
---
---