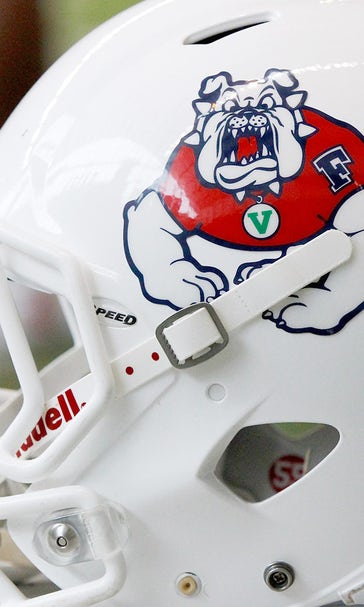 Report: Fresno St. player charged with threatening to shoot up school
November 3, 2015

A social media post on the messaging app Yip Yak threatening a mass shooting on the Fresno State campus led to the arrest Monday of Christian Malik Pryor, an 18-year-old walk-on wide receiver on the Bulldog football team, the Fresno Bee reported.
According to the report, the threat implied the attack would happen mid-afternoon. It created a "wave of fear" across the campus as it made its way across other social medial sites.
The post suggested that the sender was going to "release my frustrations" with gunfire on campus. According to text quoted in the Bee:
The Bee then reported a tweet from Pryor's account at 1:12 p.m., responding to another person's concern, read: "it sounds like a joke but be safe."
Fresno State Police Chief David Huerta did not name Pryor, but the 18-year-old from Los Angeles was booked into Fresno County Jail on a charge of making a criminal threat, according to the Bee, and bail was set at $20,000. There was no immediate word about an initial court appearance.
The university later in the day identified Pryor as the student who allegedly made the threat. The Bee reported that Pryor, who has yet to appear in a game, was arrested in Fresno State's athletic complex south of Bulldog Stadium.
Pryor was the team MVP of his Locke High School football team in Los Angeles last fall, according to his Fresno State football bio.
"Chris Pryor is a walk-on freshman for us this year," Fresno State football coach Tim DeRuyter said following Monday's practice. "I don't know the results of what his conversation was with the police, and subsequent to that we've had a press conference here on campus while we were out here at practice. I don't know any more details than that, since I've been out here."
The events of the afternoon led to a traffic jam around campus as numerous people chose to leave.
Here is how it played out on the Fresno State Twitter feed:
Thank you to everyone who helped us spread the word today. We are grateful for #FresnoState PD & administrators who acted quickly for safety

— Fresno State (@Fresno_State) November 3, 2015
---
---