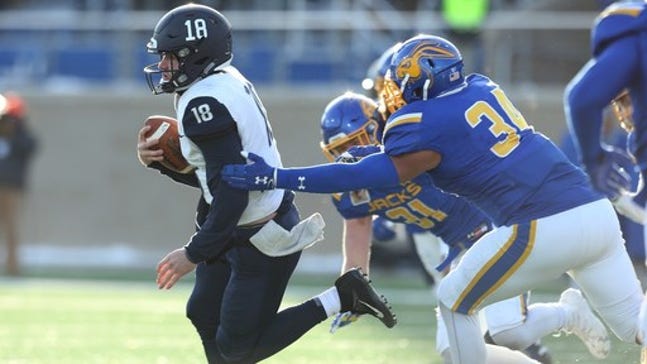 Ranking the FCS conferences in 2018
Updated
Mar. 4, 2020 10:27 p.m. EST
(STATS) - It's a lot easier to call CAA Football and the Missouri Valley Football Conference the two top conferences in the FCS than it is to say which one is the best.
They're so close year to year.
The CAA and MVFC dominance especially comes into focus in January. Not only have nine of the last 10 national champs emerged from one of the two conferences - all but Eastern Washington in 2010 - but nine of the 10 finalists over the last five seasons - all but Jacksonville State in 2015 - are from them. They've also produced at least one finalist every year since the 2002 season.
Every other FCS conference is playing for No. 3.
Here's a ranking of the conferences heading toward the 2018 season:
14. FCS Independents (3 teams)
A rebounding North Dakota, which will play the next two seasons as an independent while moving from the Big Sky to the Missouri Valley in 2020, can beat any of the Pioneer Football League teams, but fellow transitioning Hampton (MEAC to Big South) and North Alabama (Division II to Big South) bring down the overall ranking. The latter two teams will combine to play 11 sub-Division I opponents this year.
13. Pioneer Football League (10 teams)
San Diego has provided the non-scholarship league's first two playoff wins over the last two seasons. While the Toreros have been dominant since 2011, there's solid competition this year with Dayton, Drake, Jacksonville and Valparaiso. In nonconference games last year, the league was 4-20 against Division I opponents and 11-0 against sub-Division I teams.
12. Southwestern Athletic Conference (10 teams)
Five of the teams have new head coaches (although at Alabama State it was simply with the removal of Donald Hill-Eley's interim tag. Two-time defending champ Grambling State is likely going to take a step backward because of key senior losses, but its West Division (including Southern and Prairie View A&M) is still a bit stronger than the Alcorn State-led East Division.
11. Mid-Eastern Athletic Conference (10 teams)
Air Force Reserve Celebration Bowl champ North Carolina A&T (12-0) is coming off the first unbeaten season in MEAC history and remains the team to beat, chased by the likes of Bethune-Cookman, Howard and North Carolina Central. The bottom teams showed improvement last season, but one of them, Savannah State, will drop back to the Division II level in 2019.
10. Patriot League (7 teams)
A better season than a year ago has to be a definite. Colgate was the only team to finish with a winning record after Lehigh entered the playoffs with a 5-6 record and was dispatched in the first round. In non-league games, Patriot teams were a mere 3-13 at home. Defensive improvement was needed across the league, and outside Lehigh and Fordham, it occurred.
9. Northeast Conference (7 teams)
While the NEC has raised its profile over the last decade, its teams need some more national wins. Seven of the last nine seasons have ended with a co-champion, and while Bryant is the only team not involved in one of the ties, the Bulldogs have finished .500 or above in conference games each year. This year's deep title race features defending champ Central Connecticut State, Duquesne and Saint Francis.
8. Big South (6 teams)
Kennesaw State, which went 12-2 and reached the national quarterfinals in only its third season as a program, waves the banner for a conference in transition. It's been weakened since Stony Brook left for CAA Football, and Coastal Carolina and now eight-time conference champ Liberty off to the FBS level. Monmouth is coming off its first playoff appearance and is the main challenger to Kennesaw.
7. Ivy League (8 teams)
The Ivy League was turned upside down last season and the result is an even deeper title race this year. Strong play at quarterback is imperative. Defending champ Yale is the team to beat, but rival Harvard is highly motivated after a subpar season. Just about everyone else except Brown is in the title conversation.
6. Ohio Valley Conference (9 teams)
While Jacksonville State has finished in the Top 10 in each of the last five seasons, the OVC has gone two straight seasons with the Gamecocks as its only playoff qualifier. Austin Peay felt robbed of an at-large bid last season and seeks to guarantee the postseason by ending Jacksonville State's four-year reign atop the standings. Tennessee State needs to finish off strong starts in the regular season.
5. Southland Conference (11 teams)
The conference was strong enough last season that McNeese went 9-2 and didn't make the playoffs. Conference champ Central Arkansas, national semifinalist Sam Houston State and Nicholls did, and all three have title aspirations this year, along with the Cowboys. There are struggling teams at the bottom, but this could be one of the deeper Southland title races.
4. Southern Conference (9 teams)
With seven playoff bids in the last two seasons, the SoCon is riding high. Wofford has led the way with two straight 10-win seasons and appearances in the national quarterfinals, but 30-year coach Mike Ayers retired in January. Samford handed Wofford its only conference loss last year and hosts this year's key matchup. Furman had a breakthrough last season, and Western Carolina seeks to do the same this year.
3. Big Sky (13 teams)
The biggest FCS conference has placed seven different teams in the playoffs the last two seasons, and that doesn't include 2018 hopefuls Sacramento State, Montana State and Idaho (which is returning to the conference following 22 years on the FBS level). Southern Utah and Weber State shared last year's title, but are starting over at quarterback. That position is a strength at Eastern Washington, which felt snubbed of a playoff bid last year. Montana and Northern Arizona? Yup, the depth is impossible.
2. Missouri Valley Football Conference (10 teams)
The best FCS team on paper is North Dakota State once again, and the defending national champ is only leaving the Fargodome four times in the regular season (if not the entire season). One of the big questions is whether national semifinalist South Dakota State can withstand key senior losses and remain on an elite level. After that, Northern Iowa, Youngstown State, Illinois State, Western Illinois, South Dakota and Southern Illinois have to separate themselves in a logjam of teams.
1. CAA Football (12 teams)
Picking between the CAA and the Missouri Valley is splitting hairs, but the CAA appears to have more Top 15-type teams this year - a distinct advantage held by the Valley last year. James Madison, the 2016 national champ and 2017 runner-up, appears primed for a third straight appearance in the national championship game. New Hampshire, Elon, Stony Brook, Delaware, Richmond and a healthier Villanova all hope to reel in the Dukes, who have won 18 straight conference games (plus, two playoff wins over CAA opponents).
---
---