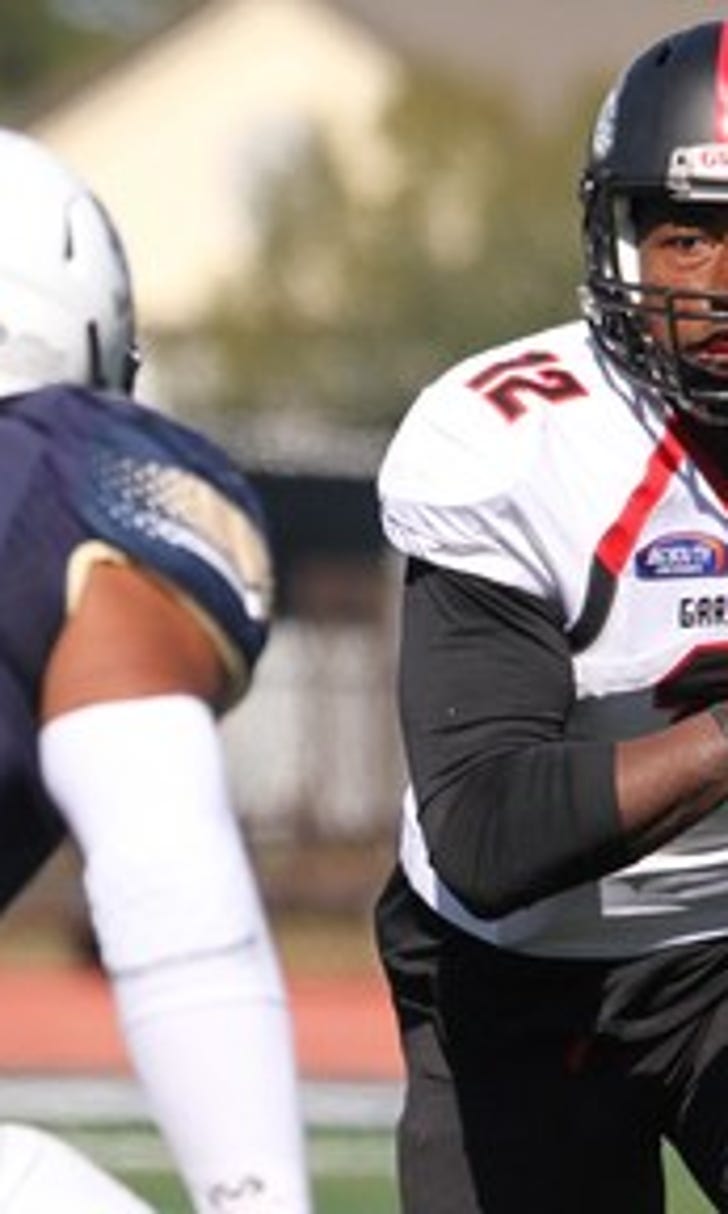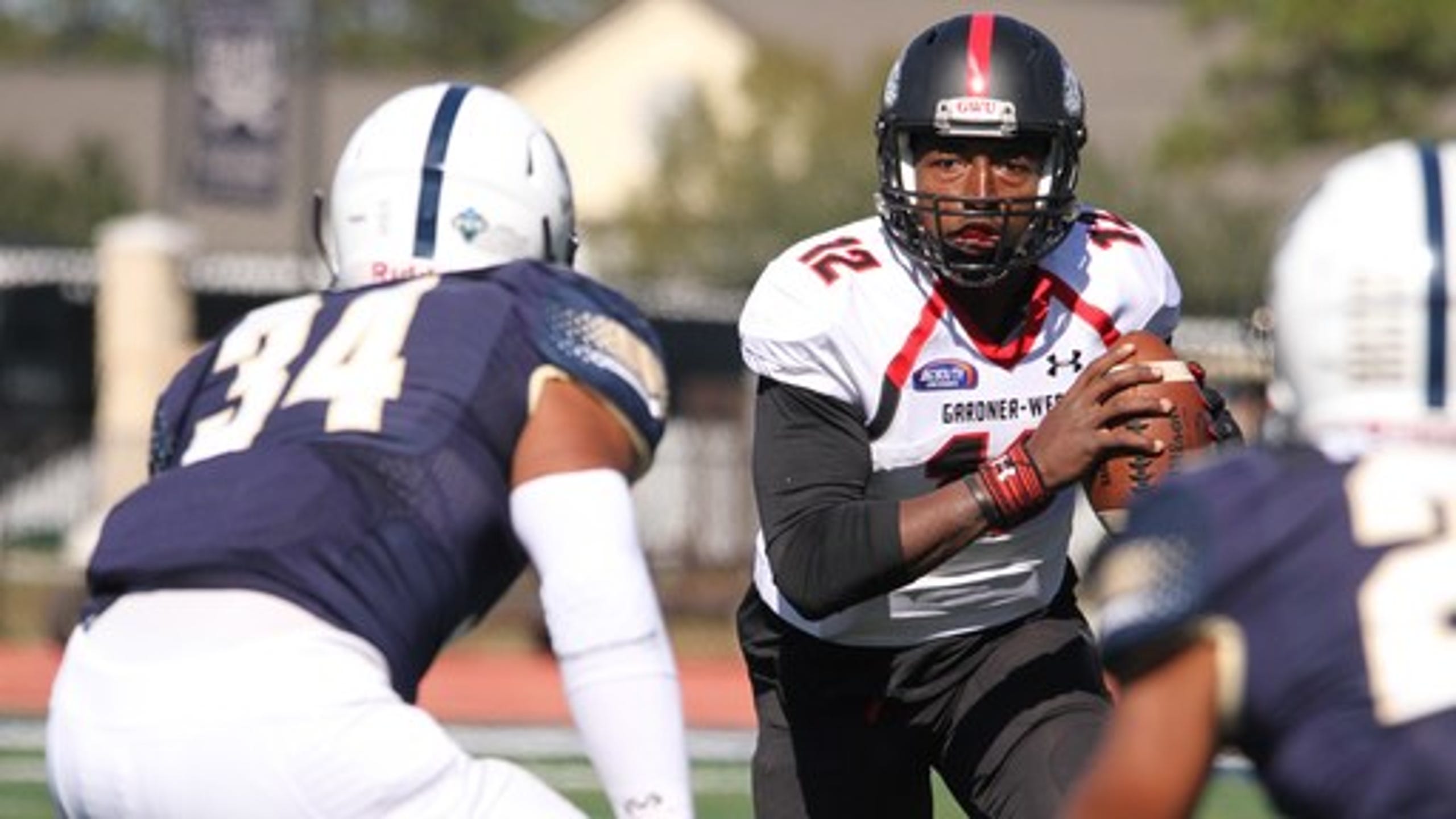 Quarterbacks at pulse of Big South race
BY AP • July 18, 2017
(STATS) - It's doesn't matter where a team is located in the preseason poll or how many of its starters are returning. There's one player on every Big South team who is bringing confidence to his teammates.
The quarterback.
All six teams in the smallest FCS conference have their primary quarterback back to lead the way into the 2017 season.
Will it tighten the title race? Perhaps. But it couldn't be any closer at the top going into the new campaign. Two-time defending champion Charleston Southern and Kennesaw State tied as co-favorites in the Big South preseason poll of 18 coaches and media members, announced Tuesday at media day in Charlotte.
Liberty, whose share of last year's title was its conference-record eighth overall, isn't eligible for the title because it is transitioning toward the FBS level next year. The Flames' conference games will count for their opponents, however.
"The first thought is that it's going to be a really tough and tight conference race," Gardner-Webb coach Carroll McCray said. "Anytime you have your trigger guy returning, you expect to be improved offensively. That experience is really important to offensive rhythm. I really think the second half of the season you'll see some outstanding league games as a result of that experience at quarterback."
McCray's team welcomes back the Big South's top returning quarterback, senior Tyrell Maxwell, who this offseason has gotten bigger, stronger and, although it may be hard, better after he won the conference's offensive player of the year award last season. The 6-foot-2, 230-pound dual-threat earned Tuesday's preseason award, just as Charleston Southern senior defensive end Anthony Ellis did on the defensive side after winning the 2016 postseason honor.
Kennesaw State's third-year program might be the newest in the Big South, but Chandler Burks is one of the more experienced quarterbacks, adept at running the Owls' triple option. The junior was the first signee in program history.
Young talent behind center runs rampant in the Big South. Charleston Southern's Shane Bucenell, Liberty's Stephen Calvert and Monmouth's Kenji Bahar are only sophomores, while Presbyterian's Ben Cheek is a junior.
"Across the conference, it means experience, obviously," Charleston Southern first-year coach Mark Tucker said. "There's a comfort level with the face of every program in the conference.
"Every school has quality quarterback play and we're going to have to compete against these young men this season. With our conference games back-loaded, we'll have ample time, just like everybody else, to prepare accordingly."
Added Kennesaw State coach Brian Bohannon, "The fact that each school has its starting quarterback returning - guys that have been through the grind of the season - speaks volumes for how tough it will be to win the Big South this season."
Kennesaw State and Liberty, which swept the four special teams spots, tied for the most selections (eight) on the Big South preseason team. Charleston Southern had six preseason selections, Monmouth four and Gardner-Webb two. Presbyterian, where Tommy Spangler returns for his second stint as head coach, was shut out from the preseason team.
---=
KEY BIG SOUTH GAMES=
Charleston Southern at Kennesaw State (Nov. 11) - The upstart Owls lost to Charleston Southern in their first two seasons as a program.
Five More: Kennesaw State at Liberty (Oct. 14); Gardner-Webb at Kennesaw State (Oct. 21); Presbyterian at Monmouth (Nov. 4); Charleston Southern at Gardner-Webb (Nov. 4); Liberty at Charleston Southern (Nov. 18)
---=
BIG SOUTH FOOTBALL PRESEASON POLL=
Head Coaches and Media Panel
1. (tie) Charleston Southern, 80 points (9 first-place votes)
1. (tie) Kennesaw State, 80 (9)
3. Gardner-Webb, 54
4. Monmouth, 36
5. Presbyterian, 20
Liberty (ineligible for title due to transition to FBS)
---=
BIG SOUTH PRESEASON FOOTBALL TEAM=
Offensive Player of the Year - Tyrell Maxwell, QB, Gardner-Webb
Defensive Player of the Year - Anthony Ellis, DE, Charleston Southern
Offense
QB - Tyrell Maxwell, Gardner-Webb, Sr.
RB - Carrington Mosley, Liberty, Sr.
RB - Darnell Holland, Kennesaw State, Jr.
WR - Reggie White Jr., Monmouth, R-Jr.
WR - Justin Sumpter, Kennesaw State, R-Jr.
WR - Kameron Brown, Charleston Southern, R-So.
TE - Jake Powell, Monmouth, So.
OL - Frank Cirone, Charleston Southern, Sr.
OL - Dontae Duff, Liberty, R-So.
OL - Will Millikan, Gardner-Webb, Jr.
OL - Zach Mitchler, Kennesaw State, R-Jr.
OL - Alex Thompson, Monmouth, Sr.
Defense
DL - Anthony Ellis, Charleston Southern, Sr.
DL - Tonarius Portress, Kennesaw State, Sr.
DL - Desmond Johnson, Kennesaw State, R-So.
DL - Juwan Wells, Liberty, Jr.
LB - Solomon Brown, Charleston Southern, R-Jr.
LB - Zane Cruz, Charleston Southern, Sr.
LB - Anthony Gore Jr., Kennesaw State, R-Jr.
LB - Izzy Sam, Kennesaw State, R-Sr.
DB - Mike Basile, Monmouth, Sr.
DB - Taylor Henkle, Kennesaw State, R-Jr.
DB - Shadarius Hopkins, Charleston Southern, Jr.
DB - Chris Turner, Liberty, R-Jr.
Special Teams
PK - Alex Probert, Liberty, So.
P - Trey Turner, Liberty, So.
LS - Hunter Winstead, Liberty, Gr.
KR - Frankie Hickson, Liberty, R-So.
---
---