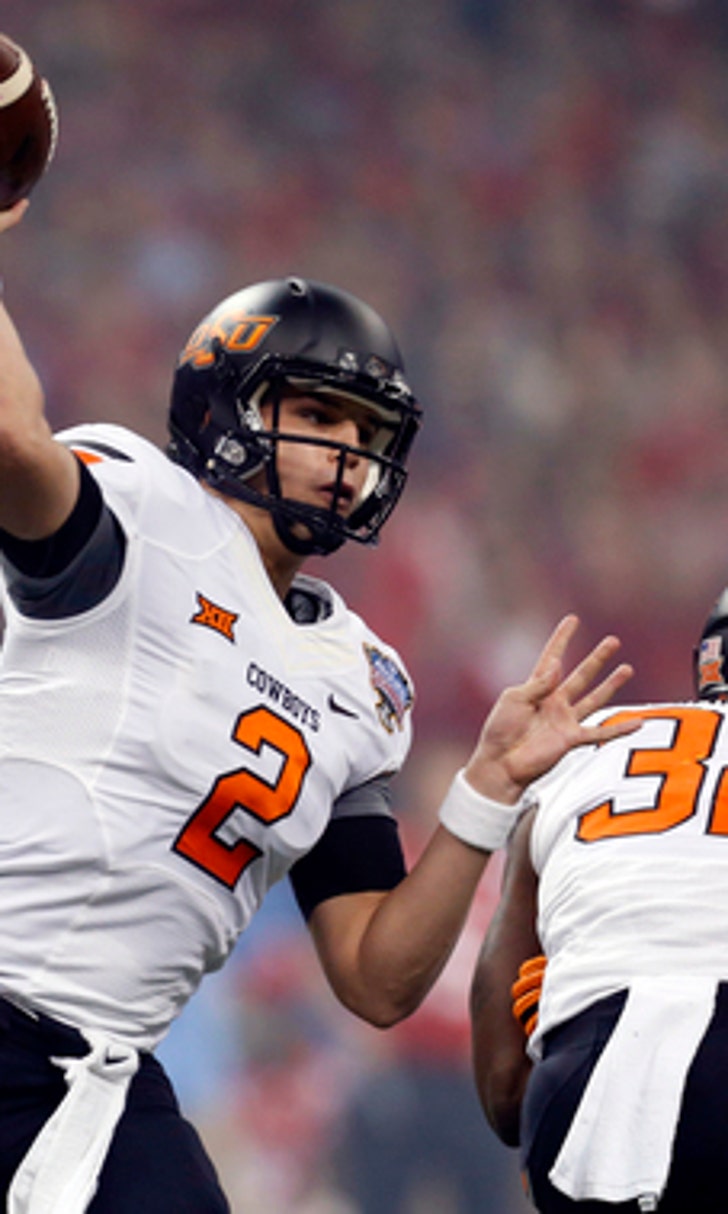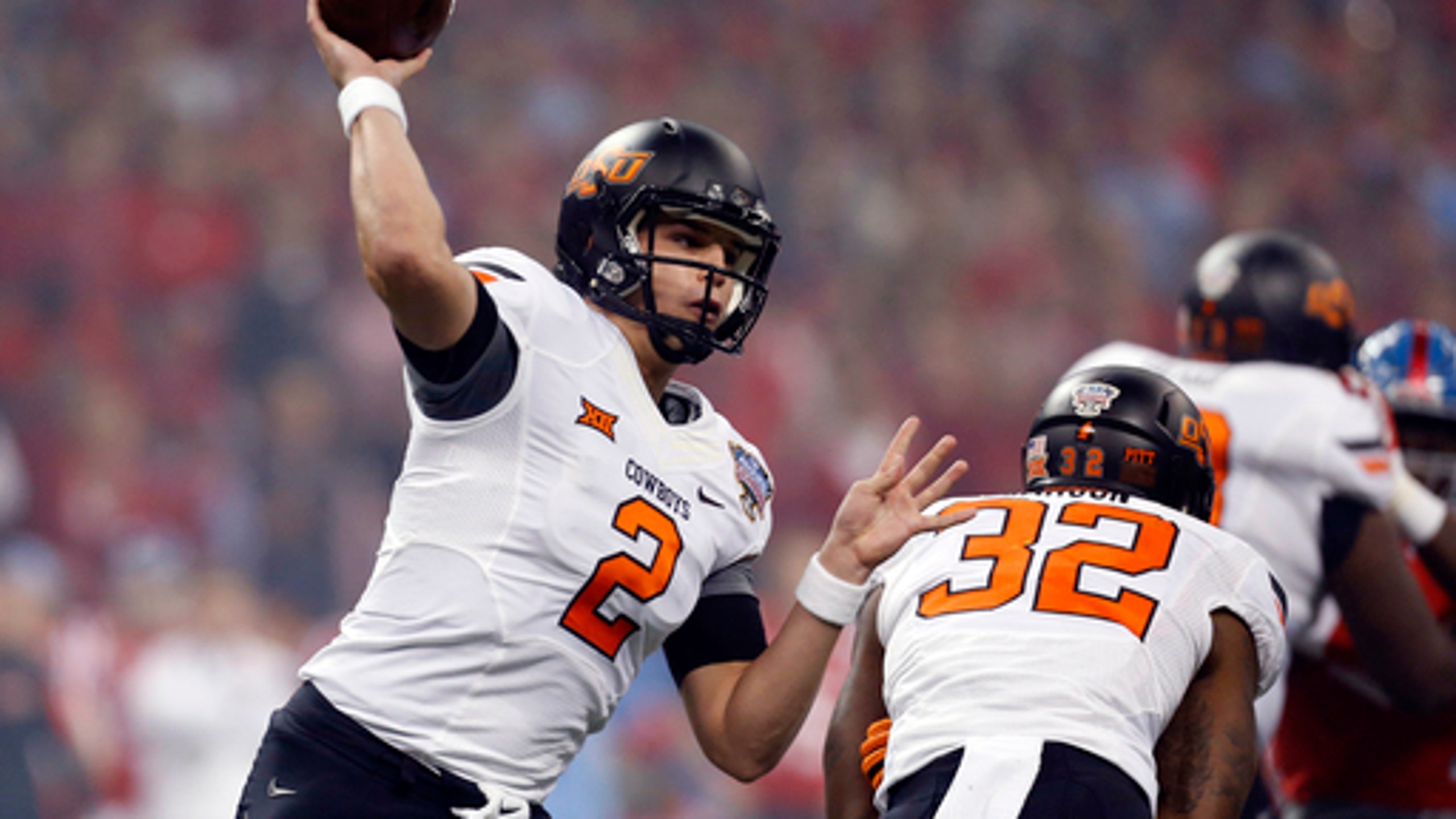 QB Rudolph takes leadership reins for No. 21 Oklahoma St
BY foxsports • August 31, 2016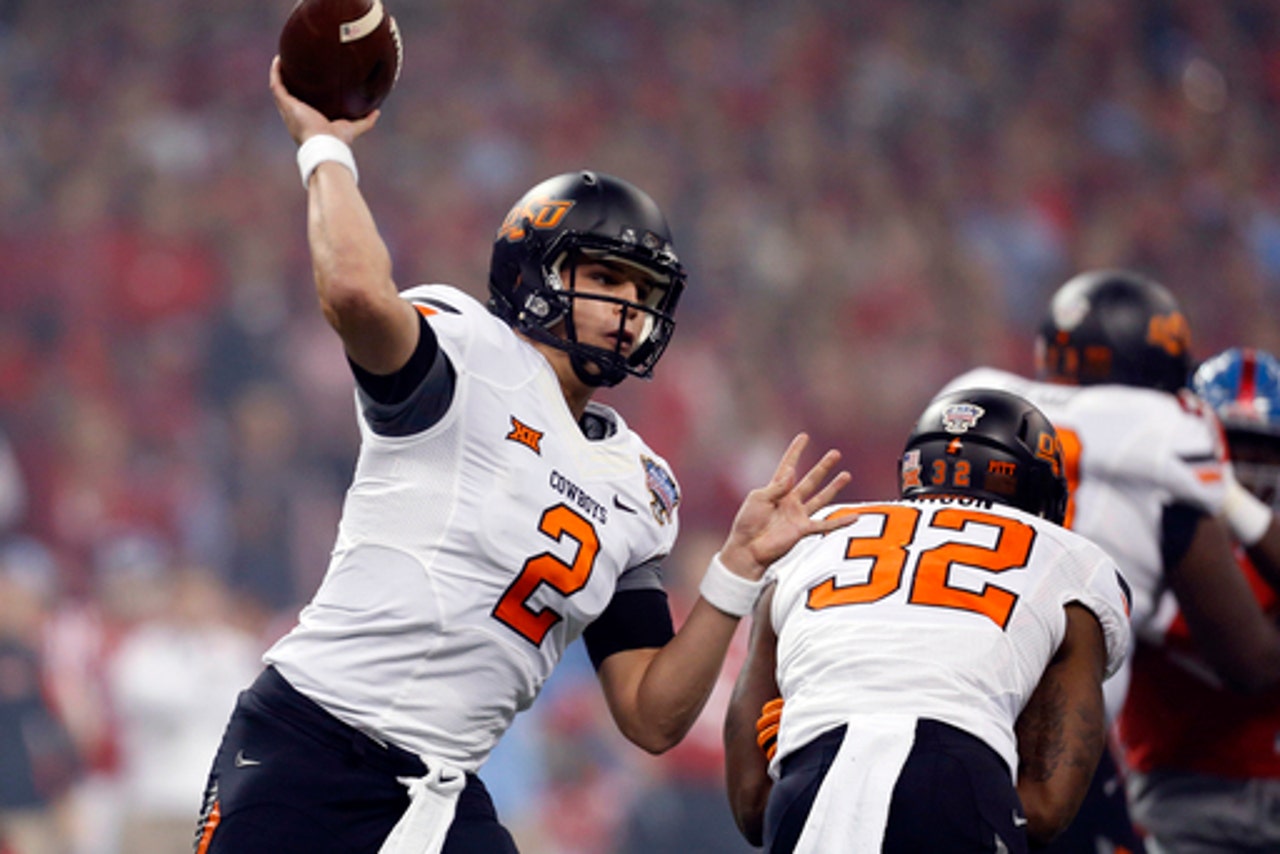 STILLWATER, Okla. (AP) Oklahoma State quarterback Mason Rudolph has the talent, the numbers and the wins.
Now, he has to step up as a leader.
The 6-foot-5 junior is coming off one of the best seasons in Oklahoma State history. His completions, attempts and passing yards per game last season trailed only Brandon Weeden's 2010 and 2011 seasons on the school's single-season lists. He posted those huge numbers, despite J.W. Walsh getting much of the action in the red zone and in short-yardage situations.
Walsh's presence loomed large last season. Instead of transferring when Rudolph was named the starter, Walsh stuck with the team, carved out a valuable niche and mentored Rudolph. With Walsh now a graduate assistant at TCU, Rudolph's biggest jump might need to go beyond the numbers.
''I've been a leader as long as I can remember,'' Rudolph said. ''There's no quiet quarterback, and you have to assert yourself. It's something my high school coaches instilled in me. You have to be the guy, the leader and the first guy in and the last guy out. I'm excited to lead this team.''
The 21st-ranked Cowboys open the season Saturday against Southeastern Louisiana. By all indications, Rudolph has put in the work to win the team over.
''I think it is just an increase of overall fundamentals,'' Oklahoma State offensive coordinator Mike Yurcich said. ''The mental side of it, the physical side of it - he's done a nice job of getting work done, from film study to just fundamental work, individual instruction, understanding schemes, understanding defenses, just the whole picture. He's done a nice job of improving himself overall.''
Walsh passed for 13 touchdowns and ran for 13 last season, mostly in the red zone and on short yardage. Oklahoma State coach Mike Gundy feels confident that Rudolph, a pro-style pocket passer, will be effective in those situations.
''He's a good throwing quarterback inside the five-yard line,'' Gundy said. ''He's been pretty accurate. We'll lean more toward those plays than trying to draw up something new, but he will get work because he'll be the guy that gets it in practice.''
And just because Rudolph doesn't carry the dual-threat tag doesn't mean he can't move. He has excellent pocket presence, a quick release and an ability to manufacture time to throw. His strength and 235-pound frame make him difficult to bring down.
''Whatever these coaches want me to do, I'll do,'' Rudolph said. ''I'm not as speedy as J.W. was, but I'm just as strong and just as effective I think. I'm looking forward to hanging out with these guys and utilizing all the weapons we have.''
Rudolph is a proven winner. He has a 12-3 career record as a starter. His freshman season, he led the Cowboys past Oklahoma in Norman, then helped Oklahoma State beat Washington in the Cactus Bowl. Last season, he helped the Cowboys open the season with a 10-0 record and climb to No. 4 in the AP poll.
Against TCU last season, he passed for 352 yards, five touchdowns and no interceptions on just 16 completions in a 49-29 win. In a loss to Baylor, he passed for 430 yards and three touchdowns. His career high of 437 yards came last season in a victory over Kansas State.
Most of his receivers are back, including James Washington, a speedster who caught 53 passes for 1,087 yards and 10 touchdowns last season. With his combination of natural talent, skills and growing confidence, Rudolph is poised to be even better this season.
''He's picking up the younger guys, even on days that we're off,'' Washington said. ''He'll get the younger guys and us, and we'll go throw and get them ready for the season. He's definitely picked up where he left off.''
---
Follow Cliff Brunt on Twitter (at)CliffBruntAP .
---