Perkins, Virginia look to keep building against Louisville
September 21, 2018
CHARLOTTESVILLE, Va. (AP) — Bryce Perkins has shown himself to be a dynamic runner and an accurate passer in his first three starts for Virginia, and the transfer quarterback feels like the Cavaliers have hardly scratched the surface of their potential.
Virginia (2-1) hopes to be clicking on all cylinders when it opens Atlantic Coast Conference play Saturday against Louisville (2-1), a team that knows more than a little bit about quarterbacks that can do it all.
"Oh man, we have a lot more to show," Perkins said of the offense. "Each week we keep adding, we're changing plays. The playbook that we have run in these past few games is not even close to complete."
Perkins ran for over 100 yards in each of his first two starts, but carried the ball just 10 times for eight yards in a 45-31 victory against Ohio last week. Instead, he did his damage through the air, completing 25 of 30 passes for 379 yards and three touchdowns, including 86- and 77-yard hookups with Olamide Zaccheaus.
Perkins said he has no preference in what he's asked to do, as long as it leads to success.
"We have great players around everywhere, so it doesn't matter," Perkins said. "Somebody's going to get most of the load and somebody's going to make the big plays. ... Throwing is great, touchdowns is great, but if we're not winning, it doesn't mean anything. Anything I can do, the coaches think I can do to win, it doesn't matter."
The Cardinals spent the past two seasons being led by Lamar Jackson, the 2016 Heisman Trophy Award-winner, and are moving back toward a dual-threat quarterback this week, starting Malik Cunningham. The redshirt freshman has come on in relief the last two weeks, leading come-from-behind victories against Indiana State and Western Kentucky.
"The main reason we're starting him is because of the success he's had when he's come in," Louisville coach Bobby Petrino said of Cunningham, who leads the team with 183 rushing yards and has completed 16 of 25 passes for 163 yards without being intercepted. He's also run for a touchdown and thrown for one.
"Twelve starting possessions, eight scoring possessions. He's really been able to generate enthusiasm and play-making ability. But, yeah, he's pretty good at the option game himself."
Slowing Perkins down will be a focus for the Cardinals, but not the only one. Zaccheaus has already caught 20 passes, including four for touchdowns, and Jordan Ellis leads with 380 rushing yards and five TDs.
"Yeah, the thing about that game is you have to account for everybody," Petrino said. "That's the discipline that you have to have with your eyes and your assignments. It just challenges your discipline on defense."
Some other things to watch when Louisville visits Virginia:
PROTECTING PERKINS
Louisville has just five sacks in three games, which might bode well for the Cavaliers since keeping Perkins healthy is of paramount importance. Behind him, the Cavaliers have freshman Brennan Armstrong and redshirt freshman Lindell Stone, and neither has any substantial experience since coming to Virginia.
MALIK'S TURN
Cunningham replaces Jawon Pass as the starter, and recalls the quickness and mobility of Jackson. "It's a feeling I've been waiting on my whole life, to finally get a chance to prove what I can do," the 6-1, 190-pound Cunningham said. "I've just got to keep going and keep pushing."
STRIKING FAST
Virginia had three one-play scoring drives against Ohio, the first time it has happened in program history. They included Zaccheaus' 86-yard touchdown catch and run, and Ellis' career-best 75-yard run.
INJURY UPDATE
The Cardinals' defense lost another starter when safety London Iakopo was carted off the field against Western Kentucky with what was described as an upper body injury. Iakopo is doing better but isn't listed on the depth chart. Safety Dee Smith was also hurt but has practiced this week along with linebacker Dorian Etheridge (ankle), who did not dress against WKU. Defensive end Jonathan Greenard is out indefinitely with a wrist injury.
KICKING GAME
Virginia coach Bronco Mendenhall said he reopened the competition for placekicking duties after A.J. Mejia missed a 30-yard try against Ohio. Mejia is just 1 for 3 on the season, having made a 32-yarder and missed a 35-yard try. The Cavaliers have no issue on kickoffs with Brian Delaney routinely causing touchbacks.
---
---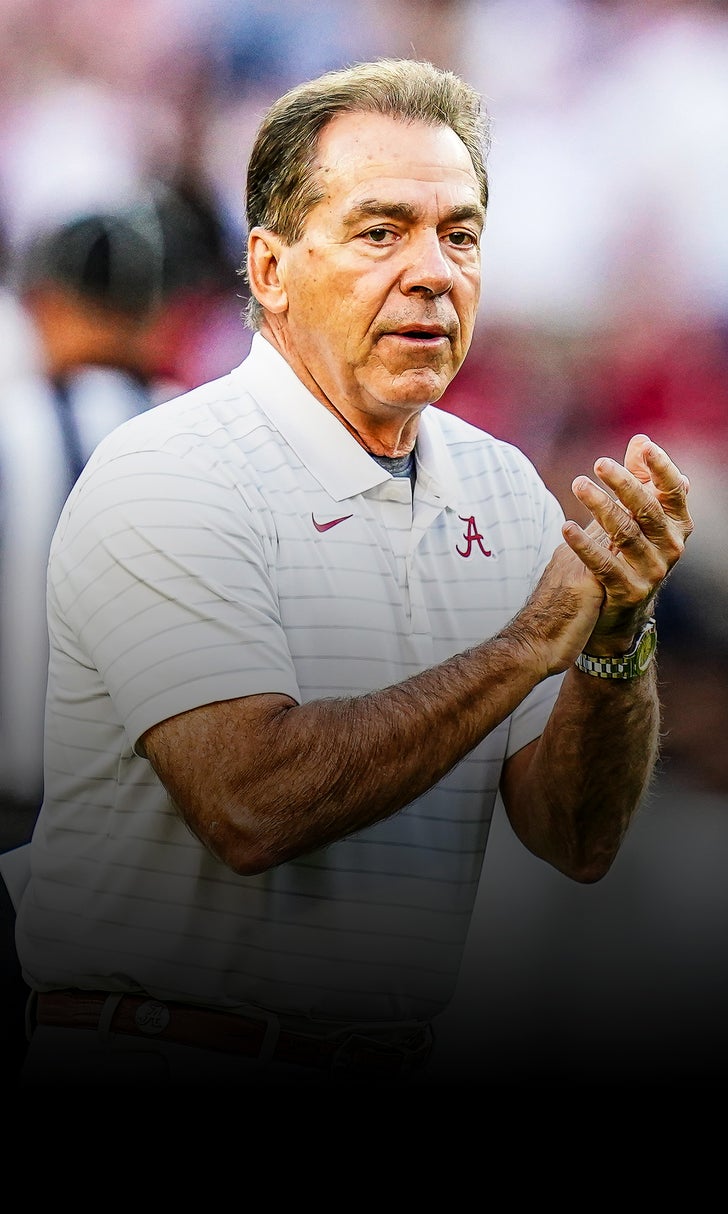 Alabama ranked No. 1 in preseason coaches' poll