Penn State Nittany Lions
Penn State Nittany Lions
Penn State hoping to return to form after week off
Published
Nov. 17, 2015 4:25 p.m. ET

STATE COLLEGE, Pa. (AP) Penn State players call it ''The Grind.'' Their coaches see this stretch of the season as the toughest, too, but not for the physical toll.
Starting in late October, Penn State coach James Franklin began dialing back his team's practices. Physical periods were shortened, replaced by longer film sessions and nuanced squad meetings. But with a bye week behind them, the Nittany Lions are coming off their lightest week yet, desperate to return to form with possibly their biggest test looming against No. 14 Michigan.
For a team that's relied on solid to great defensive efforts to buy time for a developing offense that is hit or miss week to week, time off isn't ideal.
Franklin would've put his players through the ringer following their sleepy performance and loss to Northwestern on Nov. 7. Instead, he gave them last weekend off, hoping a team that's struggled to put complete games together all season just needed some time to unwind.
But recent history shows rest doesn't always lead to success. Penn State is 0-4 after bye weeks the last two seasons and Franklin will wonder until kickoff if his team has had enough reps lately.
''As a coach you want to run as many plays, full speed,'' Franklin said. ''There's a part of you that thinks that's the right thing to do. And then there's the part of you that's looking down the table at your trainer and what he thinks we should be doing.''
That rest has helped the offensive players.
Guard Angelo Mangiro and tackle Andrew Nelson have both missed games with foot and knee injuries while quarterback Christian Hackenberg developed a noticeable limp in each of the past three games after being knocked around.
The combined effects of the hits appeared to wear on the quarterback who's been sacked 76 times in the last 23 games.
Hackenberg got off to his worst start of the season against the Wildcats and Penn State's offense never really got going until it was too late. Running back Saquon Barkley found room to run in the fourth quarter and churned out 80 of his 120 rushing yards on two drives and scored the go-ahead touchdown.
That production came with Barkley still on the mend, too. The freshman suffered a left ankle injury in Week 4 that forced him to miss two games and Franklin said it was noticeable that Barkley wasn't 100 percent since his return.
While Hackenberg retreated to his hometown, Palmyra, Virginia, to spend the weekend with his parents, Barkley stayed off his feet, too. He figures to see a similar workload like the 20-or-more carries he's had in each of the past three games.
''Each week he gets more confident in his protections,'' Franklin said. ''Each week he gets more confident in his ability to carry the ball at critical times.''
Barkley will get carries against a defense that's struggled lately. While the Wolverines rank near the top in every major defensive statistical category, they've allowed 1,213 yards of offense with 579 of them to opposing rushers the last three games.
Hackenberg says he has an idea how Penn State can avoid a slow start. The Nittany Lions need to lean on their running game in what suddenly appears to be a favorable matchup.
Getting Barkley involved in the passing game will be a focus, too.
''He's done a great job in our screen game,'' Hackenberg said. ''That's been great for him just to get that going as well, making sure he's having an impact in different areas.''
---
---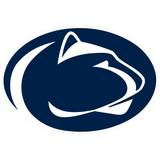 Get more from Penn State Nittany Lions
Follow your favorites to get information about games, news and more
---