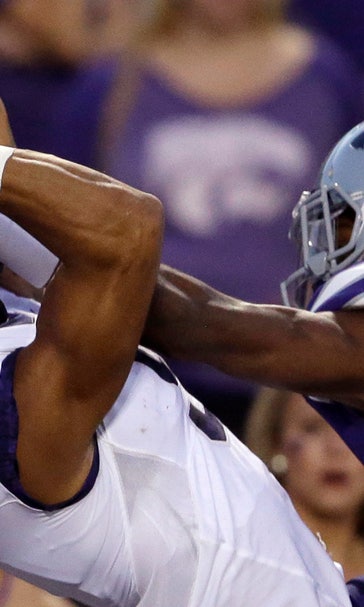 Patterson puts onus on Boykin, Doctson to lead Frogs to promised land
November 3, 2015

Gary Patterson put TCU's fate as it enters the critical month of November in no uncertain terms: They'll go as far as Trevone Boykin and Josh Doctson take them.
The senior Maxwell Award semifinalists have been nothing short of phenomenal this season, destroying defenses and scoring at will to guide No. 5 TCU to an 8-0 record and 5-0 in the Big 12 while the defense has had to reload on the fly due to a multitude of injuries.
TCU heads to No. 12 Oklahoma State on Saturday, the first of three ranked and undefeated opponents in its final four games. Win them all and the Horned Frogs will almost assuredly find a spot in the College Football Playoff.
Lose one and that dream likely goes down the drain.
"If they can play at the level they need to for us, then we'll have a chance to win more of those games than we lose," Patterson said Monday during the Big 12 coaches teleconference. "If they don't, then we won't. But if they do, I think a lot of people will get a chance to watch both of those guys play and understand and appreciate what kind of players they are. And what kind of people they are."
Most of the nation has become quite familiar with Boykin, who broke out as a legitimate Heisman Trophy candidate last season. He's been even better this year as West Virginia coach Dana Holgorsen can attest. He was so impressed by Boykin's scramble during the Frogs' 40-10 win last Thursday that when the quarterback slithered out of bounds on the West Virginia side, Holgorsen walked over to him to slap him five. The highlight was shown over and over from coast to coast.
A few weeks ago, a photo with Boykin kneeling beside a young girl in a wheelchair before the game at Iowa State went viral and Boykin was praised for having a kind of heart.
Doctson, by all accounts, is a pretty nice guy, too, and a terrific wide receiver. TCU is the only school in the nation to have two Maxwell Award finalists, an honor given to the collegiate player of the year.
His long, 6-foot-3 frame allows him to stretch and grab practically anything Boykin throws up. He should be in the Heisman conversation next to Baylor's ace receiver Corey Coleman. Doctson's season is filled with highlight-reel catches to prove it.
The Boykin-Doctson connection in the clutch has been especially impressive, helping TCU escape close calls at Texas Tech and Kansas State.
All Patterson is asking is for the two leaders to continue to produce at an All-American level. Perhaps a championship level is more accurate.
"It's always hard to have two really good key players on your team and not have one kid talked about a little bit more than the other," Patterson said. "Both of them have done a great job. Both of them are having years that everybody would wish for. Hopefully for us, I hope the people nationally recognize them, get a chance to in the next three or four weeks."
---
---