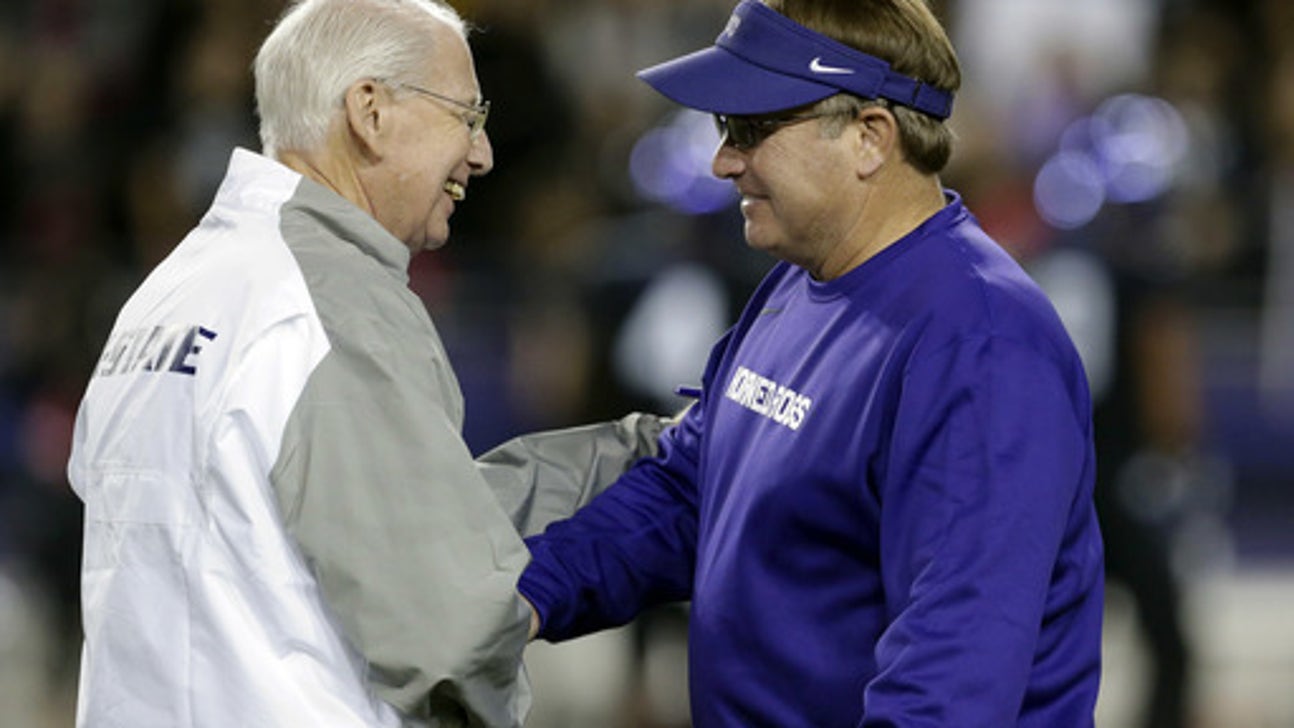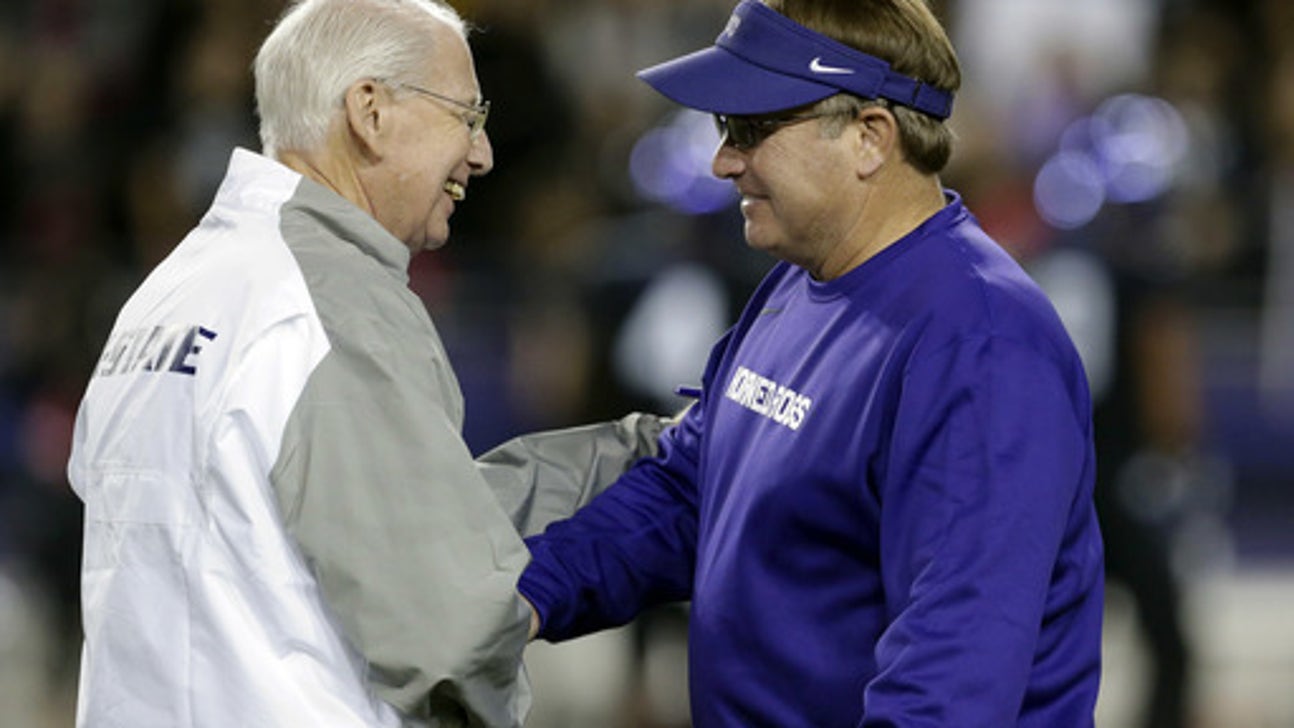 Patterson 202 games at TCU, Snyder seeks 201st K-State win
Published
Dec. 2, 2016 12:11 p.m. ET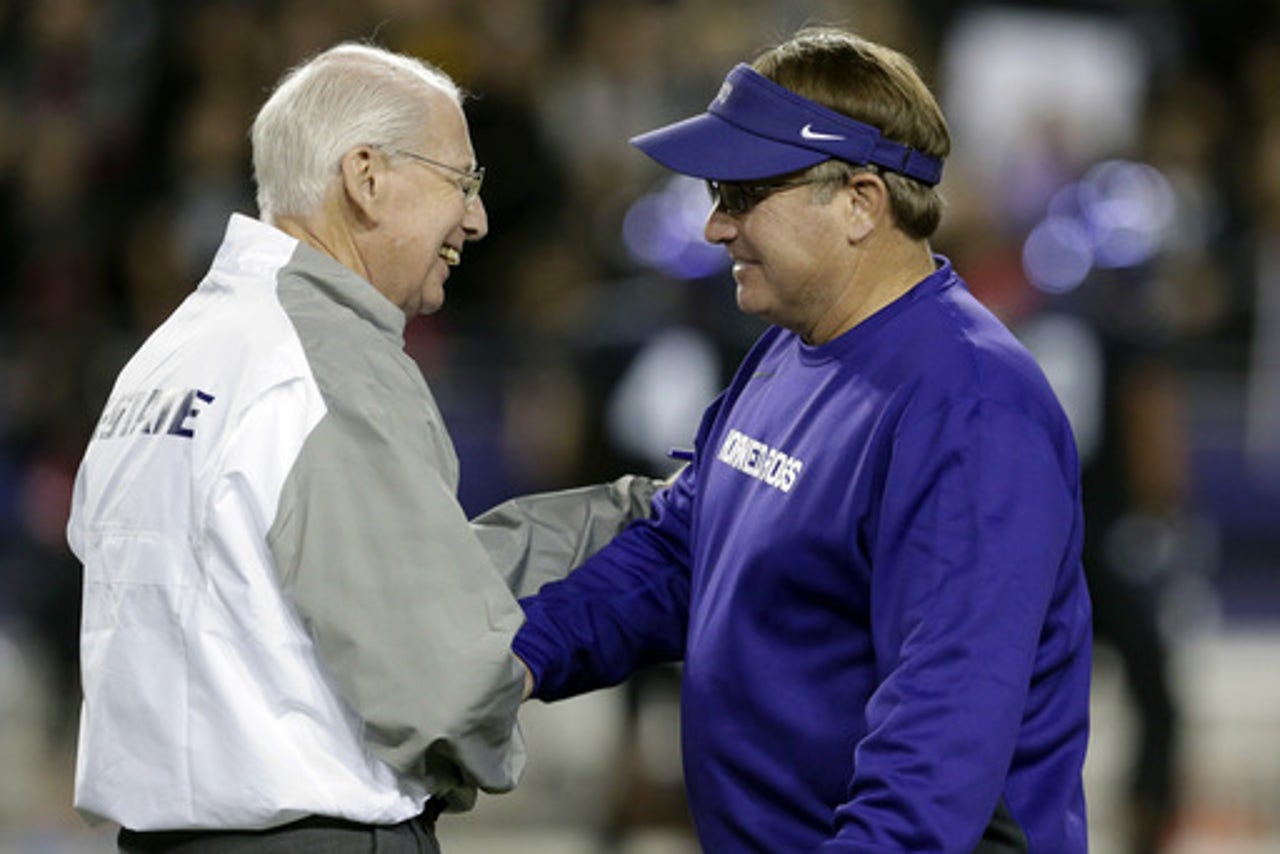 FORT WORTH, Texas (AP) When Gary Patterson coaches his school-record 202nd game for TCU, he can easily put in perspective what that means by looking at Bill Snyder on the other side of the field.
Snyder will be going for his 201st win with Kansas State when the two bowl-bound teams play Saturday.
''I saw what Coach Snyder said on his 200th win, not his 200th game, just a lot of people that have made a lot of sacrifices,'' Patterson said. ''The guy sitting in my chair takes a lot of grief but also gets probably too much credit some time for what they did and how they do it.''
Patterson is already TCU's winningest coach with 149 wins in his 16 seasons, and will break a tie with Dutch Meyer for the most games as head coach when the Horned Frogs (6-5, 4-4 Big 12) face his alma mater. A Kansas native, Patterson played at K-State and was a graduate assistant for the Wildcats before Snyder got there.
Kansas State (7-4, 5-3), which plays its 307th game in 25 seasons under Snyder, will finish no worse than a tie for fourth in the Big 12 after being picked eighth in the preseason poll. Snyder's 200th victory came last week in a win over instate rival Kansas.
''It is about possessing the commitment to reach the highest capabilities that you have and improve toward that end as an individual, day in and day out,'' Snyder said about his team, which has won four of its last five games. ''When you do that, then collectively you are going to make some progress.''
Some things to know when Kansas State and TCU play:
BOWL DESTINATIONS
A trip to the Texas Bowl in Houston to face an SEC team could be next for the winner of Saturday's game. The Texas Bowl gets the fourth pick from available Big 12 teams. The loser is likely headed to the Liberty Bowl to play an SEC team in Memphis or the Cactus Bowl against a Pac-12 team in Phoenix. The Wildcats will be going to a bowl for the seventh season in a row and 19th time under Snyder. TCU will be in a bowl for the 14th time in Patterson's 16 full seasons.
RUNNING CATS
Kansas State has rushed for 924 yards and 14 touchdowns in its last three games, and the Wildcats have five consecutive 200-yard games - their longest Big 12 streak since 2003. Banged-up quarterback Jesse Ertz is their leading rusher (71 yards per game) and redshirt freshman running back Alex Barnes has back-to-back 100-yard games. ''If we have the capacity to run the football, then we will do that,'' Snyder said.
RECEIVING RUNNER
Kyle Hicks can run and catch for TCU. He leads the team with 894 yards rushing and 40 receptions, putting him on pace to be the first TCU player to lead the team in both categories since Basil Mitchell in 1996.
SO SIMILAR
In Big 12 games this season, Kansas State is averaging 30.6 points a game, and TCU 30.5. On defense, the Wildcats are giving up 27.2 points per game, just less than Patterson's defense allowing 27.9 points per game.
UNEXPECTED FINISH
''We were picked eighth in the conference and everything that we have accomplished so far was not expected from us,'' Kansas State junior linebacker Trent Tanking said. ''We could go from the team that was considered young and inexperienced to the team that can finish strong with eight wins in the regular season. I think having a 6-3 record in a conference would be a great accomplishment.''
ANOTHER COOL, WET FINALE?
TCU's regular-season finale at home last season, a double-overtime win over Baylor, was played in a steady rain with temperatures in the 30s. ''I was cold, but ... It was awesome,'' Patterson said. The forecast this week calls for rain, heavy at times, with temperatures in the 40s.
---
More AP college football: www.collegefootball.ap.org and https://twitter.com/AP-Top25
---