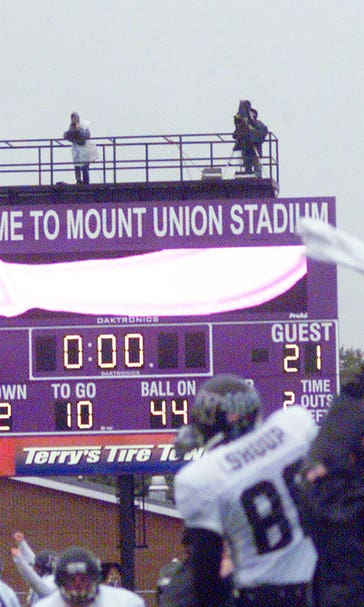 One & Done: Ohio Northern dealt mighty Mount Union its lone regular-season loss since 1994
November 2, 2015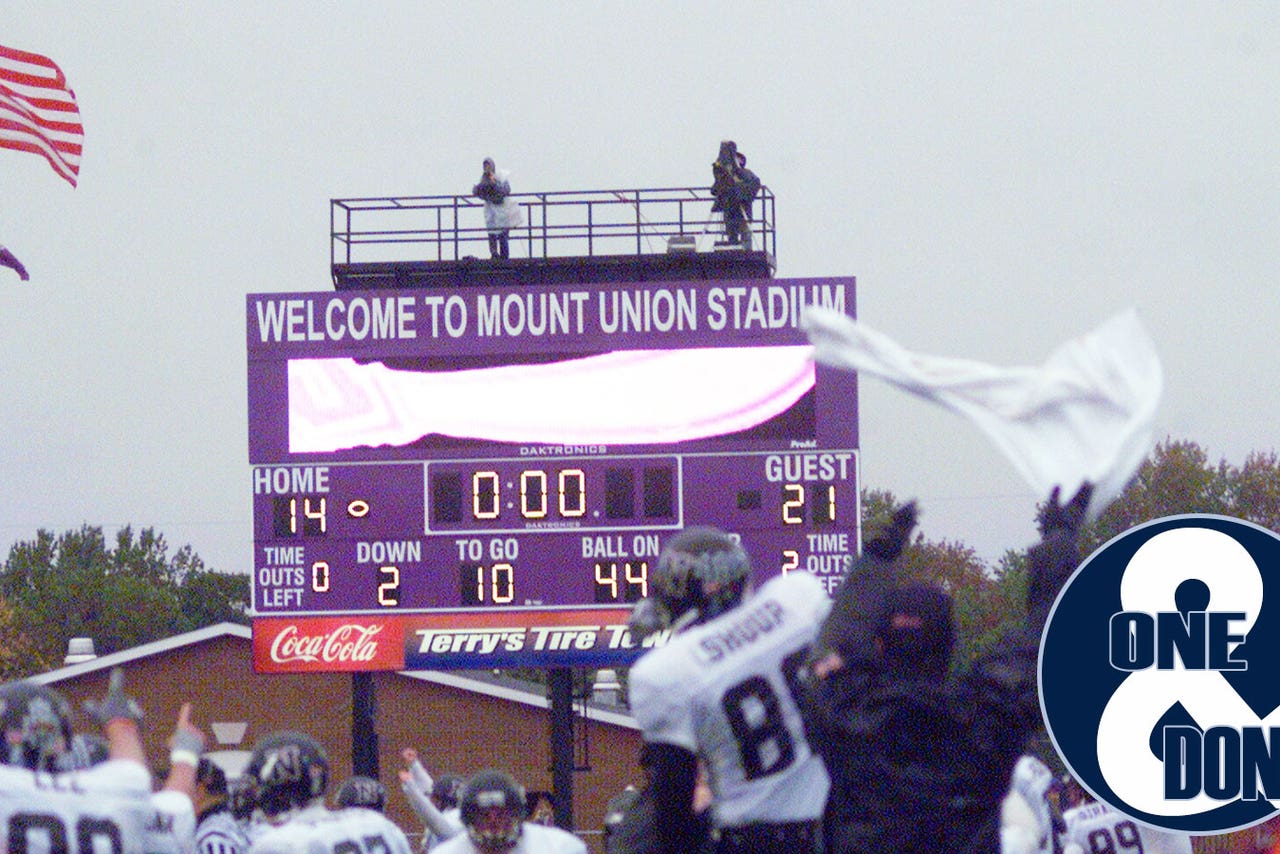 In the world of sports, athletes often dedicate their entire lives to reaching the pinnacle of their profession, but for many, life at the top can be short-lived. Sometimes all a player gets to experience at the highest level is one minute on the court, one trip to the plate, one shot on goal or one checkered flag, but more often than not, that fleeting moment in the spotlight is a story all its own. This is One and Done, a FOX Sports series profiling athletes, their paths to success and the stories behind some of sports' most ephemeral brushes with glory.
On Saturday, Mount Union took a 50-0 lead into the half during its 55-0 win over visiting Otterbein. The Raiders also played name-your-score the week before and led 56-0 after two quarters en route to a 69-0 road victory over Wilmington.
Lopsided wins have become commonplace over the last couple decades for Mount Union, the No. 1-ranked team in Division III football. The Raiders have played in the Stagg Bowl, the D-III championship game, in each of the last 10 seasons and 18 times in the last 22 years, with 11 national titles in that span. They've also recorded 81 shutouts since the start of the 1993 season, scoring at least 40 points in 65 of them and fewer than 24 points in three.
However, to understand how dominant Mount Union is at the D-III level, one has to look no further than the team's history of regular-season superiority. Saturday's win was Mount Union's 101st consecutive in the regular season, and over the last 212 regular-season games, dating to a 23-10 loss to Baldwin-Wallace Oct. 15, 1994, the Raiders are 211-1.
"It's pretty remarkable what they've been able to do," former Ohio Northern defensive back Rusty Midlam told FOX Sports recently. "It doesn't matter what the sport is or what the level is, to be able to string together that many wins for that long and not fall off the mountaintop, so to speak, is amazing. So it can be a little bit intimidating (to play them) just going by their track record and the coaching staff they have and the players they've developed over the years, but by the same token, on any given Saturday, anything can happen."
How can Midlam be so sure? Well, on Oct. 22, 2005, he and his Polar Bears teammates were responsible for Mount Union's only regular-season blemish in the last 21 years. And a decade later, it's still thought to be one of the most shocking upsets in college football history, at any level.
"If I'm having a conversation and someone asks me where I went to school, I'll tell them I played football at Ohio Northern and even 10 years later, people will say, 'Hey were you part of that team that beat Mount Union?'" said Midlam, who had three interceptions in the stunning 21-14 win. "It's amazing how many times it's happened and how many people remember our win that day."
Heading into the '05 meeting between the Ohio Athletic Conference rivals, there was reason for Ohio Northern, at the time 5-1, to at least be optimistic that it could pull off the unthinkable. The season before, Northern led the Raiders by a touchdown until late in the third quarter of a 41-27 loss, and even without injured star Jason Trusnik, who went on to play nine years in the NFL, coach Dean Paul felt his defense was capable of withstanding Mount Union's attack.
So as the team prepared for its biennial trip east across Route 30 to Alliance, Ohio, Paul, a former Mount Union running back in his second year at Ohio Northern, put an emphasis on preparing like it was any other game, even if it wasn't any old opponent.
"I'm not sitting here trying to say I'm any sort of expert, because we only beat them one time," Paul told FOX Sports last week. "We certainly don't claim to have cracked the code or anything like that. We have a really good team this year and they got us pretty good, so by no means do we have the blueprint. But I guess what I've found is that there needs to be a consistency in how you approach them, and you also have to understand that the mental aspect of it is going to be really important."
In anticipation of the matchup, Ohio Northern bussed dozens of fans from its campus in Ada, with ONU supporters making up a good chunk of the 3,369 in attendance that cold, wet afternoon. From the moment the game started, the visitors' section had plenty to cheer about, as kicker Brad Hemphill's squib try on the opening kickoff deflected off a Mount Union player and was recovered by Ohio Northern.
"What we had practiced all week was aiming at their center because we thought their center was in an alignment that was kind of right over the ball," Paul said. "So we wanted to aim right at him, figuring we'd either squib it or we were going to hit him, and our kicker, he hit him. It was certainly a bit of a good break, and something we were trying to do, but not something that's easy to do."
From there, Ohio Northern churned down the field, and after a long third-down conversion, a fourth-down conversion and a 23-yard Derek Garrod run deep into Raiders territory, the Polar Bears took a 7-0 lead on R.J. Meadows' 3-yard touchdown run.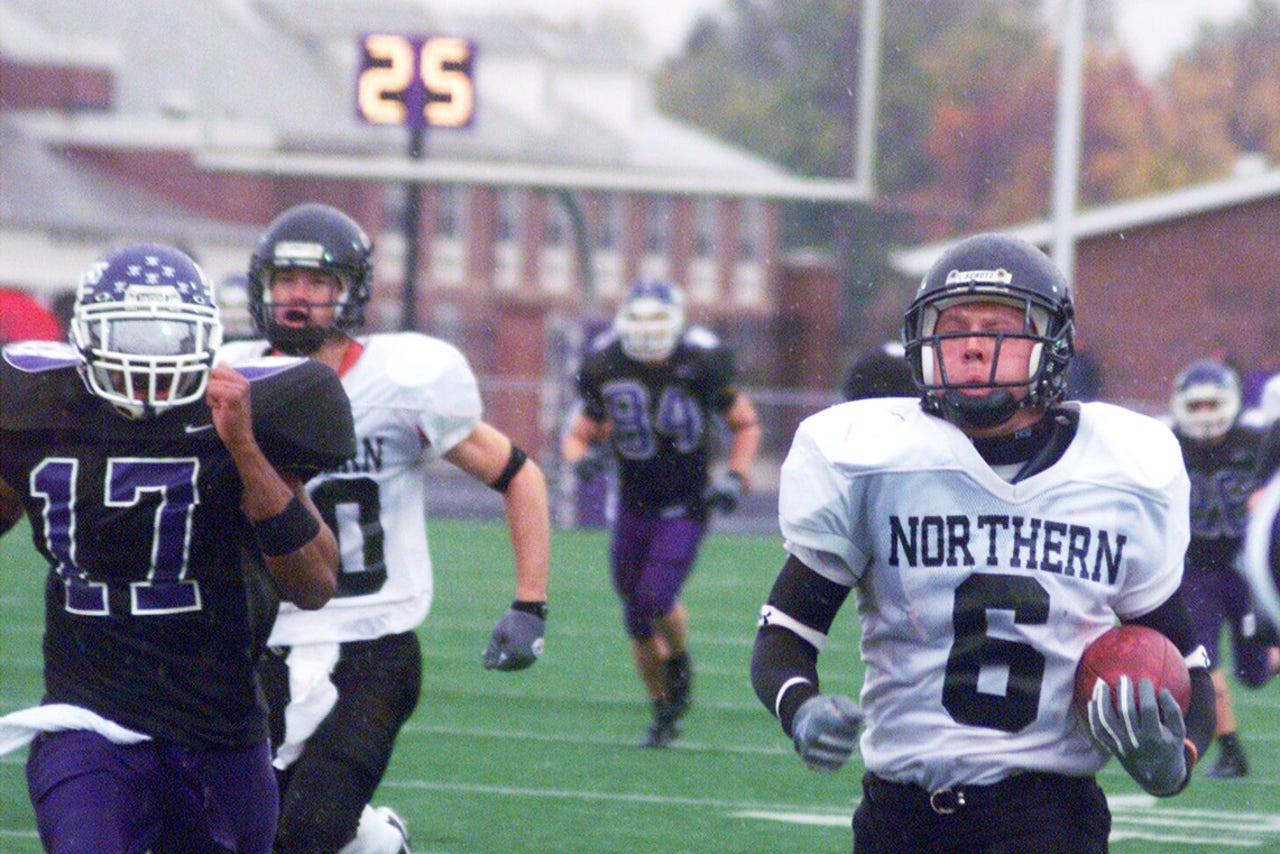 R.J. Meadows (6) had a memorable game.

"When you get a break like that that was unexpected, it's a huge swing in momentum, but it can also kill you if you don't do something with it," Meadows said. "But being able to drive down the field and get seven, that's where the momentum really shifted. To make that statement of, 'We're here to hit you in the mouth,' and punch it in, I think that really propelled us to say that, 'Hey, these guys are human, and we can play with them.'"
After a fourth-down stop by the defense on the ensuing drive for Mount Union, Ohio Northern widened the gap to two scores with another touchdown for the freshman Meadows, who carried it in from a yard out on fourth-and-goal to give his team a 14-0 lead. However, after forcing a punt on the next Mount Union possession and Midlam's first interception on the next, the Polar Bears were under no illusion that they had the game under control.
"What we tried to prepare them for is understanding that there is going to be an assault," Paul said. "There will be a response. There will be plays they make. Their players are too good and their coaches are too good to not respond. And when they do, it's all about poise, and that's easier said than done."
"They're that good for a reason, and we knew it," Meadows added. "They could, in three possessions, score 21 points in a hurry. So we had to stick to the plan, had to stick to the preparation that we put in for the week prior. ... Coach Paul did a great job of just keeping us in the moment, because once you feel like you've already won, you slowly come back to reality."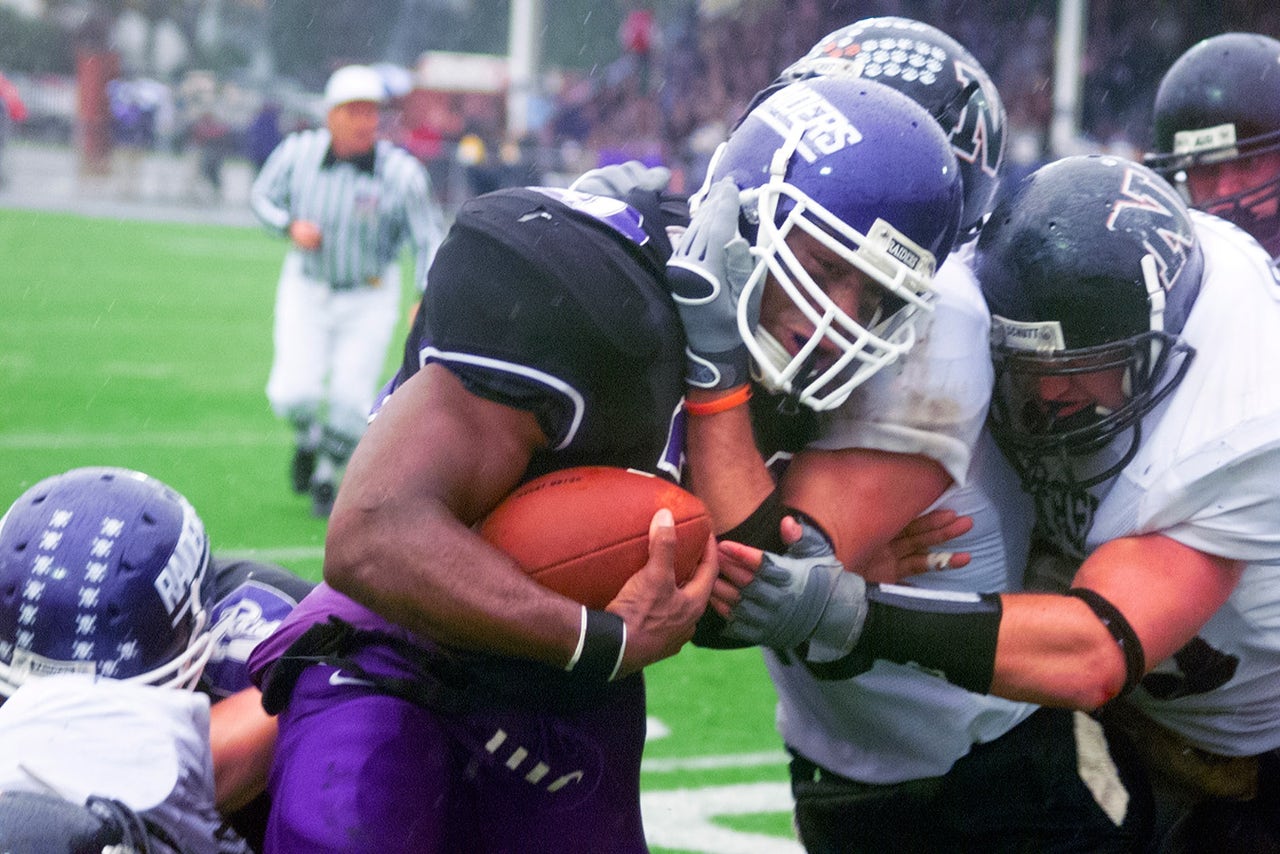 Ohio Northern has proven to be the last purple people beater in regular season since 1994.

As Paul anticipated, Mount Union gained some momentum of its own when it returned a blocked punt for a touchdown to cut the lead to 14-7 with 9:29 left in the second quarter. Ohio Northern held strong and responded with an 11-play, 72-yard drive that ended with Meadows' third touchdown of the game, a 24-yard run to give Northern a 21-7 lead with 3:12 left in the half.
"We felt confident that our guys understood (the message), but then it's another thing to actually execute, so to follow up with that drive was huge," Paul said of the energy on the sideline after the third score. "It was almost to the point of, 'Settle down, settle down, there's still 30 more minutes to go.' All the students and fans and people from our campus who went to the game, they were all right by the tunnel when we went through (on the way in for halftime), and that place was just on fire. The emotion was off the charts."
Once the team emerged after the break, it was just a matter of holding on for dear life.
Ohio Northern got the ball to start the third quarter but handed it over to the Raiders after a three-and-out. Three plays later, Mount Union had the ball inside the ONU red zone, but after a Rick Danison sack pushed Mount Union back to the 32, Midlam came up with his second pick of the day, corralling a pass intended for future NFL wideout Pierre Garcon in the end zone.
"I had an individual matchup that I took pretty personally that week," Midlam said of Garcon, who was held without a catch in the game. "I knew that he was probably the best receiver in the country, so I kind of took it upon myself to kind of prove to myself and other people that I was pretty good, too.
"When you're playing a team like Mount Union and you have a lead, sometimes you can play the game in more of a defensive mode of, 'OK, when is Mount going to make their run or bust open their big play?'" Midlam continued. "It's almost like some people were waiting for that to happen, for them to get back in it. So I felt like that interception kind of solidified the fact that we had a real shot to continue to control the game."
After the pick, both teams struggled to maintain much of anything on offense, with neither unit crossing the 50-yard line the rest of the third quarter. When Mount Union finally got into Ohio Northern territory early in the fourth, the Polar Bears sniffed out a fourth-down try from their own 43 — one of seven fourth-down attempts on the day for Mount Union — and on the next Raiders drive, Midlam intercepted Raiders quarterback Mike Jorris for the final time, giving ONU the ball at its own 42 with 7:24 left in the game.
"One of the quotes from one of our players after the game was, 'All week we believed we could do it, but then once we were in the fourth quarter up by two touchdowns, we couldn't believe it,'" Paul recalled. "It was almost like, 'Wow, here we are, we can do this.'"
Ohio Northern picked up two first downs as it attempted to bleed the clock, but Paul ultimately elected to punt on fourth-and-10 from his own 37 rather than risk giving Mount Union good field position. It mattered little, though, as Mount Union rallied with a 10-play, 93-yard touchdown drive in 1:33 of game time, cutting the deficit to 21-14 with two timeouts remaining and 2:24 left in the game
"There's two and a half minutes left, it's fourth-and-long, and then we had a safety come down in a collision with their No. 2 receiver, he tripped, and you just can't do that against them," Paul said of Mount Union's 35-yard touchdown pass. "He tripped and they had a guy going right down the seam. He caught it and now the crowd comes back alive and you're like, 'Oh boy, here we go.'"
It appeared, however briefly, that Ohio Northern's meltdown might be carrying over into the ensuing drive, when an illegal block in the back penalty on the first play put the Polar Bears at first-and-22 from their own 34. Not wanting to risk stopping the clock with an incomplete pass, Paul kept the ball on the ground and forced Mount Union coach Larry Kehres to burn his final two timeouts.
Then on third-and-14, Meadows broke off a 13-yard run, putting Paul in a tricky position: either punt it away from inside Mount Union territory and hope the defense holds with less than a minute to play, or try to slam the door shut with a first down. After taking a timeout to think it over, Paul chose the latter, and it nearly cost his team the win.
"We ran a little power play that I'd scored on twice in the first half and I came up about a half-yard short," Meadows said of the failed fourth-and-1 try, which gave Mount Union the ball at its own 45 with 48 seconds left and trailing by seven points. "It was one of those things where you kind of felt like the wind got knocked out of you."
Fortunately, the Ohio Northern defense held and got to the quarterback Jorris on two of the final four plays, including Josh Lokai-Owen's sack to end the game. The win snapped a streak of 110 consecutive regular-season victories for Mount Union, including 99 straight in conference play. Afterward, the celebration was befitting of a victory that ended an 11-year run of dominance.
"Honestly, I just sat there and looked around," said Meadows, a Tennessee native. "I kind of stood on my own and watched all these guys that grew up together in Ohio and knew each other and knew the significance of it — seniors who had never beat them — jump into each other's arms and go into the stands. There were players with their parents, and these people grew up hearing about Mount Union and watching them, and for me, it was just surreal seeing all of the emotion, seeing the joy. It was something I'll never forget."
"It was one of those where everyone was rushing the field, grabbing somebody, hugging somebody," Midlam added. "We knew the significance of it, knew their winning streak, and it's not like we were going to hide all that. It was a big deal for our program."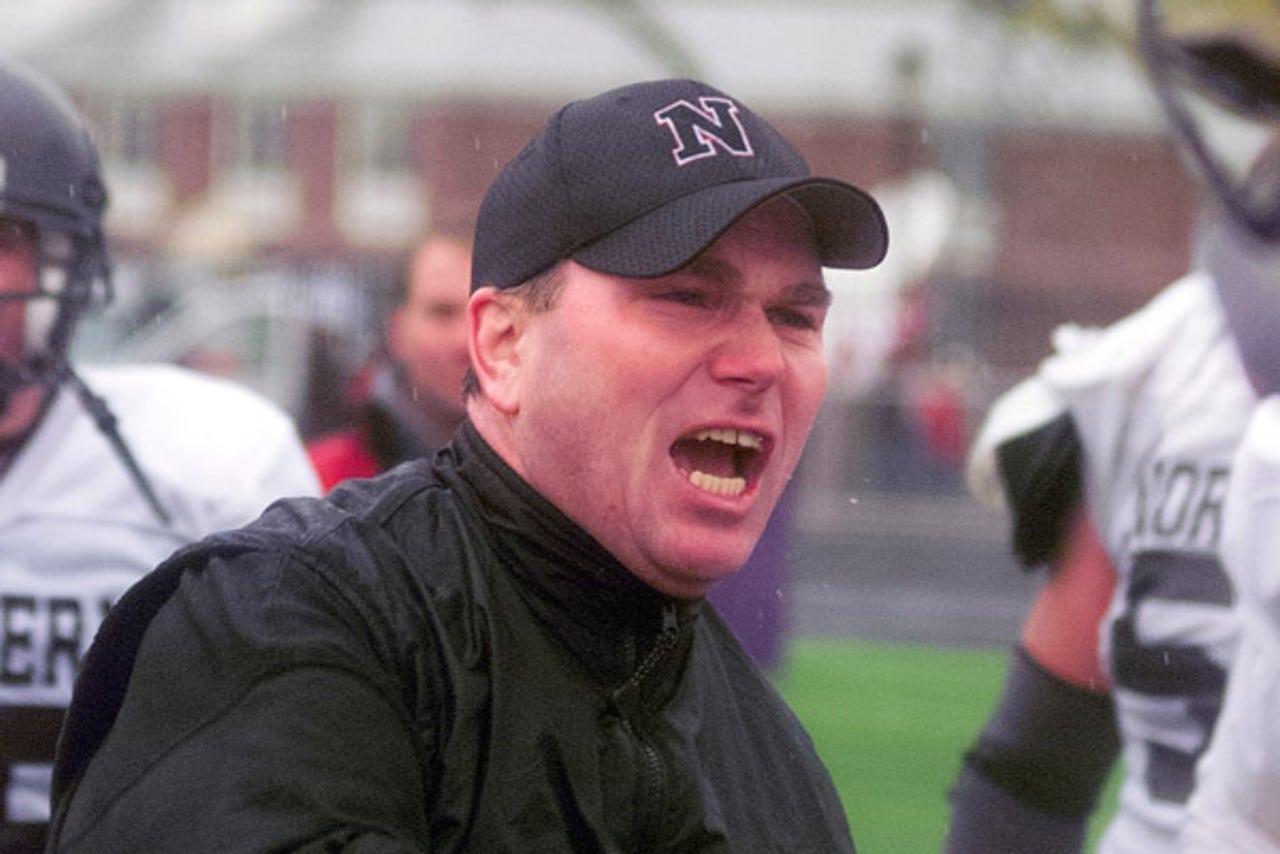 Coach Dean Paul let the celebration linger.

In fact, it was such a big deal that when the team returned to campus that night, the university president had arranged for a police escort and a crowd was awaiting the team's arrival at the football complex. Normally, Paul asks his players to observe a 24-hour rule after wins — meaning they had one day to celebrate before focusing on the next opponent — but it quickly became clear that would be challenging in the wake of such a historic victory.
"I remember our quarterback sitting right next to me on the bus as we're pulling with the police escort into Ada — and Ada's a small town — and as we're heading down the north side of town and we start to see the stadium off in the distance, we can see fire trucks and lights going off," Paul said. "So he goes, 'Coach, I thought you said this was just another win.' I just kind of laughed and said, 'Well we're going to need to treat it that way tomorrow, but tonight it's going to be hard to do that.'"
Unfortunately, the celebration was short-lived, and the following week, Ohio Northern lost a 16-14 heartbreaker to Capital, the defeat costing the Polar Bears the conference championship and a spot in the playoffs. Instead, it was Capital and Mount Union that advanced to the postseason, where Mount Union eventually defeated Capital 34-31 in a quarterfinal on its way to a national championship.
"If you ask anybody from that senior class, myself included, and we talk about that Mount game, what I remember more was the week after when we lost in the last minute of the game to keep us out of the playoffs," Midlam said. "Because we went from such a high high to such a low low. It's been a bitter taste in my mouth for 10 years."
Making matters worse, Ohio Northern has struggled in the years since to find the magic it had when it beat Mount Union a decade ago. Mount Union has won each of the last 10 meetings between the teams, outscoring the Polar Bears 433-44, a 14-6 win in 2011 the lone outlier in a series of impressive blowouts.
Still, there's some solace to in the fact that no one else has done it, either — save for Wisconsin-Whitewater, which has toppled Mount Union in six Stagg Bowl meetings, Mount's only six losses of any kind since the ONU upset — and if nothing else, Paul can take comfort in knowing that there's always next year. Someday, someone is going to beat Mount Union in the regular season again, and the way he sees it, there's no reason his team shouldn't be the one to do it.
"We knew it was special and we certainly hoped that, here 10 years later, we would have done it again already," said Paul, whose team is 6-2 heading into this Saturday's matchup with Wilmington. "It makes us mad sometimes that we haven't been able to do what they've been able to do, but we're going to keep pushing and we're going to keep after it."
PREVIOUS ONE & DONES:
May 5: Mario Andretti
May 12: Dean Morton
May 19: Ross Browner
May 26: Dave Salvian
June 2: Mine That Bird
June 9: Kerwin Bell
June 16: Michael Campbell
June 23: Tyson Wheeler
June 30: Roe Skidmore
July 7: Steven Hill
July 14: LaMarr Hoyt
July 21: Bernard Quarles
July 28: Matt Tupman
August 4: Kevin Melillo
August 11: Roy Gleason
August 18: Cory Aldridge
August 25: Tom Brown
September 1: Tony Cloninger
September 8: Mike Pantazis
September 15: Wilbur Wood
September 22: Doug Clarey
September 29: Danny Young
October 6: Chad Wiseman
October 13: David Matranga
October 20: Brad Fast
October 27: Zenyatta
You can follow Sam Gardner on Twitter or email him at samgardnerfox@gmail.com.
---