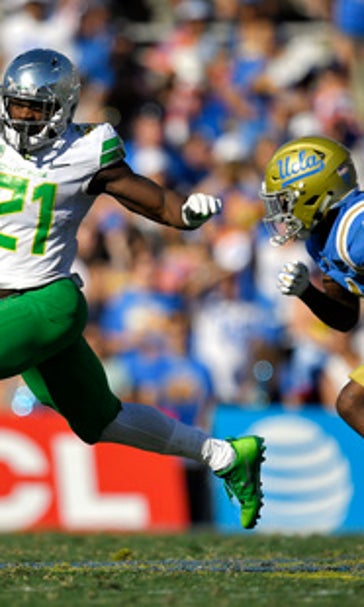 Olorunfunmi's TD run vaults UCLA past Oregon 31-14 (Oct 21, 2017)
October 21, 2017

LOS ANGELES (AP) Bolu Olorunfunmi was looking at the video clip on his phone, still trying to process the play that made the UCLA running back a star on social media.
''I didn't think it would be that big, to be honest with you. I was just trying to score a touchdown,'' Olorunfunmi said.
Josh Rosen threw for 266 yards and two touchdowns and UCLA defeated Oregon 31-14 on Saturday, but all the attention was on Olorunfunmi's acrobatics.
Olorunfunmi had a spectacular 22-yard touchdown run in the third quarter where he tried to hurdle safety Mattrell McGraw at the goal line and ended up standing on the defender's shoulders before vaulting into the end zone, which UCLA head coach Jim Mora likened to his time with the Atlanta Falcons watching quarterback Mike Vick at the peak of his athletic prowess.
''It's just all adrenaline,'' said Olorunfunmi, who rushed for 76 yards on 13 carries. ''It's just, `do it,' and I did it. It's like you don't feel anything.''
UCLA offensive coordinator Jedd Fisch was nervous when he saw Olorunfunmi leave his feet because of the potential for injury.
''He got up there. I mean, he got up there,'' Fisch said. ''I gasped for a second, and when I saw him come back down, then I was excited again.''
Soso Jamabo also ran for a touchdown and walk-on wide receiver Christian Pabico had four receptions for 99 yards and a touchdown. The Bruins (4-3, 2-2 Pac-12) improved to 4-0 at the Rose Bowl.
Braxton Burmeister threw for 74 yards with one interception and ran for two touchdowns for the Ducks (4-4, 1-4), who have lost three straight games since starting quarterback Justin Herbert broke his collarbone against California.
Royce Freeman rushed for 160 yards, passing LaMichael James for the most career yards rushing by an Oregon player. Freeman also passed Oregon State's Ken Simonton for third place among Pac-12 career rushing leaders and became the 22nd player in FBS history with 5,000 career yards rushing.
''Royce is not fully healthy, but he's out there busting his tail off and finding a way,'' Oregon head coach Willie Taggart said.
UCLA reclaimed a two-score advantage in the third quarter on a 42-yard field goal by JJ Molson and Olorunfunmi's touchdown run that immediately went viral.
Rosen found Darren Andrews for a 1-yard touchdown pass in the fourth quarter to cap off UCLA's first win over Oregon since 2007 and end a six-game losing streak in the series.
UCLA jumped out to a 14-0 lead in the first quarter. Defensive lineman Jacob Tuioti-Mariner recovered a fumble for UCLA's sixth takeaway of the season and second in Pac-12 play, setting up a 4-yard touchdown run by Jamabo.
Rosen threw a 31-yard touchdown pass to Pabico on UCLA's next possession. Rosen was a combined 7-of-7 passing for 77 yards on the two scoring drives.
But Oregon responded with two touchdown runs by Burmeister to head into the locker room tied. UCLA assisted Oregon with key penalties to extend drives, including a defensive holding call against Jaleel Wadood to move the chains on third-and-13. That led to a 7-yard touchdown run by Burmeister.
Burmeister also had a 4-yard touchdown run late in the first half to make it 14-all.
''Just because we don't have all our weapons doesn't mean we get down and think things aren't going to go our way,'' Taggart said. ''I felt that's what happened to us in this game. We didn't believe as much as we did in the first half. To me, that's human nature when we don't have everyone and are not throwing the ball as well as we want to.''
THE TAKEAWAY
Oregon: The Ducks need Herbert healthy as soon as possible. Given the limitations of the freshman Burmeister, Oregon was rendered one-dimensional for the third consecutive game and attempted 62 runs to 15 passes. Unless Herbert returns shortly, Oregon will struggle to become bowl eligible in its first season under head coach Willie Taggart
UCLA: Jim Mora lives to fight another day. A loss to short-handed Oregon would have been disastrous for UCLA, putting its chances of even reaching a bowl game in serious jeopardy and raising more questions about the viability of the head coach's tenure. Now, UCLA has an outside chance to win the Pac-12 South, but will have to play its best game of the season to have a chance of upsetting No. 12 Washington next week.
INJURIES ADDING UP FOR UCLA
Tuioti-Mariner was taken to a hospital at halftime to examine him for possible internal injuries, but Mora said the initial results were positive.
Defensive lineman Matt Dickerson sustained a collarbone injury that Mora said ''could be very significant,'' while linebacker Josh Woods left the game with an apparent shoulder injury.
Freshman defensive lineman Jaelan Phillips returned after missing three games with an ankle injury and had one of UCLA's four sacks.
Tight end Austin Roberts had a high-ankle sprain, and wide receiver Jordan Lasley did not play for disciplinary reasons, Mora said.
UP NEXT
Oregon: The Beavers host Utah next Saturday.
UCLA: The Bruins visit the Huskies next Saturday.
--
More AP college football: http://collegefootball.ap.org and http://www.twitter.com/AP-Top25
---
---