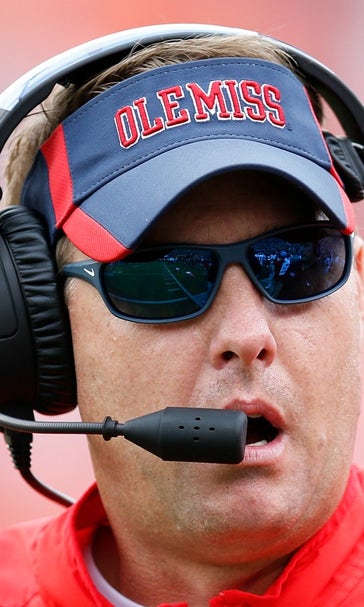 Ole Miss coach Hugh Freeze was 'shocked' by Laremy Tunsil's claim
May 5, 2016

It has been a week since the bizarre events that turned the first round of the NFL Draft into a circus for everyone involved -- and into a house of horrors for Laremy Tunsil.
First was the gas mask bong video on Tunsil's hacked Twitter account and then came the images on his hacked Instagram account of the text messages in which he seemingly asked an Ole Miss football official for money. Afterward, Tunsil owned them both and put his former collegiate program in hot water in the process.
Ole Miss coach Hugh Freeze continues to profess his innocence, however.
"I know nothing," Freeze told reporters in a teleconference Thursday, according to the Orlando Sentinel. "I'm not involved in the fact-finding process. I was shocked like everyone else living it out in real time."
The university has been investigating the allegations since Tunsil's admission, and it's worth noting that the Ole Miss athletic program already was under an NCAA investigation.
"I'm told we've made a lot of progress," Freeze said. "But the facts are always more important than speed or our public response, which is difficult for me sometimes because I want to respond."
The issue is now behind Tunsil, who eventually was drafted 13th overall by the Miami Dolphins. But the saga could just be beginning for Ole Miss.
---
---