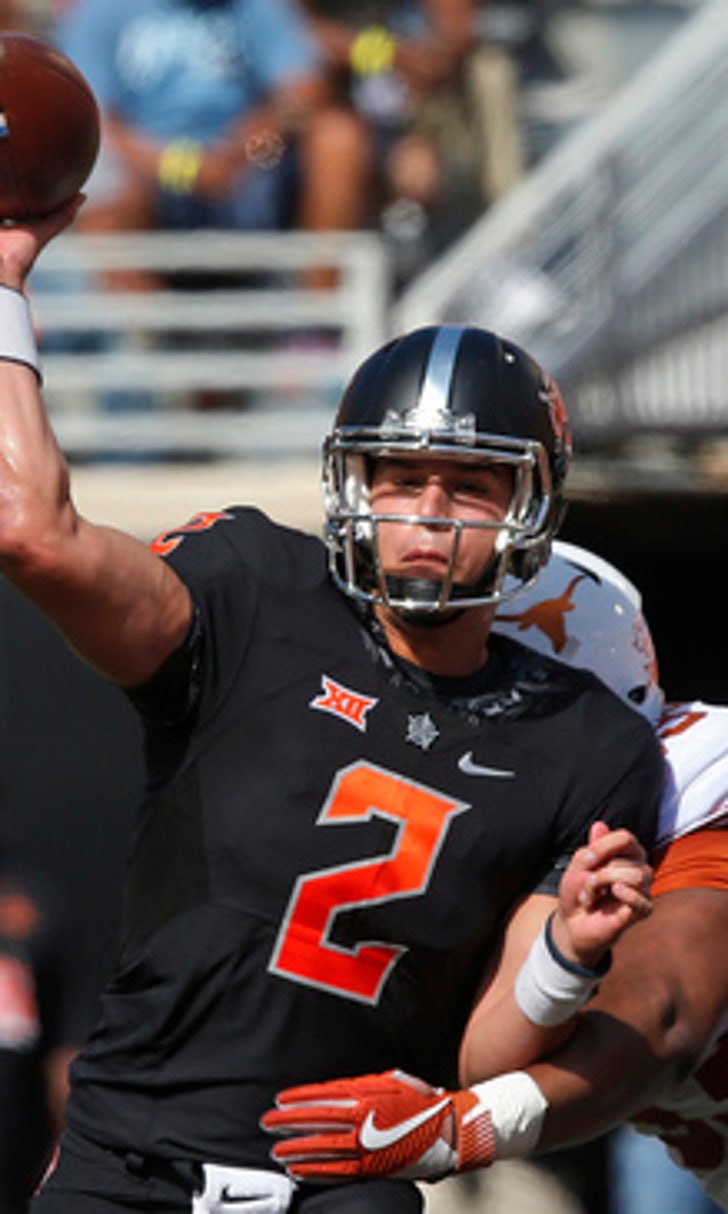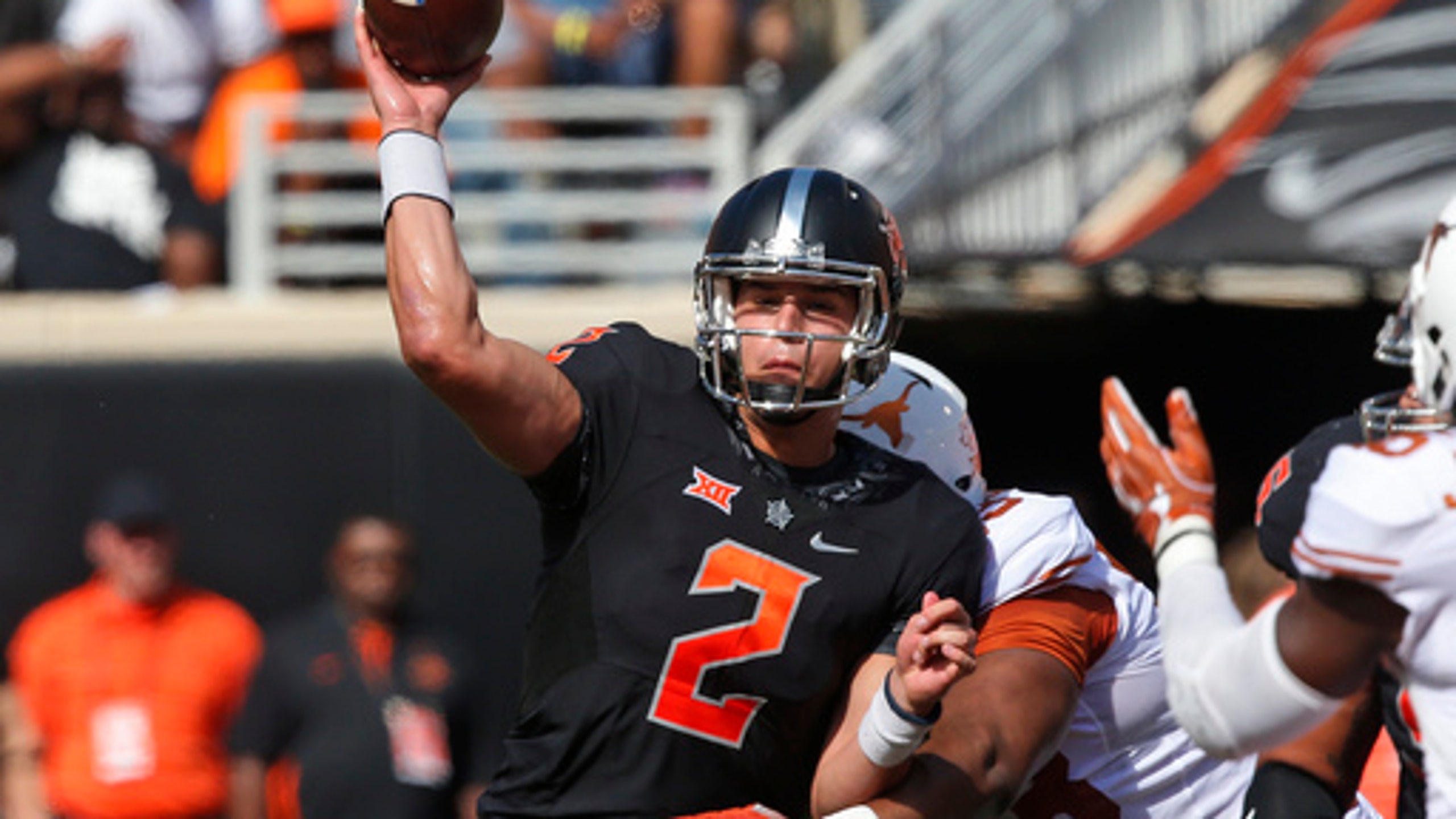 Oklahoma State's special teams crucial in win over Texas
BY foxsports • October 3, 2016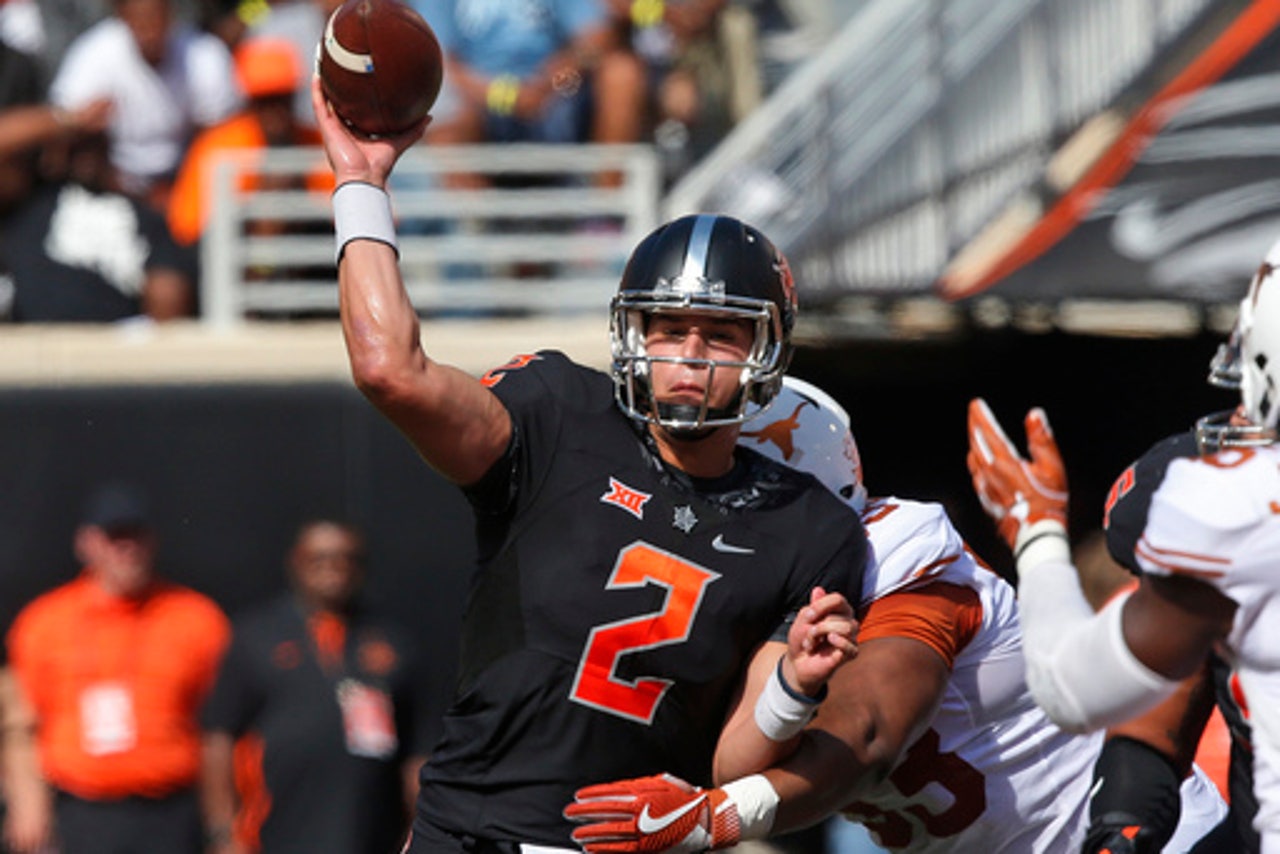 STILLWATER, Okla. (AP) Often an overlooked aspect of the game, specials teams played a key role in Oklahoma State's latest win.
The Cowboys blocked three PAT attempts, with Vincent Taylor and Tre Flowers teaming up to return one of them for two points and shifting the momentum in their favor on the way to a 49-31 victory over Texas on Saturday.
''Our PAT blocks were a huge part of the game,'' Oklahoma State coach Mike Gundy said. ''(Defensive line coach) Joe Bob Clements is our coordinator of our PAT/field goal block and they had a nice plan to attack (Texas center Alex Anderson) and it worked out for us.''
Oklahoma State (3-2, 1-1 Big 12) opened the game with a 14-0 lead, but D'Onta Freeman had just scored on a 22-yard touchdown run to make it 14-13 late in the first quarter, with the game-tying PAT coming up. Taylor barreled over Anderson to block it, then scooped up the bouncing ball and raced downfield, eventually pitching it to Flowers, who took it into the end zone for two points.
Instead of a 14-14 tie, OSU led 16-13.
''When they tied it up, or were in a position to tie it up with a PAT, and then you get a block and you get two points, it changes the momentum of the game and gets the crowd back into it, exciting the team,'' Gundy said. ''And then to do it two more times was really special.''
Darrion Daniels blocked the next Texas PAT attempt and then Taylor blocked a third straight extra point kick - which Lenzy Pipkins almost ran back for another two points before being pushed out of bounds at the 20-yard-line. At that point, with 6:31 left in the second quarter, Texas led 25-23 but it could have been 28-21.
On their next possession, the Longhorns lined up for a 46-yard field goal attempt, and perhaps anxious about yet another block, Trent Domingue missed it, hooking it wide left. Infused with more momentum and confidence, the Cowboys went on to score three consecutive touchdowns to take control of the game.
Taylor also blocked a field goal attempt in the season-opening 61-7 win over Southeastern Louisiana on Sept. 3, giving OSU a nation-best four blocked kicks.
''One of my goals I have written on my mirror is to get five blocked kicks,'' said Taylor, who has also excelled at defensive tackle, recording 16 tackles, 1.5 sacks and two quarterback hurries so far this year. ''I'm at three right now in the fifth game. If I can keep getting them, that's something we practice every day and it showed.''
Even beyond the blocked kicks, the Cowboys' special team units are also receiving outstanding performances from punter Zach Sinor and kickoff specialist Matt Ammendola.
Against Texas, Sinor delivered six punts for an average of 46.0 yards, with two ending up inside the 20. Overall for the season, Sinor has averaged 44.3 yards (ranking second in the Big 12 and 25th in the nation) on 22 punts, putting 14 inside the 20.
Ammendola had nine kickoffs for an average of 64.8 yards, with two touchbacks, and the Longhorns never started a drive after a kickoff beyond their own 25-yard-line. On the year, Ammendola is averaging 63.1 yards on 32 total kickoffs, with 12 touchbacks.
The Cowboys' coverage units have also been strong, surrendering just 35 total return yards on punts and 17.1 yards per kickoff, ranking 16th in the country in that category.
''We're using a lot of young players, we're trying to pace ourselves for conference play, and we have guys that are on special teams that are not really experienced and they've done a nice job,'' Gundy said. ''Steve Hauser, who's taken over our special teams, has been really good, works hard at it, it's important to him, and the players are buying in.
''Our kicking has been good. (Ammendola)'s kickoffs this last game are the best they've been, and Zach Sinor's been great. Up to this point, we've been very fortunate that we've had good results on special teams.''
Oklahoma State faces Iowa State (1-4, 0-2) at home next Saturday.
---