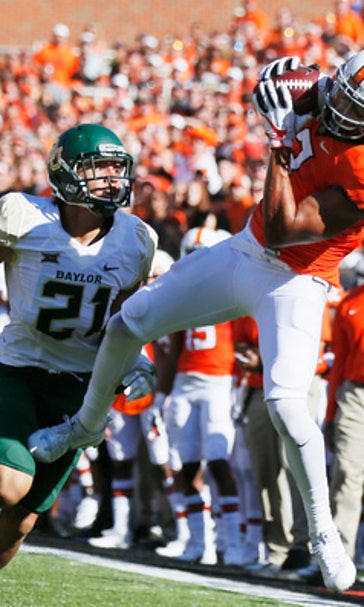 Oklahoma State's Ateman quietly putting up huge numbers
October 16, 2017

STILLWATER, Okla. (AP) Though he may be overshadowed a bit by his more productive and highly touted teammate James Washington, wide receiver Marcell Ateman also is putting together an impressive season for No. 10 Oklahoma State.
After recording four receptions for 119 yards and a touchdown in a 59-16 victory over Baylor last weekend, Ateman now has 29 catches for 568 yards and four touchdowns on the season, including 100 or more yards in four straight games for the Cowboys (5-1, 2-1 Big 12).
It has been a nice comeback for Ateman, who compiled 45 receptions for 766 yards and five touchdowns in 2015 but missed last season with a broken foot. Now fully healthy, he has provided Heisman Trophy candidate quarterback Mason Rudolph with a dangerous second option opposite Washington. Oklahoma State has taken advantage, leading the nation in total offense (610.7 yards per game) and passing offense (411.2 ypg), while ranking second with an average of 48.8 points per contest.
''He's been very good,'' OSU coach Mike Gundy said of Ateman. ''We anticipated him playing well. He was without it for a year and he realized how much he loved the game. Sometimes, that's one of the best things that can happen to a young player, and he's used his body. He's got terrific hands and he's got good body control, and he's played the role that really benefits our offense.''
By having Washington, a speedy deep threat who leads the Big 12 and ranks second in the nation with 882 receiving yards (on 34 receptions, along with six TDs), on one side of the field and the 6-4, 220-pound Ateman on the other, it presents opposing teams with a pick-your-poison type of decision on how to defend them.
''That allows (Washington) to play the role that he does on one side of the field and then Ateman plays a different type of game on the other side,'' Gundy said. ''He can be more of a control guy, a rebound guy, and he uses strong hands with good reach, so they offset themselves really well. James doesn't get a lot of catches because of the way some teams choose to take him out. So then we have to play on the other side of the field or play in the middle of the field. But the two of them work well together.''
Ateman also has improved his blocking in the run game. Against Baylor, one of the key plays came early in the second quarter with the Cowboys leading 14-10 when running back Justice Hill broke free for a 79-yard touchdown run. That would not have happened without a crucial block by Ateman about 20 yards downfield.
''It's been something that our coaches have been instilling into us, perimeter blocking,'' Ateman said. ''For our backs to get in the end zone, we've got to be able to block on the perimeter.''
Gundy believes heady plays like that will help give Ateman, a fifth-year senior, an opportunity to play in the NFL next season.
''Ateman's going to get a chance to play this game beyond this level, because of what he brings to the table,'' Gundy said. ''I've never coached in the NFL so I don't know a lot about it, but I know there's a lot of man coverage and he's got a body that can be hard to defend in man coverage. And then he blocks really well. He's been really good without the ball in his hands and he'll be a good special teams player.
''He likes to play the game. He likes to catch, he likes to block. Some guys don't care to do that as much at that position. He does. Not only is it good for our team, it's going to improve his stock and I'm sure he's aware of that.''
Ateman is just happy to be back on the field again, with a renewed focus after the year off, during which he had a son.
''I stay hard into my faith and I'm really practicing,'' Ateman said. ''I really just wanted this year, having that year off. I have a lot of things to play for - my son, my family. It's just a blessing. I'm just going out there and performing.''
---
More college football coverage: http://collegefootball.ap.org and www.Twitter.com/AP-Top25
---
---