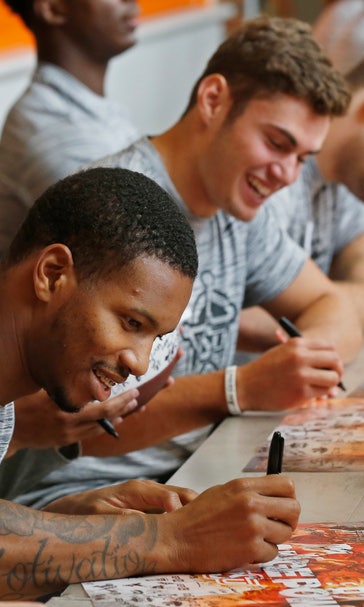 Oklahoma St. reloads at receiver with Washington gone
August 4, 2018
STILLWATER, Okla. (AP) — Oklahoma State coach Mike Gundy doesn't want to focus on the Cowboys receivers who have moved on to the NFL.
He thinks there are still some pretty good ones on campus.
The Cowboys lost Biletnikoff Award winner James Washington to the Pittsburgh Steelers, starter Marcell Ateman to the Oakland Raiders and reserve Chris Lacy to the Detroit Lions — a trio that combined for 153 catches and nearly 3,000 yards last season. But Oklahoma State has three productive returnees in Jalen McCleskey, Dillon Stoner and Tyron Johnson.
"Everybody's used to the other guys, so they're kind of seeing them as what's left," Gundy said. "I think those guys can make plays."
McCleskey, a senior, was third on the team with 50 catches for 645 yards and five touchdowns last season. He ranks eighth in school history with 152 receptions and ninth with 15 touchdown grabs.
Stoner, a sophomore, had 44 catches for 576 yards and six scores. He caught a touchdown pass in each of Oklahoma State's last four games last season.
Johnson, a junior, had 18 catches for 293 yards and three touchdowns.
"They're just as talented of playmakers, so I expect nothing less than greatness from every single one of them," running back Justice Hill said.
Johnson doesn't mind the spotlight being dimmed a bit.
"It's going to be a great group," he said. "We don't have as much hype as we did last year, and that's a good thing. We're still going to be a dominant group and do what we do best."
Before Washington, Ateman and Lacy moved on, they left some valuable knowledge behind.
"The biggest thing I probably took from them was how to lead by example," Stoner said. "James, Marcell, Chris — their work ethic was unmatched, and I'm just trying to follow in those footsteps."
It's unclear who will step in at quarterback for longtime starter Mason Rudolph, though senior Taylor Cornelius leads the race. Freshman Spencer Sanders, Hawaii transfer Dru Brown and Keondre Wudtee will compete with him for the spot.
The winner will have weapons everywhere. In addition to the three key returning receivers, Hill caught 31 passes last year.
"The guys at the quarterback position are fortunate that we have maturity," Gundy said. "We lost some really good receivers, but we've got a number of guys who have a lot of experience that should be good players."
McCleskey said the group will be ready for the opener Aug. 30 against Missouri State.
"I feel like we're going to hit the ground running the first game," he said.
---
---