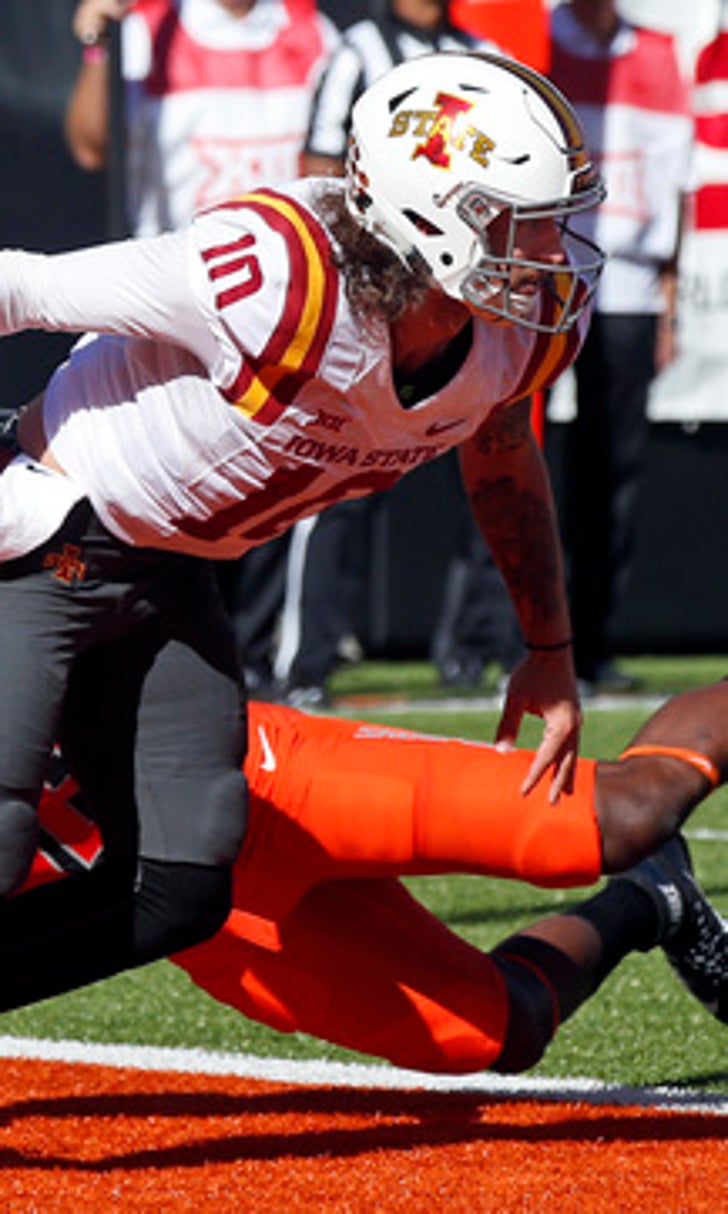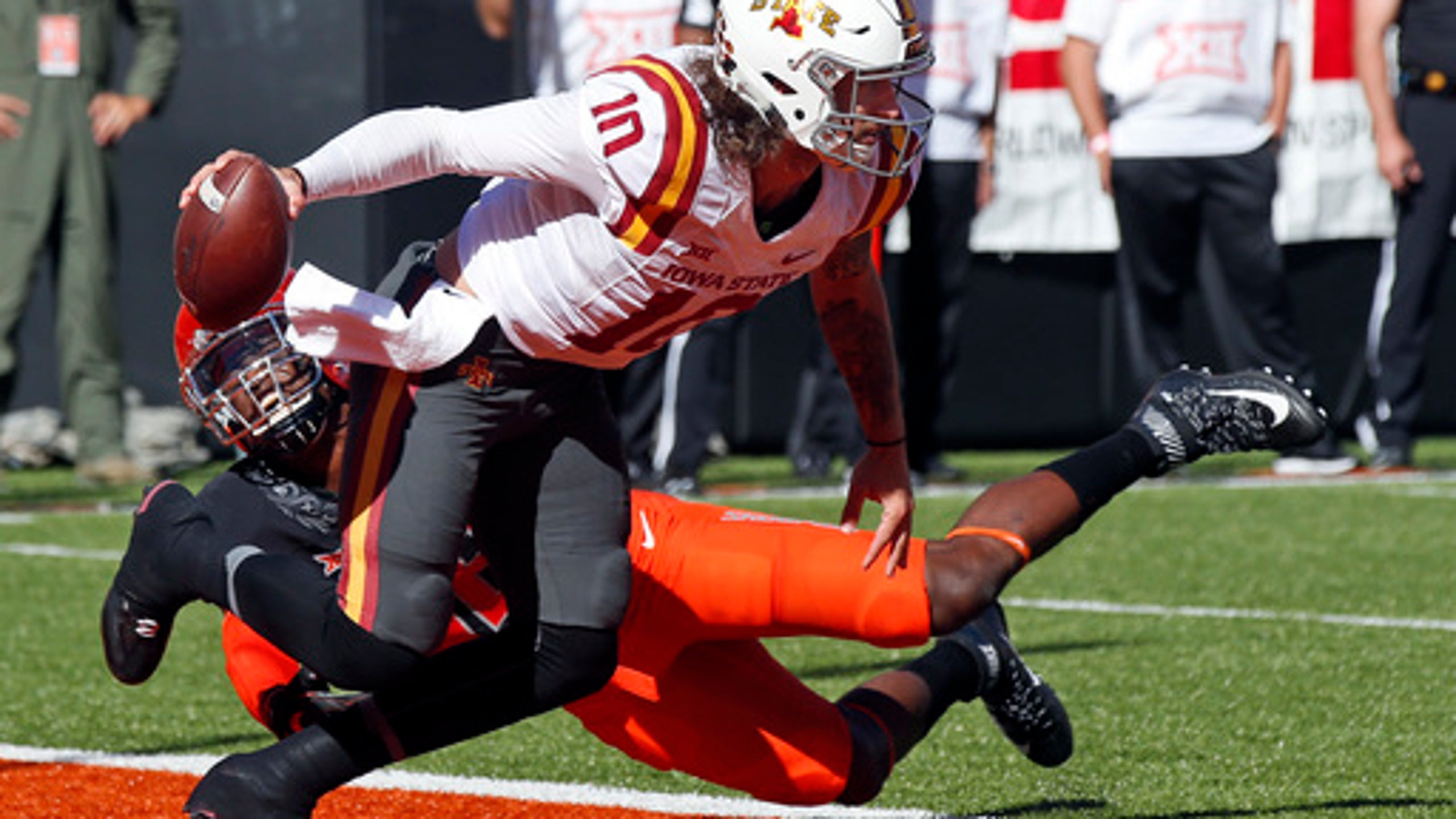 Oklahoma St. rallies from 17-points down to beat Iowa St.
BY foxsports • October 8, 2016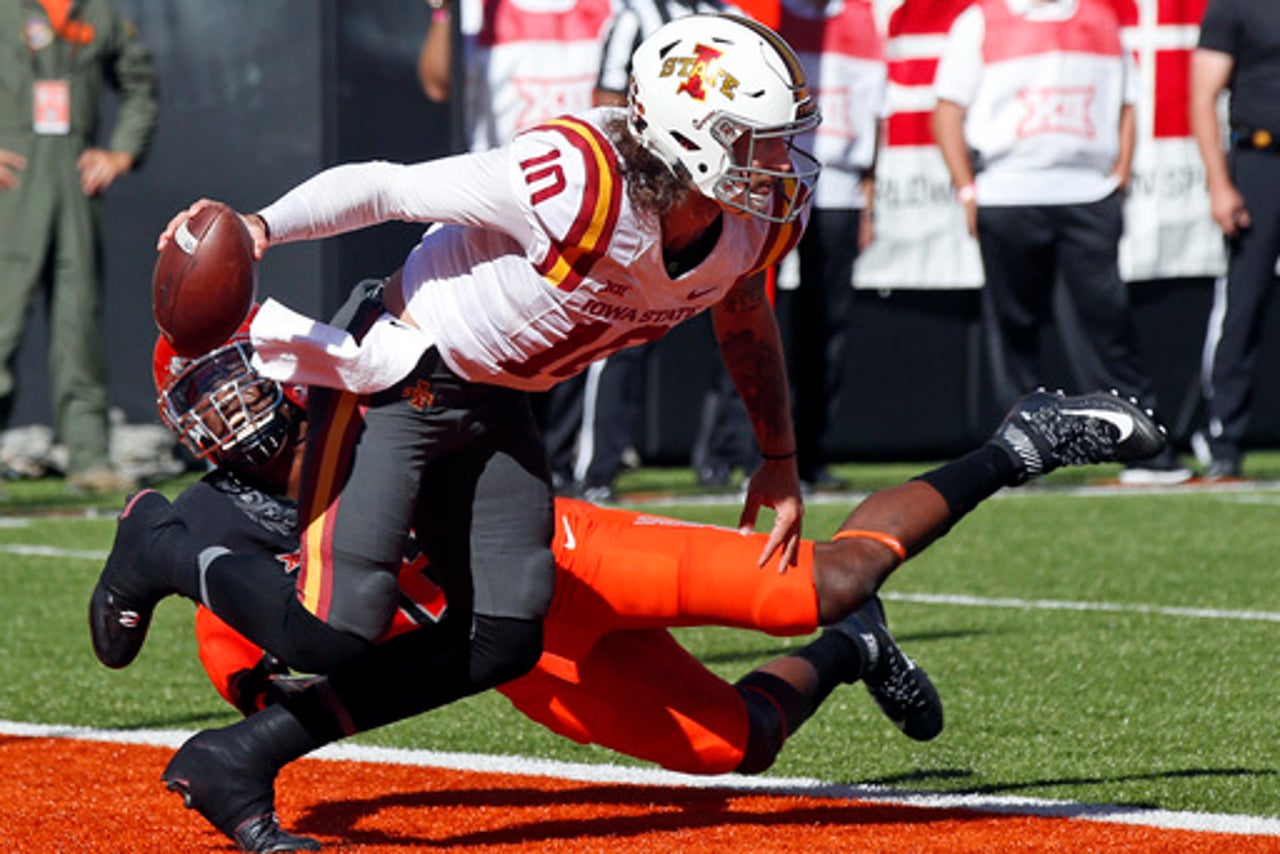 STILLWATER, Okla. (AP) James Washington caught eight passes for 152 yards and two touchdowns, and Oklahoma State overcame a 17-point second-half deficit to beat Iowa State 38-31 on Saturday afternoon.
Washington put the Cowboys ahead for good when he caught a 3-yard touchdown pass from Mason Rudolph with 3:40 remaining. Rudolph passed for 351 yards and four touchdowns for Oklahoma State (4-2, 2-1 Big 12).
It was the second consecutive late collapse for Iowa State (1-5, 0-3). The Cyclones were trying to bounce back after a heartbreaking last-second 45-42 loss to No. 13 Baylor last Saturday. The Cyclones were trying to get the first conference victory for first-year coach Matt Campbell.
David Montgomery's 1-yard touchdown run with 2:58 left in the second quarter put Iowa State up 17-14. The Cyclones nearly doubled time of possession in the first half and ran 55 plays to Oklahoma State's 32.
Joel Lanning threw touchdown passes to Trever Ryen and Allen Lazard to help Iowa State take a 31-14 lead with 5:55 left in the third quarter.
Rudolph threw a 35-yard touchdown pass to Washington, then a 1-yard touchdown scoring toss to Jalen McCleskey, to help the Cowboys trim Iowa State's lead to 31-28 early in the fourth quarter. Oklahoma State's Ben Grogan made a 30-yard field goal to tie the score at 31 with 11:33 to play.
THE TAKEAWAY
IOWA STATE: The Cyclones proved once again that they are competitive, but can't quite finish. They got solid quarterback play at times from Lanning and Jacob Park, but neither was consistent, and they were sacked a combined seven times.
OKLAHOMA STATE: The Cowboys built on their victory over Texas the previous week and enter their off week with momentum. The Cowboys finally broke through when their running game got going late in the third quarter.
POLL IMPLICATIONS
Oklahoma State was 32nd in votes in the most recent poll and likely will be knocking on the door of the Top 25.
UP NEXT
IOWA STATE: The Cyclones play at Texas next Saturday. Texas has allowed 50, 49 and 45 points in its past three games.
OKLAHOMA STATE: The Cowboys are off next week. They will play at Kansas on Oct. 22.
---
Follow Cliff Brunt on Twitter (at)CliffBruntAP .
---