Ohio State dealing with unusual short week
September 10, 2015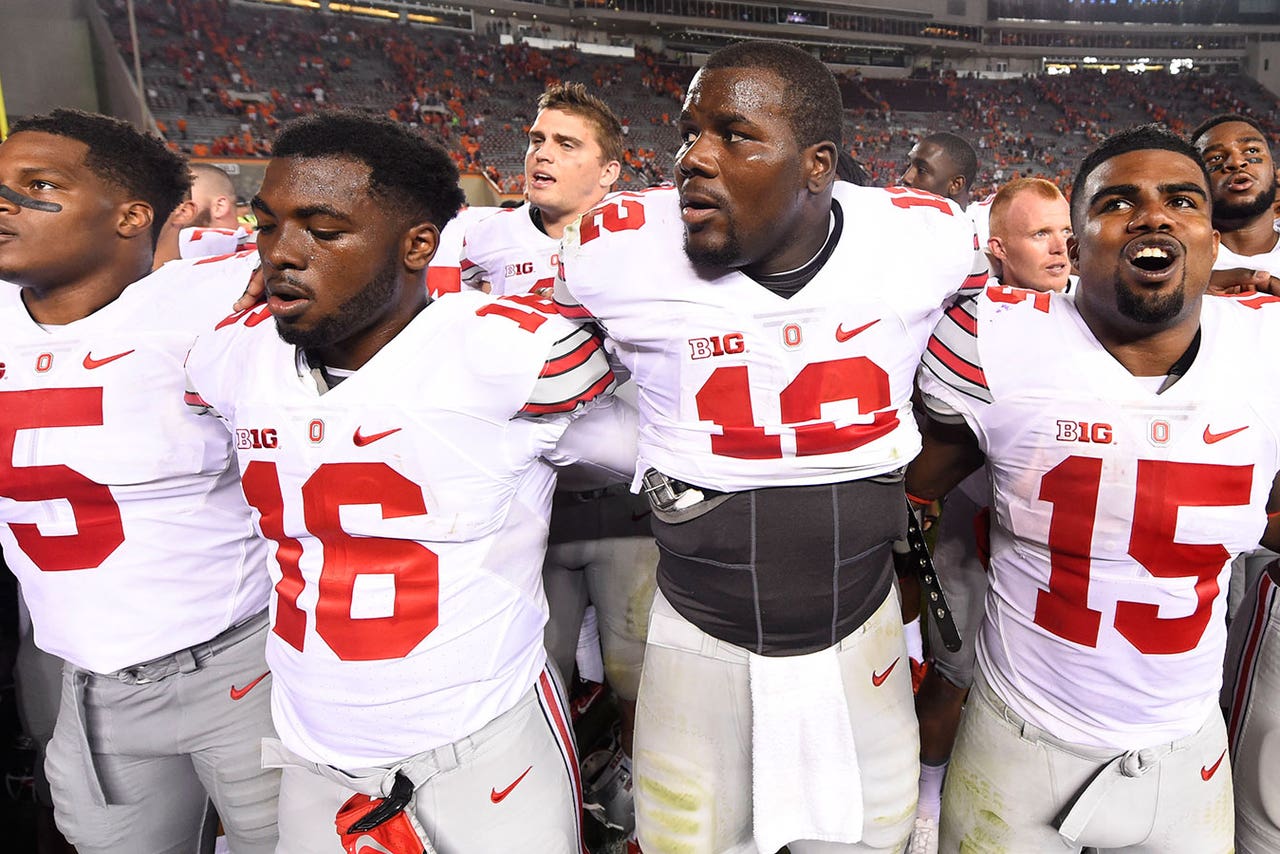 Ohio State's Monday night opening game provided Ohio State with a great showcase for the beginning of their defense of the national championship, but it also came with an obvious downside: The Buckeyes only have four days to prepare for Hawaii, their week two opponent. 
Coach Urban Meyer told reporters Wednesday night Ohio State did not do any preparations for the Rainbow Warriors during preseason camp, preferring instead to put all of their focus on Virginia Tech, the only team to beat the Buckeyes last season. 
"(We wanted a) Super Bowl-type atmosphere," Meyer said. "We wanted all focus, all hands on deck for Virginia Tech, and I'm glad we did." 
Ohio State topped the Hokies 42-24 but did not get home until 4:30 Tuesday morning. 
"Then we came in, we let them get a couple hours' sleep, and we came back in and the GAs had it all done," Meyer said. "So that's what happens; you have interns and GAs and you slap it up on the board and so we come in and at least get a visual of what's going on and then start watching film." 
Then the staff had to decide how much time to spend correcting mistakes the Buckeyes made in their opener and how much to devote to preparing for their next opponent. They also had to deal with NCAA limits on how much and when they can practice in-season. 
"There were a lot of errors we had against Virginia Tech, so the coaches made a cut-up of Virginia Tech because you only had a four-hour window," Meyer said. "We appealed to the NCAA to let us meet with them (Tuesday) and all that, and they said no, so those are all things probably before you schedule a Monday night game we should ask those questions because we're way behind." 
Complicating matters further, Meyer said the Rainbow Warriors play a unique style of 3-4 defense that has given the Buckeyes trouble in the past. 
"It's one of those defenses that's completely different than what we faced," Meyer said. "It's a 3-4 defense and it's called smoke blitzes. Indiana did it last year and it really hurt us. Some other teams have hurt us badly with that. Navy, it's a Navy-type defense, and it's just unique that -- it's something you need reps at, and we haven't had any." 
---
---