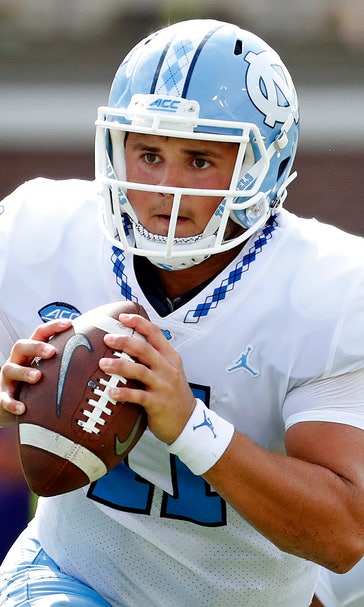 Off target: UNC QB Elliott trying to solve accuracy issues
September 20, 2018
CHAPEL HILL, N.C. (AP) — Nathan Elliott hasn't had the accurate start North Carolina needs from its starting quarterback.
The junior has been frequently off target, prone to mistakes and unable to get the Tar Heels' offense consistently moving through the first two games. It's a big reason why UNC sits at 0-2 for the second straight season entering Saturday's Atlantic Coast Conference opener against Pittsburgh, and Elliott is determined to fix it.
"I'm dealing with the ball every play," Elliott said. "I'm the mailman — I'm distributing the ball to my playmakers every play. And if I'm not getting it there the right way at the right time, then it's not going to go.
"So I'm taking full responsibility and I'm going to be better."
The offense isn't typically a concern for a Larry Fedora-coached team at UNC, where the Tar Heels have routinely put up big numbers with their fast-paced attack that provided plenty of cover for mediocre defense. But last year's unit struggled after the departure of quarterback and No. 2 overall NFL draft pick Mitch Trubisky, and this year's offense failed to reach 20 points in a game.
It's not all on the 6-foot-1, 215-pound native of Celina, Texas. The offensive line hasn't provided reliable protection and the receivers haven't consistently found openings in the scheme, which aims to spread defenses out then take advantage of vertical seams downfield.
Still, Elliott — whose success depends more on his knowledge of the offense than arm strength — just hasn't been sharp with delivering the ball.
In two games, Elliott is completing barely half his passes (50.7 percent) with one touchdown throw while averaging 178 yards per game. He threw four interceptions in the season-opening loss at California , and he's struggling to get anything going downfield by averaging just 4.9 yards per passing attempt.
"He's made the right decisions," offensive coordinator Chris Kapilovic said. "It's just some of the balls obviously haven't been where they need to be. You work on it every day. Nobody works on it harder than him. It means more to him than anybody that's in this program. It's unfortunate but he just keeps grinding away and you've got to think that it's going to get there."
The Tar Heels didn't play last week against No. 16 UCF due to Hurricane Florence, so Elliott said he's been focusing on improving his accuracy since the Sept. 8 loss at East Carolina .
"Just throwing more," Elliott said, "and getting myself in awkward positions that I'll be in during a game. It's not always going to be perfect. Practice can be perfect all day at times, it's not going to be like that in a game."
The Tar Heels need Elliott to correct those troubles since he remains the only experienced quarterback available. Sophomore Chazz Surratt, who started seven games last year, is still serving a first-month suspension for the NCAA secondary violation of selling team-issued shoes, while the current No. 2 passer is true freshman Cade Fortin.
Elliott started the final three games of last season and performed capably in a win at Pitt, a home win against Western Carolina and a loss at rival North Carolina State. He threw nine touchdowns with two interceptions in those games while completing 57 percent of his passes.
This time, at least, the Panthers have an idea of what to expect compared to seeing Elliott in his first start last November.
"You can see what he likes to do, how he likes to do it," Pitt coach Pat Narduzzi said. "It will help us having some games on him."
---
---