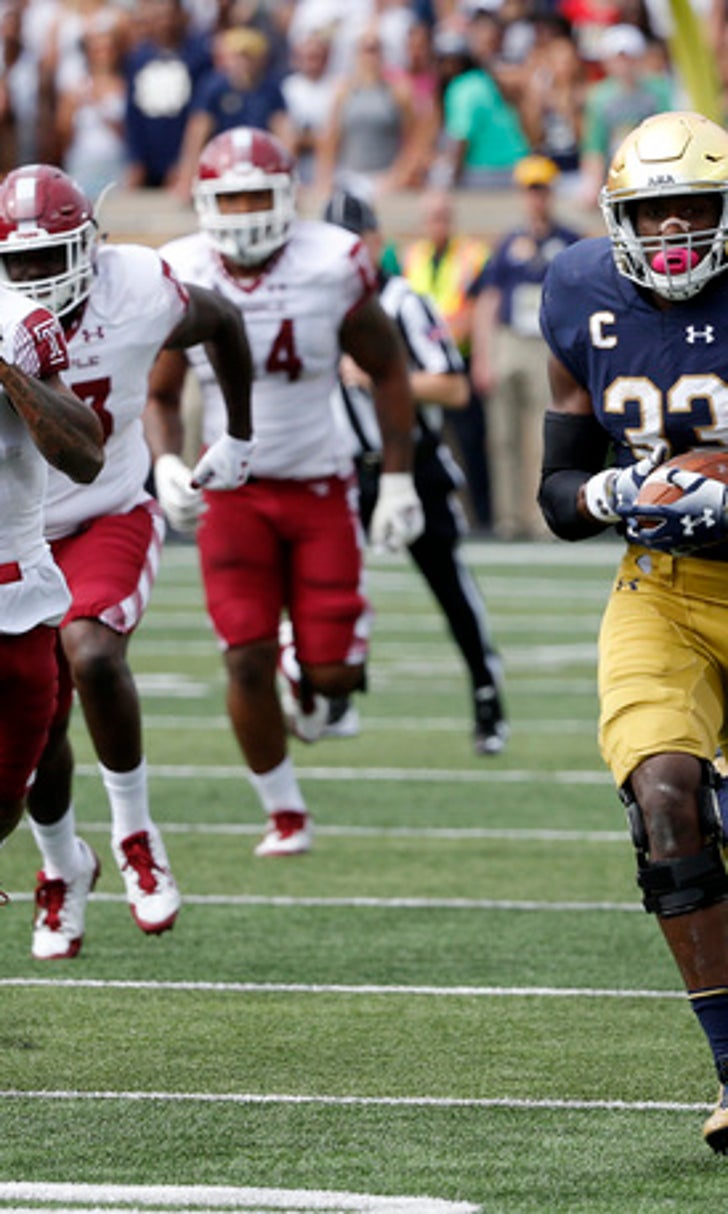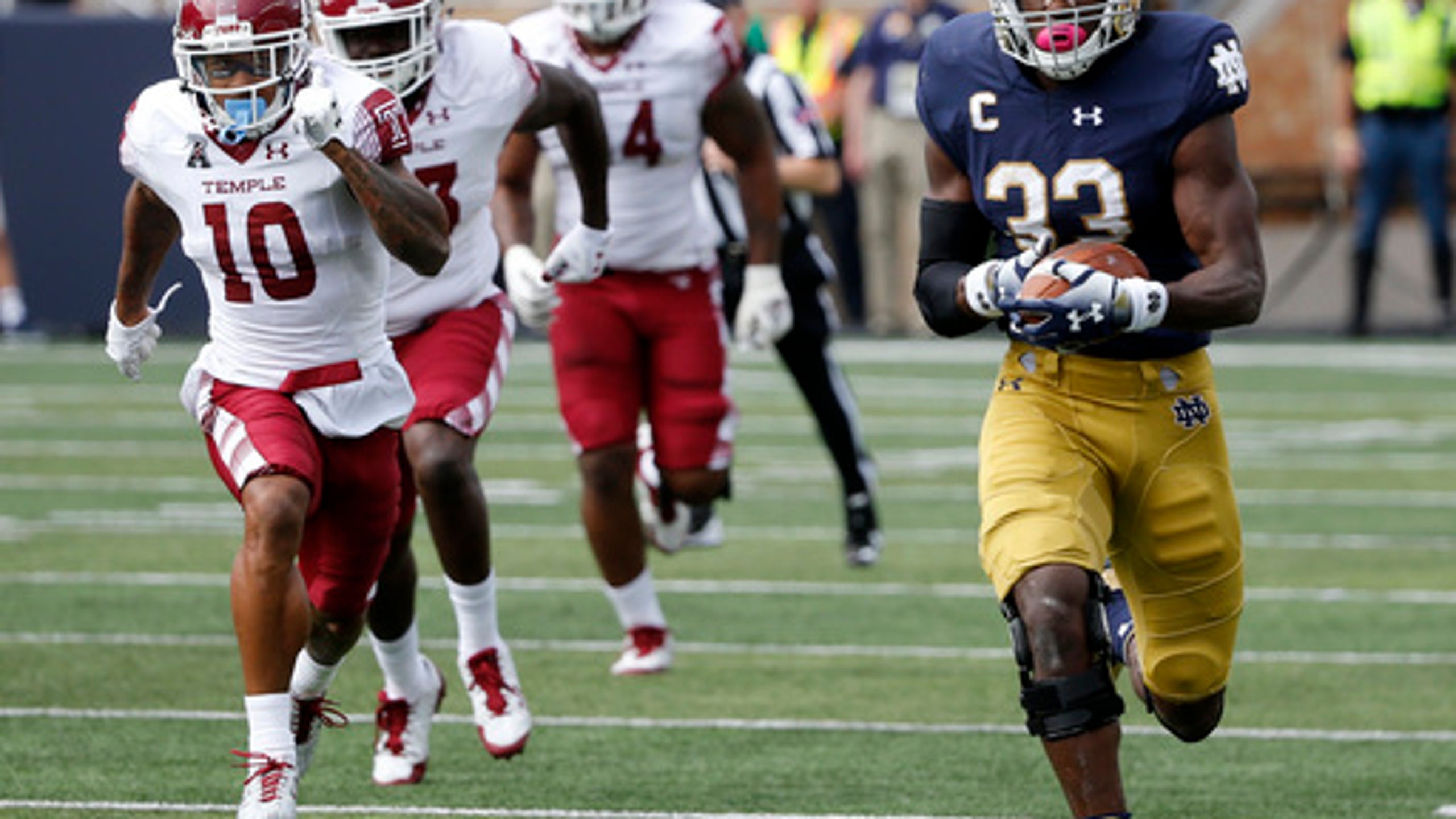 Off and running: No. 24 Notre Dame looks to run over Georgia
BY AP • September 7, 2017
SOUTH BEND, Ind. (AP) Notre Dame has had the Four Horsemen and a long history of star runners from George Gipp to Jerome Bettis. There was no record, though, of the Fighting Irish ever having three players in one game run for more than 100 yards.
That changed last week against Temple when Josh Adams (161), Dexter Williams (124) and quarterback Brandon Wimbush (106) each went over the century mark during a 49-16 victory.
''It was awesome. It was a lot of fun,'' senior left tackle Mike McGlinchey said Wednesday. The Irish finished with 422 yards rushing.
''Four-hundred yards is no small feat, but we had a lot of mistakes that we need to clean up, and if we don't clean them up it's going to be a longer Saturday against Georgia,'' McGlinchey said. ''It's just one of those things that, yeah, we did a great job (against Temple), we rushed for whatever many yards, we had three guys (over 100), whatever. But it doesn't guarantee anything against Georgia.''
The No. 24-ranked Irish (1-0) host the No. 15 Bulldogs (1-0) on Saturday night.
While finding yards against Georgia figures to be tougher than against Temple, Notre Dame can't help but be encouraged by its season-opening effort.
Per school officials, the game marked the first time since at least 1954 that the Irish had three individuals eclipse 100 yards on the ground. Records beyond that are incomplete. With 606 yards of total offense, Notre Dame reached 600 for the first time since its 34-20 Fiesta Bowl loss to Ohio State in 2006.
It was the first time the Irish have cracked 400 on the ground since churning out 457 against UMass during a 62-27 win in 2015.
''I mean, we have a fantastic offensive line,'' Adams said. ''It's just amazing to run behind those guys. We have a lot of love for each and every guy up front and . we (as ball carriers) want to repay them for all the hard work they're putting in.''
In McGlinchey and senior guard Quenton Nelson, the Irish may boast the best left side in the nation. Both are Associated Press second-team preseason All-Americans and possible first-round NFL draft picks.
Center Sam Mustipher and guard Alex Bars are also returning starters.
Adams was the team's leading rusher last year, with 933 yards and a 5.9 average as a sophomore. He set an ND freshman record with 835 yards - to go with a 7.1 average - in 2015.
Williams, a junior, gained his 124 yards on just six attempts against Temple. Wimbush's 106 rushing yards came on 12 keepers, to go with his 184 yards through the air.
New Irish offensive coordinator Chip Long's approach to the running game was evident upon his hiring, coach Brian Kelly said.
''Chip Long (talked) about a physicality and a demeanor running the football,'' Kelly said. ''It wasn't about how many yards we were going to amass in total offense. It was about how we are going to exert our will in terms of running the football. So this is really just more about creating a mindset and building on that mindset.
''We have to continue to build that mindset. But it started in January. It didn't start in August.''
Of course, the same is true for Georgia.
The Bulldogs have a pair of senior tailbacks in Nick Chubb and Sony Michel that Kelly describes as future NFL greats.
''They're going to feature both their backs,'' Kelly predicted. ''We're going to feature our running game, and somebody's going to come out on top. It's going to be an old-fashioned kind of find out who's got the grit and determination, because somebody's going to have to find a way to run the football late and control the line of scrimmage.''
---
More college football coverage: http://collegefootball.ap.org/ and www.Twitter.com/AP-Top25
---
---