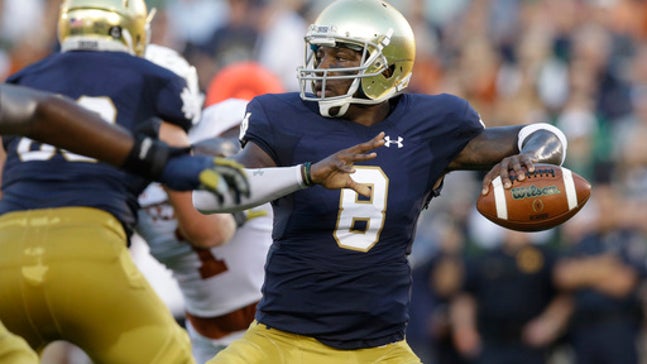 Notre Dame's Zaire frustrated by quarterback competition
Published
Mar. 21, 2016 4:56 p.m. ET

SOUTH BEND, Ind. (AP) Notre Dame quarterback Malik Zaire doesn't try to hide his frustration to be competing for the starter's job for a third straight spring after a broken right ankle cut his season short last fall.
''You just really wonder what it's going to take to finally convince people enough that I'm able to do the job,'' Zaire said. ''I don't make the decision. I'm going to keep balling and do what I need to do.''
Zaire became the starter after Everett Golson transferred to Florida State and he impressed immediately by completing 19 of 22 passes for 313 yards and three touchdowns in a season-opening 38-3 win over Texas. When Zaire broke his ankle a week later even coach Brian Kelly had doubts whether DeShone Kizer was ready.
Kizer showed he was, though, leading the Irish to 10 victories, including a come-from-behind win against Virginia in replacing Zaire.
So Zaire finds himself in a competition with Kizer and Brandon Wimbush, who got into two games as a freshman last season. Kelly said he doesn't adhere to the theory that a starter shouldn't lose his position because of injury, saying of Zaire: ''He really didn't have a body of work, where we could say, `Well, he won the starting job.' ... I think what it's allowed him to do is that DeShone Kizer had a very good body of work, and we're opening up the competition.''
Zaire said in his mind the only person he's competing with is himself.
''I don't compete with people. I compete with myself to get better, so I'm looking to be the best that I can be all the time and looking to be the best quarterback in the country,'' he said. ''So I don't know what competition they feel was out there.''
Zaire said his ankle isn't quite 100 percent healthy, but it's getting close and he is working on it. He said the more he practices, the better he feels. He also has no doubt he'll be back stronger than ever.
''I know there are things I need to work on and still things that needed to get done because I'm trying to be the best in the country. I know I can be the best in the country,'' he said.
The only left-handed quarterback to ever start for the Irish, Zaire also believes he's a smarter quarterback than before he was injured because of the work he's done. He talked to a lot of people during the off-season, including ''the greatest lefty quarterback'' Steve Young.
''Being able to see from his perspective and read a lot about him and get a chance to have a better relationship with him has inspired me to take that next step and do things being the next-step guy,'' he said.
Kelly expects the competition to be close. So close, in fact, that he's not sure he will settle on a starter even next fall, indicating it could change game to game and that he's even open to be using more than one quarterback in a game.
Zaire said that is out of his control.
''I'm just going to continue to do what I need to do to help the team the best that I can do and things will come together as they should,'' he said. ''So I'm not too worried about it. I know at some point whenever they give me my chance, I'm always going to take advantage of it.''
---